1.
Zak Madell | Okotoks, AB | Wheelchair Rugby
2.
Marco Dispaltro | Saint-Jérôme, QC | Boccia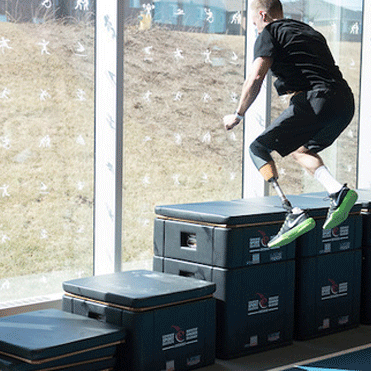 "I'm usually in the weight room three or four times a week. I'm on court at least that many times. And then I'll have one or two sessions of kind of maintenance to make sure everything's working and everything's healthy. It's definitely a full job on the side of living normal life."
4.
Becky Richter | Saskatoon, SK | Para-Athletics
5.
Janet McLachlan | Vancouver, BC | Wheelchair Basketball
6.
Benoit Huot | Montreal, QC | Para-Swimming
7.
Ian Kent | Eastern Passage, NS | Para-Table Tennis
"You gotta train every day. I have one day off per week. On the track, on the road, in the gym, there's no backing down. I mean if you don't train, then you're not gonna get the results. You can't hide it. Not in wheelchair athletics."
9.
Tracey Ferguson | Markham, ON | Wheelchair Basketball
"You have to think in the back of your mind, if you're not training, someone out there is. So you really want to move yourself and motivate yourself, because there are some days and you just don't feel like you have it or you're not motivated. But there's always the gnawing in the back of your head, knowing that your competitors are probably doing the same. So you really gotta work hard to keep up with them."