In the past few years, Toronto's been earning even more street cred. With a bustling entertainment district, a world-class foodie scene, an acclaimed film festival, and countless ethnically diverse neighborhoods, Canada's largest city is claiming its place on the world stage.

I'm proud to say that I grew up in #TheSix and lived there for 18 formidable years of my life. When I left Toronto for college, it felt like a very different place from the vibrant city I've recently rediscovered as an adult.
In an effort to get in touch with my roots — and perhaps as an excuse to bike around one of the coolest cities in the world for three days — two co-worker buds and I decided to rent bikes in Toronto and see the best of the city on two wheels. We'd heard some refer to Toronto as "Canada's downtown," so we decided to cycle around to discover if this was really true.
We started off by mapping out some pretty incredible neighborhoods with must-see stops along the way.
Here's our essential three-day TO itinerary.



10 a.m.: Rent bikes at Bateman's Bicycle Company on Bathurst Street. The knowledgeable staff will make sure your bike is the right fit and offer some helpful biking tips for the city. Obviously, name your bike. Ours were Tilly, Linus, and Barry. And wear a HELMET (it's the law, and your noggin will thank you).
Start the day off with a bike ride to Queen Street West, scattered with amazing restaurants and fashion-forward boutiques; this street is a hip commercial hub and arguably Toronto's coolest hood.
11 a.m.: Have your morning coffee and a pastry (or two) at Nadège Patisserie. The pristine interior and immaculate goodies are so perfect, you won't be sure whether to photograph them first or immediately devour them. Mow down on the patio or take your treats to go and picnic in Trinity Bellwoods Park, where Torontonians flock in the summertime to picnic, play Frisbee, or lie in the sun.
Noon: Cruise through Graffiti Alley, also known as Rush Lane, where every surface is covered with vivid street art, running west from Spadina Avenue to Portland Street.
2 p.m.: Take a quick spin over to Ossington Avenue, Toronto's most happening downtown strip and every foodie's paradise. Check out the trendy spots along Ossington Avenue, including Bellwoods Brewery, one of TO's awesome microbreweries. Try one of their flavorful brews on the buzzing patio. For dessert, taste the many unusually amazing flavors at Bang Bang Ice Cream, including London Fog, Avocado, and Burnt Toffee. As it seems to be everywhere, the dessert craze is sweeping Toronto, and, with waffle cones and ice cream sandwiches as epic as these, Bang Bang is leading the charge.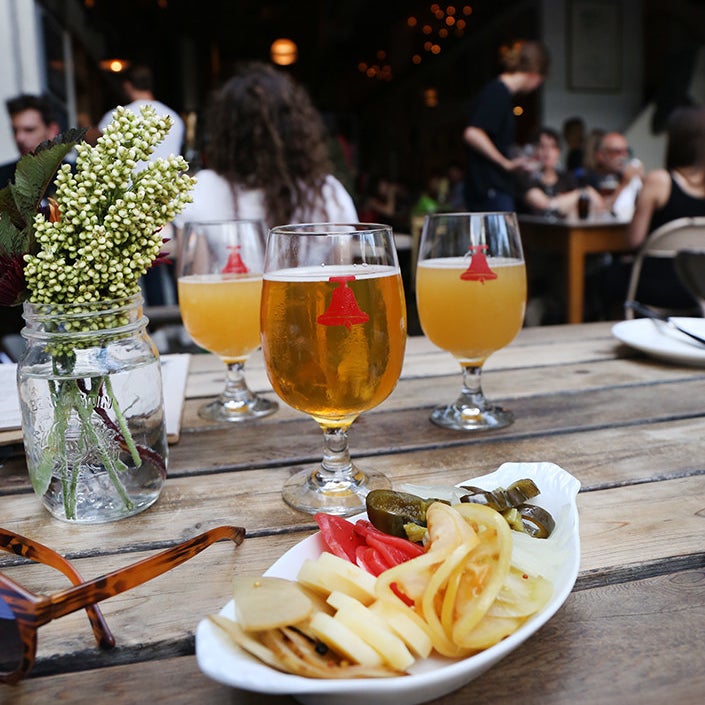 4 p.m.: Cool off with an afternoon swim at the swanky Thompson Hotel Rooftop Lounge with amazing 360-degree views of the Toronto skyline and Lake Ontario.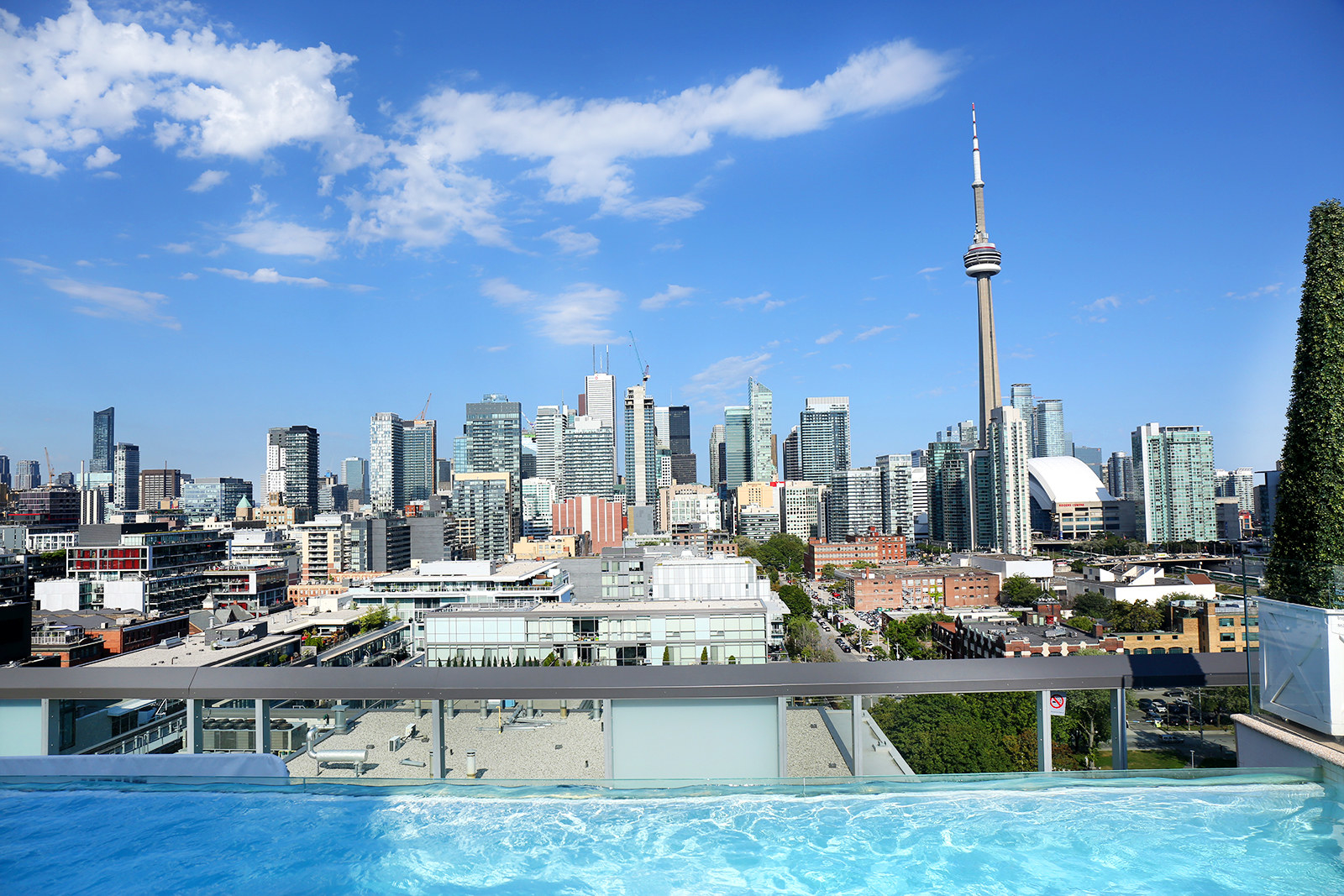 6 p.m.: Bike over to the Drake Sky Yard on the rooftop of the chic Drake Hotel for some seasonal cocktails and bites. The Drake works with local artists and designers to outfit the Sky Yard decor on a seasonal basis, so it always feels trendy and fresh. We nibbled on some amazing dishes, including the standout salmon poke and the lobster nachos, and washed it all down with some crisp summer cocktails.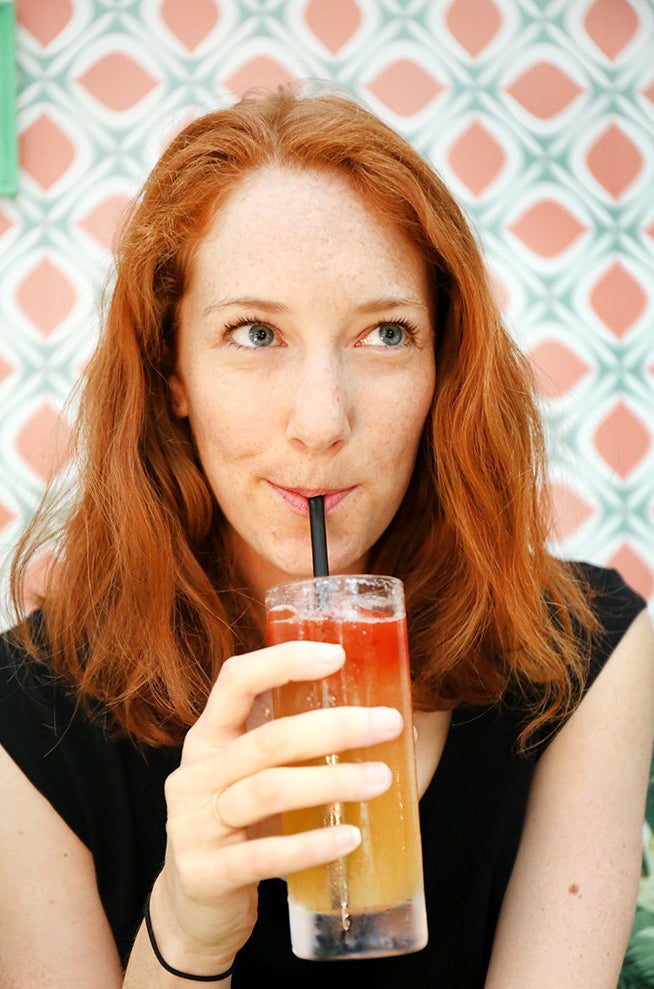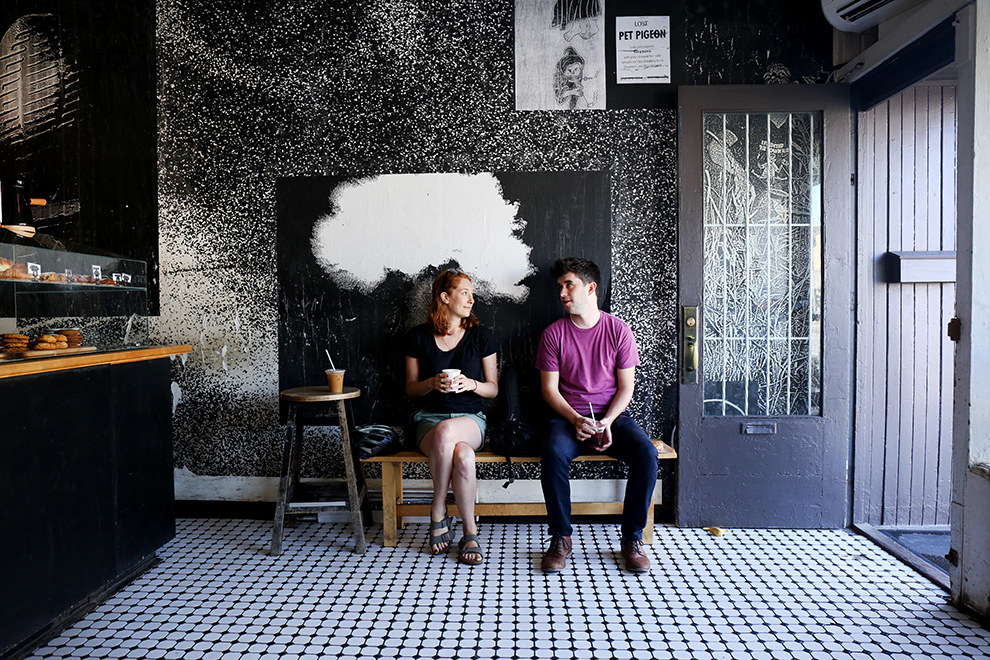 9 a.m.: Sip your morning coffee on a bench at Sam James Coffee Bar on Harbord Street. When this small location opened in 2009, it was one of the first indie coffee shops in Toronto. Now, with four additional locations, Toronto has become the ultimate destination for caffeine enthusiasts!
10 a.m.: Cruise along Bloor Street between Bathurst and Bay St., Toronto's most diverse arts and culture district filled with tons of great restaurants, shops, and museums. See the latest exhibit at the ROM (Royal Ontario Museum) and marvel at the striking Michael Lee-Chin Crystal, the edgy architectural marvel considered to be one of the most challenging construction projects in North America for its engineering complexity and innovative methods. The Crystal was inspired by the ROM's gem and mineral collection, where architect Daniel Libeskind sketched the initial concept on paper napkins while attending a family wedding at the ROM.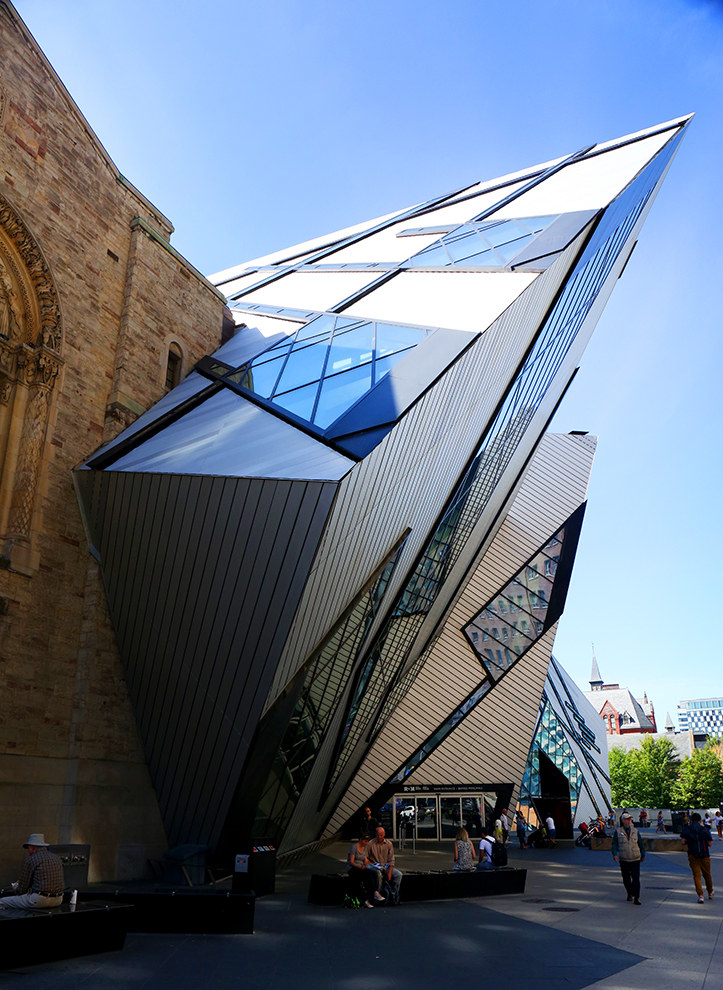 Noon: Explore the many gems in the vibrant Kensington Market; a diverse multi-cultural gem in the heart of the city with an eclectic mix of vintage stores, cafes, cheese shops, bakeries, Latin American grocers, and tons of unique flavors to taste. Get some delicious lunch at Tortería San Cosme, the lively spot on the corner with authentic Mexico City–style puesto (street food stand) serving tortas — sandwiches on soft telera bread packed with assorted fillings along with house-made pickled jalapeños, a family recipe.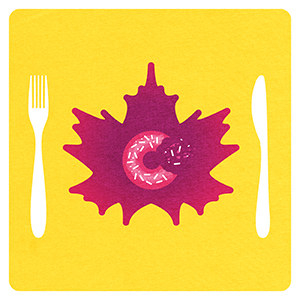 1 p.m.: Satisfy your sweet tooth a couple blocks away at Wanda's Pie in the Sky, an eclectic Kensington Market café with delectable pies, cakes, and an assortment of freshly made food. Their seasonal Niagara Peach pie is insane!
Just beside Kensington Market is Toronto's bustling Chinatown — not that you'll have any room left for dim sum, but it's still definitely worth a stroll. Toronto happens to be one of the world's most multicultural cities with over 140 languages and dialects spoken here, which explains why there's such an incredibly diverse array of cuisine, arts, and festivals.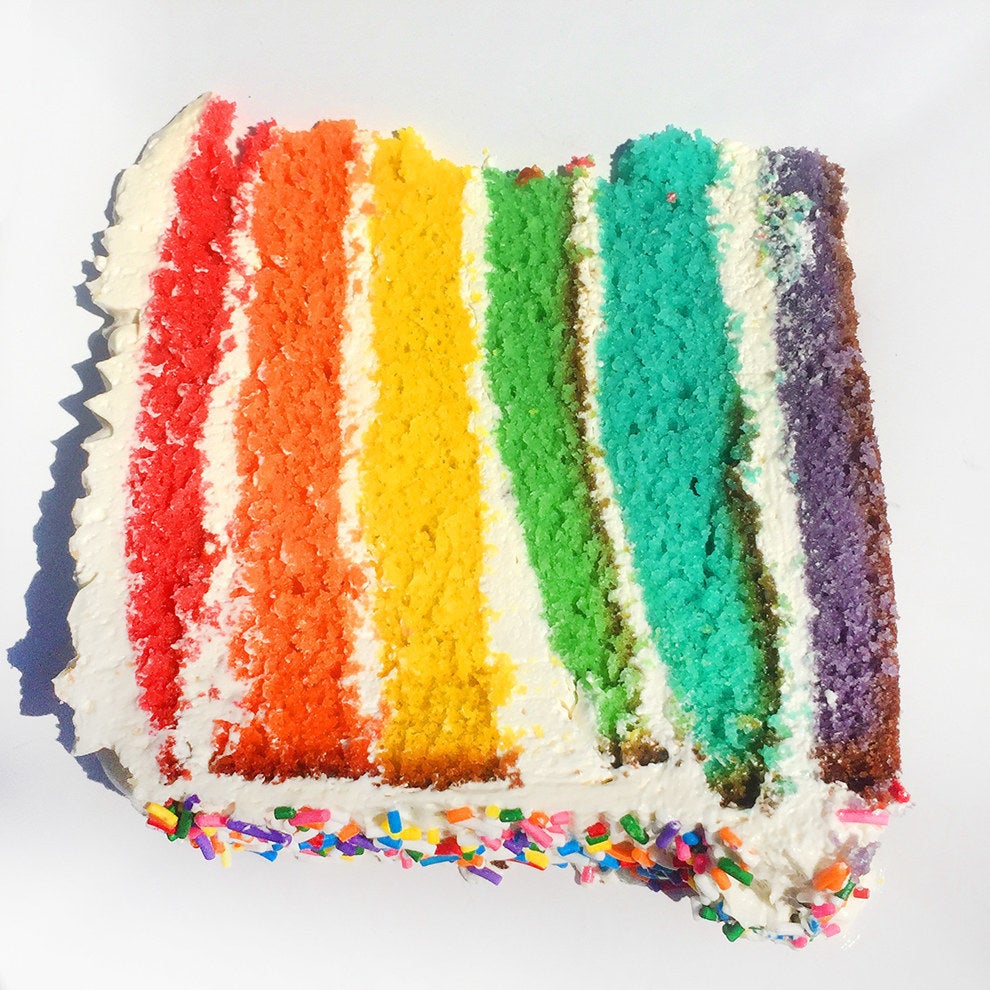 2 p.m.: Wander around the impressive Frank Gehry structure at the AGO (Art Gallery of Ontario). Check out the extensive Canadian art collection, specifically the Group of Seven works, the iconic Canadian art movement that depicted the stunning Ontario landscape on canvas.
3:30 p.m.: Walk down the street to lie in the grass under the architectural marvel that is OCAD (Ontario College of Art and Design).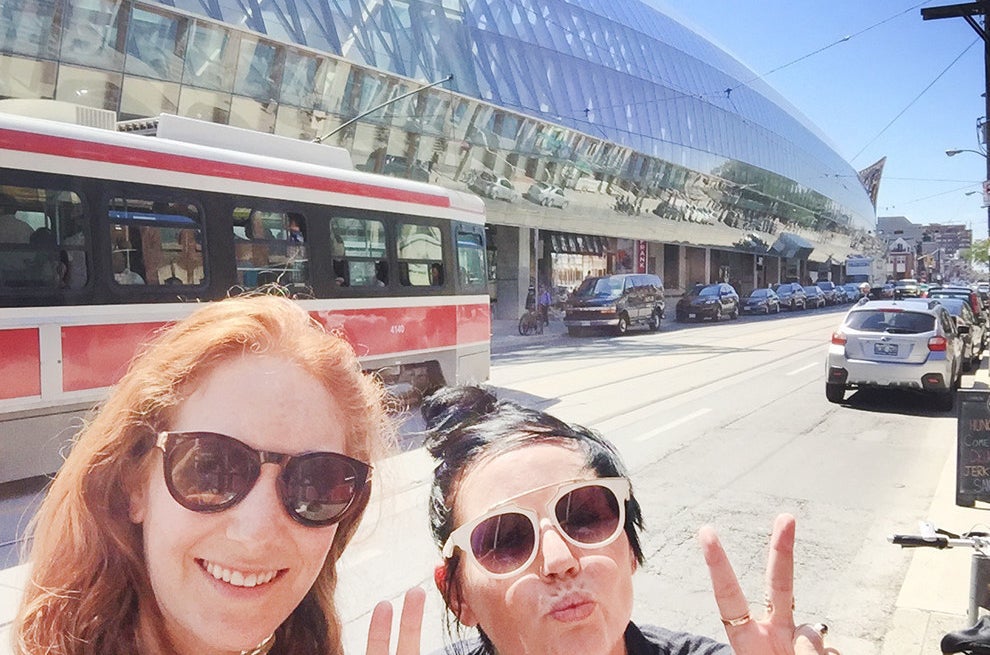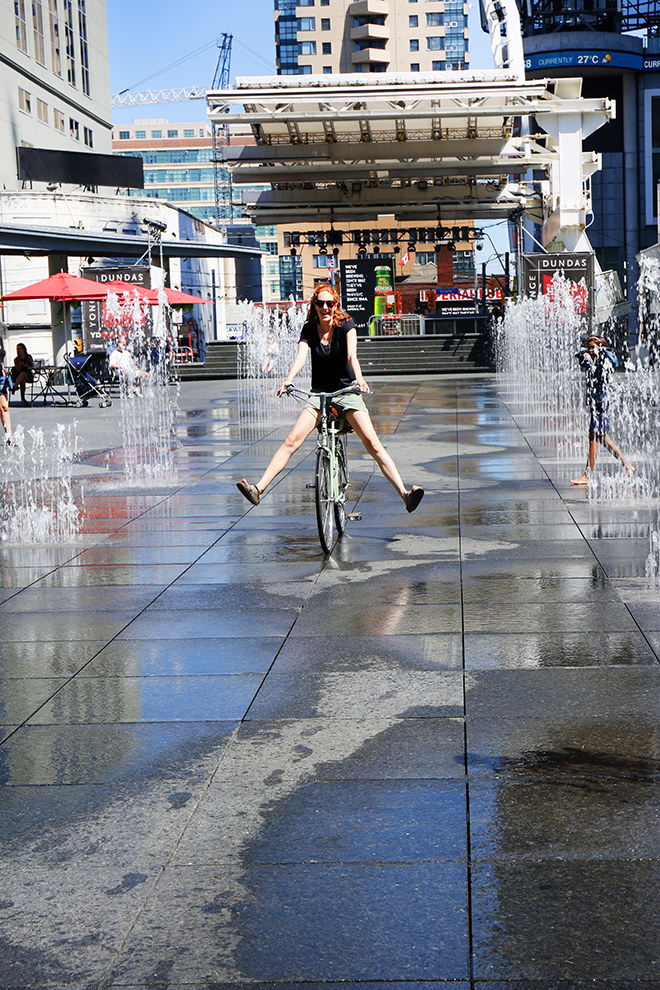 4 p.m.: Swing by Yonge and Dundas Square, a buzzing public plaza where you'll be mesmerized by a bustling hub of bright lights, free concerts, films, events, and entertainment with busy streets flowing from it in all directions. This is also a great area to go on a shopping spree; hit the mall at the CF Toronto Eaton Centre. Or just bike through the computer-programmed fountains like we did!
5 p.m.: See the historic Distillery District on a Segway tour with Go Tours Canada and learn about the fascinating history behind this old whiskey distillery, once the largest distillery in the world. The area's redevelopment in 2001 transformed it into a pedestrian-friendly neighborhood with tons of great shops and restaurants, definitely worth visiting for an afternoon stroll.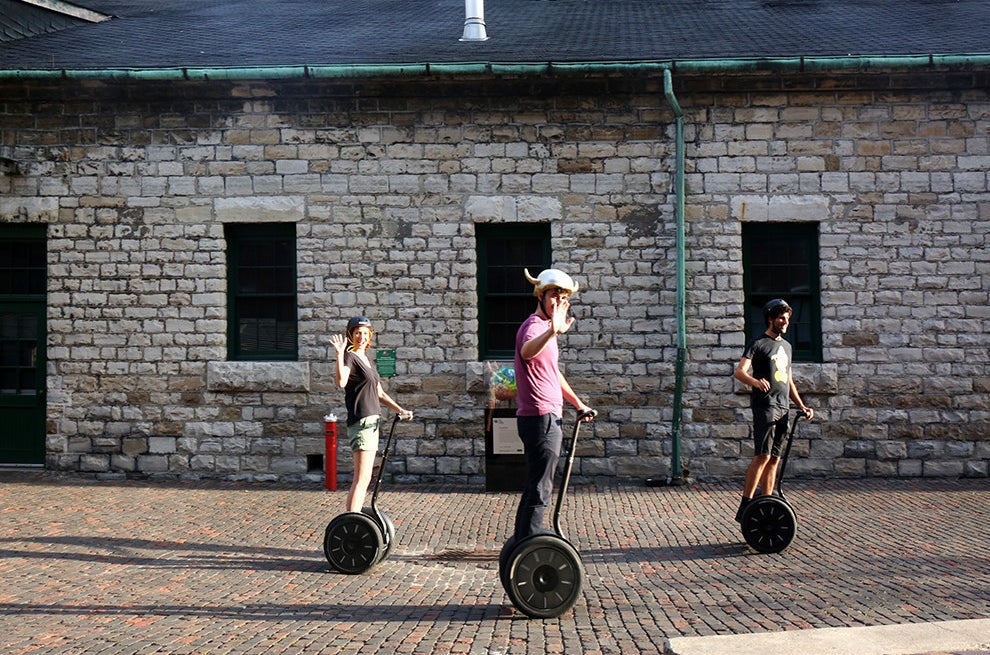 7 p.m.: Have a bite to eat and some craft beer at Mill Street Brewery. This famous Canadian brewery opened its doors in 2002 and introduced the Original Organic Lager, the first-ever organic beer brewed in Canada. Today, they have over 60 unique beers, with many award-winning blends including the 100th Meridian and the Tankhouse Ale.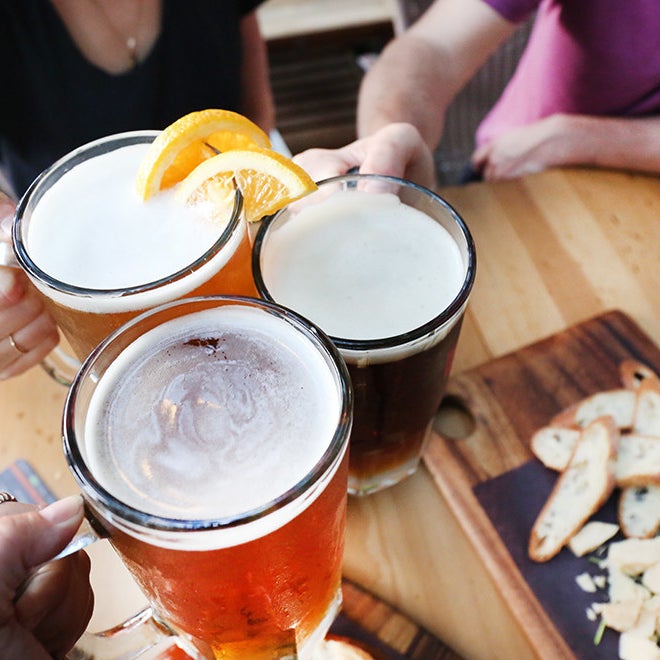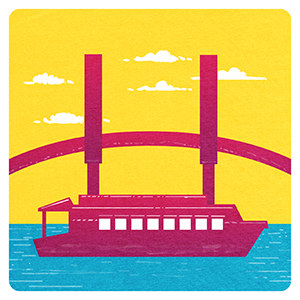 11 a.m.: No trip to Toronto is complete without visiting one of the most unique sights any city can offer: the Toronto Islands. Roughly the same size as Central Park in New York City, this beautiful collection of islands is surrounded by Lake Ontario and offers the best views of Toronto's skyline. Catch some amazing city views on the quick 10-minute ferry to Centre Island.
11:30 a.m.: Pet some cute animals at Far Enough Farm on Centre Island.
Noon: Bike along the scenic boardwalk to the idyllic Ward's Island and have lunch at The Island Cafe. Chill at the Ward's Island beach for the rest of the day.
5 p.m.: Take a selfie in front of the amazing skyline before catching the ferry back to the city. Wait until sunset for the perfect photo op.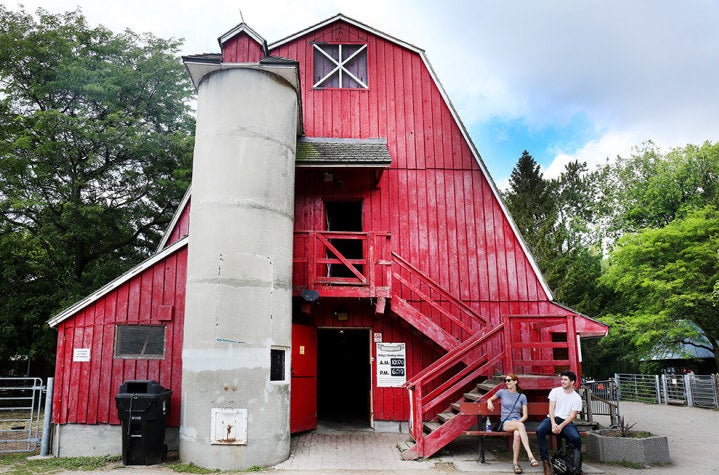 7 p.m.: Return your bikes and pat yourself on the back for surviving your Toronto extravaganza on two wheels.

And there you have it. Three days on two wheels = not enough time in this incredible city.
You can never run out of things to do in Toronto. Although we rode around many different neighborhoods and covered a lot of territory, we were still left with the sense that we had barely scratched the surface and feeling like we really need to come back here soon.
Our experiences in Kensington Market, the Distillery, Queen West, and the many other happening spots we visited definitely confirmed that Toronto is truly Canada's downtown. It's a mosaic of many different cultures that you can experience for yourself in various compact neighborhoods. Toronto is the kind of place you could visit over and over again, and easily see different things every time. The city is scattered with lovely neighborhoods, many public green spaces, and friendly people. Its downtown is manageable (on bike or foot) but still feels cosmopolitan enough that you can get lost exploring. And it's become very bike friendly in the past few years, with bike lanes sprouting up on many busy streets.
Every time I go back to visit, Toronto feels like it's constantly evolving and innovating, like it's really found its groove. I can hardly keep up with all of the phenomenal restaurants popping up, independent coffee shops on every corner, and eclectic festivals for everything imaginable. Toronto really has something for everyone, no matter what you're into. And anyone who visits quickly finds their own reason to fall in love with it.
Keep exploring with Destination Canada.
Photographs by Aubree Lennon / © BuzzFeed
Illustrations by William Smith / © BuzzFeed