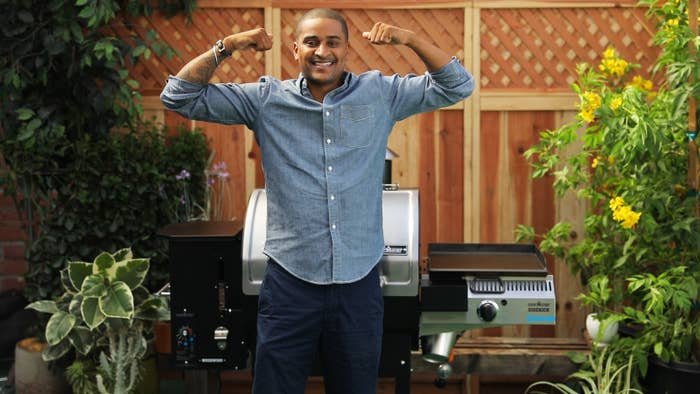 INGREDIENTS
6–8 pounds pork belly, trimmed
3 tablespoons olive oil
½ cup CampChef BBQ rub
Honey butter BBQ sauce:
1 cup ketchup
½ cup honey
¼ cup white vinegar
¼ cup molasses
1 teaspoon worcestershire
½ teaspoon salt
½ teaspoon ground black pepper
½ teaspoon paprika
½ teaspoon chili powder
½ teaspoon onion powder
½ teaspoon garlic powder
½ teaspoon cayenne pepper
¼ cup butter
PREPARATION
1. Turn on smoker to 250°F to preheat.
2. Trim any excess fat from pork belly and slice into 1½-inch cubes.
3. Place the pork in a large bowl and drizzle with olive oil. Sprinkle with BBQ rub and toss until the pieces are evenly coated.
4. Line up the pork pieces on a rack or two if needed. Place in smoker and smoke for 3 hours.
5. While the pork cooks, make the BBQ sauce by stirring ketchup, honey, vinegar, and molasses together in a saucepan over medium heat until smooth. Then add worcestershire, salt, pepper, paprika, chili powder, onion powder, garlic powder, and cayenne pepper, then stir until melted. Reduce heat to low and simmer until thickened, then mix in butter and set aside.
6. Remove pieces and place into a metal baking dish. Pour BBQ sauce over the pork and carefully stir to evenly coat them.
7. Cover the baking dish with foil and place back into the smoker for about 1 hour or until the pork has an internal temperature of at least 203°F.
8. Uncover the baking dish and cook for an additional 15 minutes.
9. Serve immediately and enjoy!