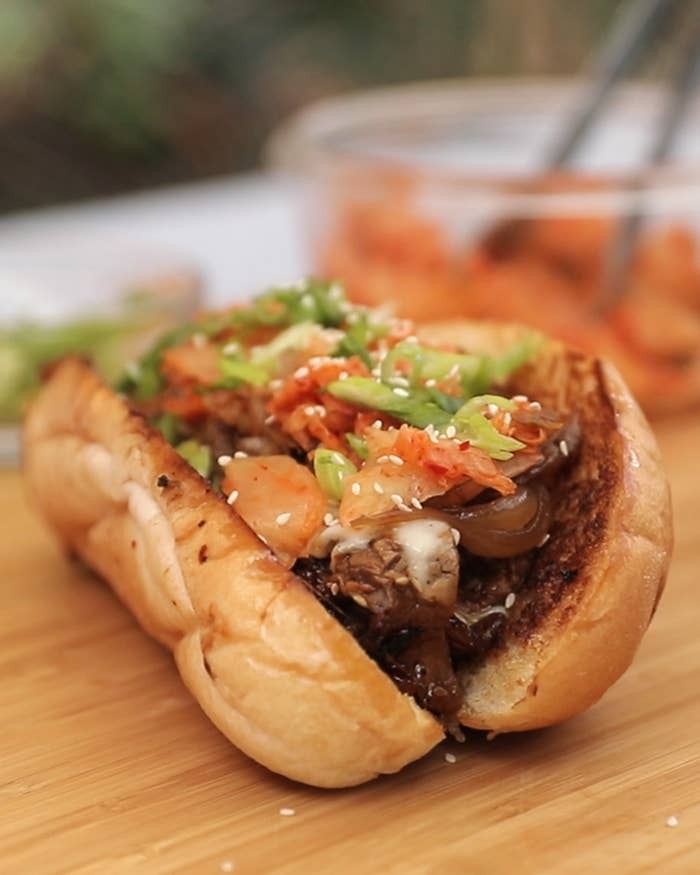 KOREAN CHEESESTEAKS
INGREDIENTS:
2 pounds flank steak

Bulgogi Marinade

3⁄4 cup soy sauce

5 tablespoons brown sugar

1⁄2 cup chopped green onion

4 tablespoons minced garlic

1 tablespoon sesame seeds

2 tablespoons sesame oil

1 teaspoon ground black pepper

2 teaspoons ground Korean red pepper or red pepper flakes 2 tablespoons minced ginger

Soy Caramelized onion

1⁄4 cup olive oil

2 cups thinly sliced onion 4 tablespoons soy sauce

Assembly
4 hoagie rolls

2 tablespoons sesame oil

8 slices provolone cheese

1 cup kimchi, chopped

1 green onion, chopped

1 tablespoon sesame seeds

PREPARATION:
Place the flank steak in the freezer for 30–45 minutes until more firm for easier slicing.

While the meat is chilling, make the marinade by whisking together the marinade ingredients in a large bowl.
When the meat is ready, remove from the freezer and slice against the grain as thinly as possible. Add the meat to the bowl of marinade and toss until coated, then place in the refrigerator to marinate for at least an hour.
Turn on the Camp Chef Flat Top Grill to high and make the grilled onions by adding olive oil to the flat top and then add the onions in a single layer and cook, stirring occasionally until they are browned and soft.
Then add soy sauce to the onions and stir until liquid has almost evaporated. Remove from grill and set aside.

Slice open hoagies and brush the inside with sesame oil. Place down on the grill for 10–15 seconds until browned. Remove and set aside.

Place 1⁄2 pound of the meat onto the grill, cook for 45 to 60 seconds until browned on one side, flip meat over, and then place 4 halved slices of provolone on the top of the meat. Cook for another 60 seconds until the meat is browned and the cheese is melted.

Remove meat with melted cheese from the grill and place directly on a browned hoagie bun.

Layer on some caramelized onions and kimchi, then finish with green onions and sesame seeds.

Serve immediately and enjoy!