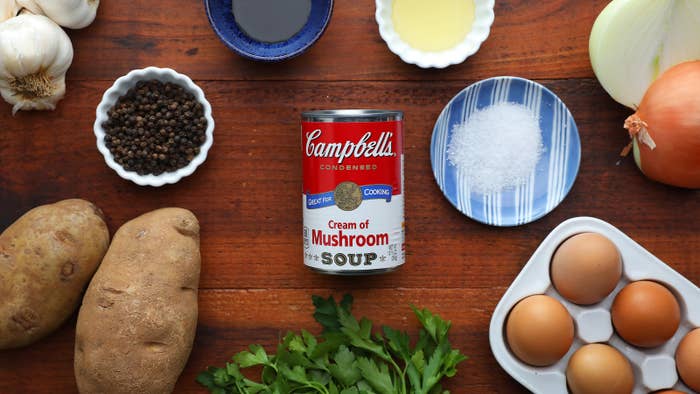 Servings: 3-4
INGREDIENTS:
Meatloaf
1 onion, diced

1 clove garlic, minced

1 tbs olive oil

1 lb ground turkey

1 egg

2 teaspoons worcestershire sauce

1/3 can Campbell's Mushroom Soup

1 tsp salt

1 tsp black pepper

⅓ cup breadcrumbs
Mashed Potatoes: makes about 1 cup
2/3 cup water

1 tbs butter

½ tsp salt

2/3 cup potato flakes

1/3 cup whole milk

Gravy

1 tbs butter

1 tbs flour

1/3 cup Campbell's Mushroom Soup

2 tbs beef stock, more as needed

Garnish

Chives, chopped

3in cupcake tin, 6 muffins

Nonstick spray

852 large star tip

Pastry bag

PREPARATION:
Preheat the oven to 350 degrees F.

In a small saute pan over medium heat, add the olive oil, onions and garlic and cook until translucent, about 5 minutes. Place into a bowl with ground turkey, 1 egg, worcestershire sauce, 1/3 can Campbell's Mushroom Soup, salt, black pepper, and bread crumbs and mix to together to combine.

Spray a cupcake pan with nonstick spray. Using a ¼ cup scoop, scoop meat mixture into cupcake tins until filled to the top. Press down with your fingers to create a flat top.

Place into the oven and bake for 20 minutes.

Meanwhile, make the mashed potatoes in a small sauce pot. Boil the water, butter and salt. Then remove from the stove and add milk, and potato flakes. Stir until well combined. Place the finished mashed potatoes into a piping bag with a large star tip and set aside.

For the gravy, in a medium saute pan make a roux by melting the butter and adding the flour, stirring constantly with a whisk, until the mixture turns a golden brown, about 5 minutes.

Add Campbell's Mushroom soup and beef stock until a gravy like consistency is reached.

Remove the mini meatloafs from the cupcake tins and pipe the mashed potatoes on top of the meatloafs in a circular motion. Drizzle with the gravy and garnish with chives.