Cheesy Fajita Potatoes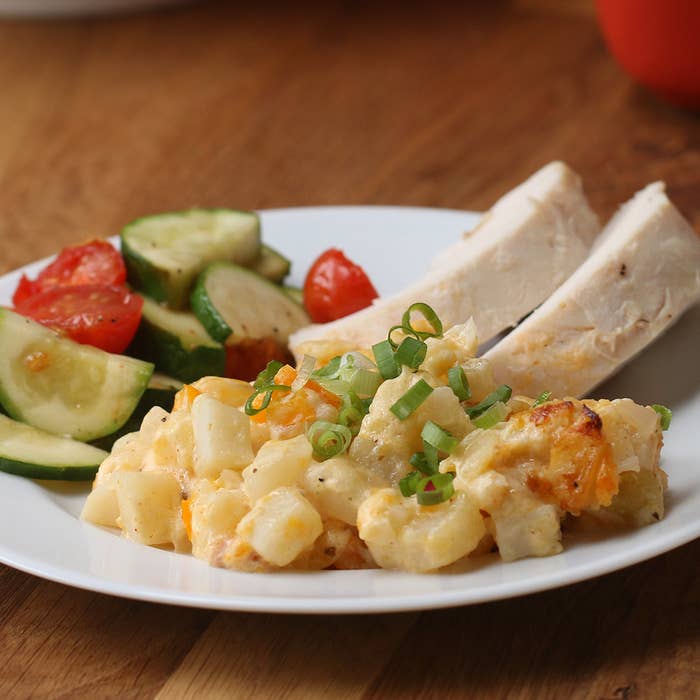 INGREDIENTS
4 tablespoons butter
1 small diced onion
1 small diced bell pepper
1 can Campbell's Cream of Chicken Soup
1 cup sour cream
½ cup milk
2 tablespoons fajita seasoning
1 teaspoon garlic powder
1 bag frozen Potatoes O'Brien
2½ cups shredded cheese, divided
½ cup sliced scallions (garnish)
PREPARATION
1. Preheat oven to 375℉/190℃.

2. Heat a saute pan over medium-high heat and add the butter. Saute the onion and bell pepper in butter until soft, 3-4 minutes.  
3. Add the cream of chicken soup, milk, sour cream, garlic powder, and fajita seasoning to a mixing bowl and stir to combine. Add the potatoes and 1¼ cups of cheese and fold together. Transfer to a 9x13-inch baking pan, cover with foil and bake 30 minutes.  

4. Remove foil, add remaining 1¼ cup of cheese and bake an additional 10 minutes.

5. Garnish with scallions.

6. Enjoy!