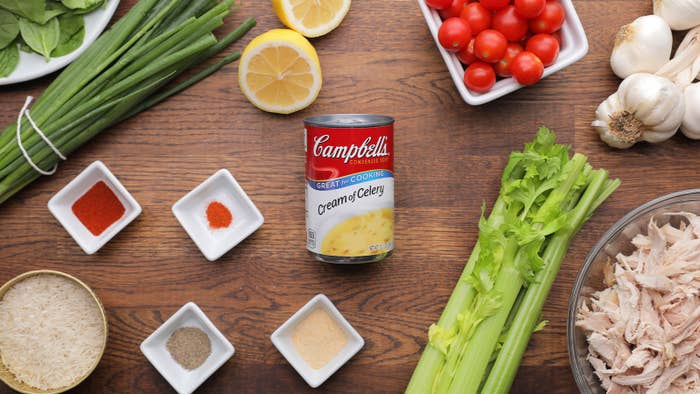 Servings: 6-8

INGREDIENTS:
1/2 onion, diced

2 stalks celery, cut in half lengthwise and then diced

2 cloves garlic, minced

1 tablespoon olive oil

2 cups shredded rotisserie chicken

2 cups cooked basmati rice

1 can Campbell's Cream of Celery Soup

2 teaspoons dijon mustard

1/4 cup heavy cream

1/2 teaspoon black pepper

1/4 teaspoon paprika

1 teaspoon garlic powder

pinch cayenne

juice of 1 lemon

1 cup cherry tomatoes, cut in half, divided

1 cup shredded Monterey Jack, divided

2 scallions, sliced for garnish

PREPARATION:
Preheat the oven to 350 degrees F.

In a medium pan over medium heat, add the olive oil and saute the onions, celery, and garlic until translucent, about 5 minutes.

Add the can of soup, dijon mustard, and heavy cream until heated through.

In a large bowl, combine the chicken, soup mixture, rice, lemon juice, 1/2 cup Monterey Jack, 3/4 cup tomatoes, and all the spices.

Spray a 2½-quart casserole dish with nonstick spray and place the chicken mixture into the casserole dish. Bake for 20 minutes.

Remove from the oven, top with remaining ¼ cup tomatoes, ½ cup cheese and scallions. Place back into the oven on the top rack to melt the cheese, about 5 minutes.