Creamy Curry Chicken, Rice, and Veggie Bake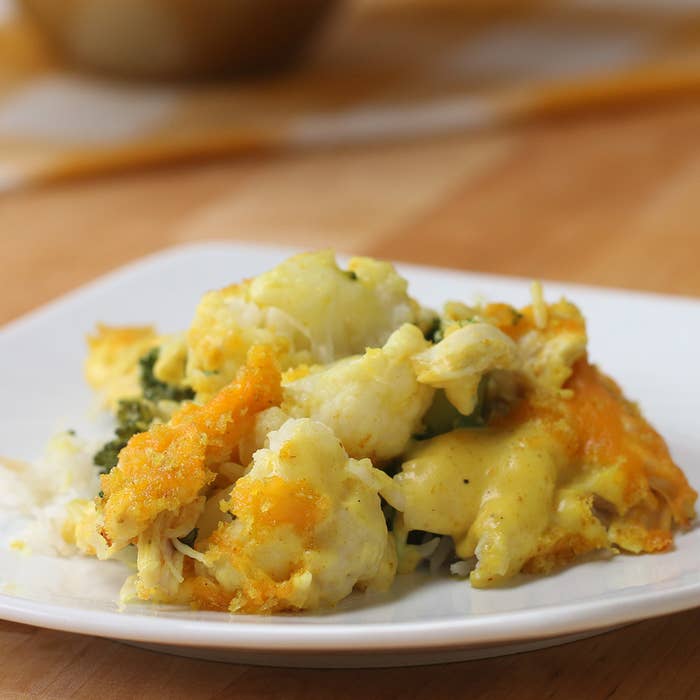 INGREDIENTS
Servings: 8
1¼ cups water or chicken stock
1¼ cups basmati rice
2 cups broccoli florets
2 cups cauliflower florets
2 cans Campbell's Cream of Chicken Soup
1⅓ cup milk
2 teaspoons curry powder
Salt and pepper
Juice of half a lemon
½ cup frozen green peas
3 cups baby spinach
4 cups cooked shredded chicken
Topping
⅓ cup breadcrumbs
½ teaspoon curry powder (optional)
2 tablespoons melted butter
1 cup shredded cheddar cheese
PREPARATION
1. Preheat oven to 450℉/230℃.

2. Bring the water or chicken stock to a boil and add rice. Top with cauliflower and broccoli florets and cover. Simmer 12 minutes. Uncover and set aside. 

3. Whisk together the Campbell's Cream of Chicken soup, milk, curry powder, salt, and pepper.

4. In a separate bowl, toss the breadcrumbs with the melted butter and optional curry powder. 

5. Pour the rice, broccoli, and cauliflower into a 9x9 baking dish. Fold in the spinach and peas. Layer the chicken. Pour the sauce over the top.

6. Sprinkle the cheese across the top, then cover with breadcrumb mixture. 

7. Bake for 15 minutes or until bubbly and browned.

8. Enjoy!