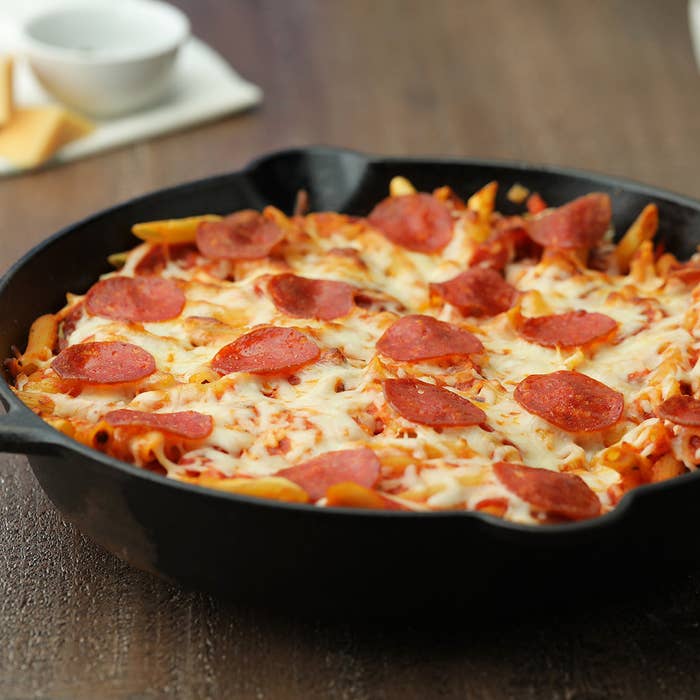 INGREDIENTS:
1 pound penne pasta
1 tablespoon olive oil
Half a yellow onion (about ½ cup), small diced
Half a red bell pepper (about ½ cup), small diced
1 teaspoon kosher salt
½ teaspoon ground pepper
1 ½ teaspoon dried oregano
4 ounces (approximately 1¼ cups) pepperoni slices
1 jar (24 ounces) Prego® Traditional Italian Sauce
3 cups shredded mozzarella cheese, divided
Parmesan, for garnish
1 tablespoon chopped fresh parsley
PREPARATION:
1. Preheat oven to 375ºF (350ºF for convection).
2. Bring a large pot of salted water to boil. Add penne and cook uncovered, stirring occasionally, for 8–10 minutes, or until pasta is tender, but still has a little bite.
3. While the penne is cooking, heat olive oil in a 12-inch oven-safe skillet over medium low heat. Add onion, bell pepper, kosher salt, ground pepper, and dried oregano. Cook, stirring occasionally, until vegetables are softened and translucent, 7–8 minutes. Remove pan from heat.
4. Add cooked penne, pepperoni (reserving a handful of pepperoni for topping), Prego® Traditional Italian Sauce, and 2 cups mozzarella cheese. Stir to combine. Spread everything out evenly in the skillet. Top with the rest of the mozzarella cheese and arrange the reserved pepperoni on top.
5. Bake for 10–12 minutes, until it starts to brown in places and cheese is melted.
6. Sprinkle with Parmesan and parsley before serving.