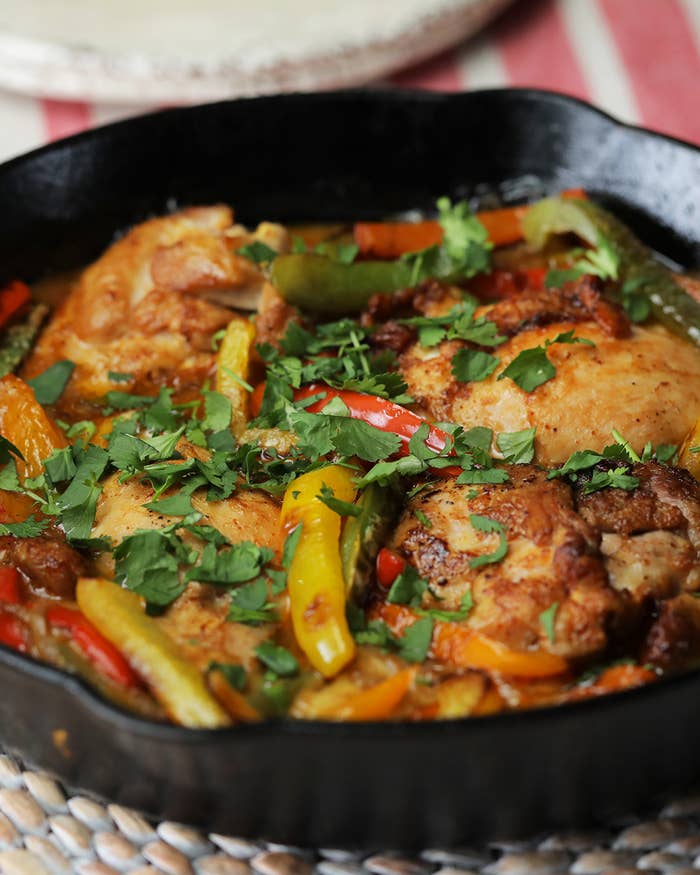 INGREDIENTS
1 ½ lb boneless chicken thighs
½ teaspoon cumin
½ teaspoon salt
½ teaspoon chili powder
¼ teaspoon cayenne
½ yellow onion
½ each assorted peppers (green, yellow, red)
1 can Campbell's Cream of Chicken Soup
½ cup shredded cheese
2 tablespoons olive oil
Cilantro for garnish (optional)
PREPARATION
1. Preheat oven to 400ºF.
2. Mix cumin, salt, chili and cayenne and toss onto chicken.
3. Heat olive oil over med-high heat and sear chicken until nicely browned, remove from pan (may need to add additional tablespoon of oil), add peppers and onions and lightly sauté until starting to soften, making sure to scrape up brown bits from the pan (about 4 minutes).
4. Add soup and stir well. Place chicken thighs back in the pan, and top with cheese.
5. Garnish with cilantro, and serve with rice.