Creamy Spinach Stuffed Chicken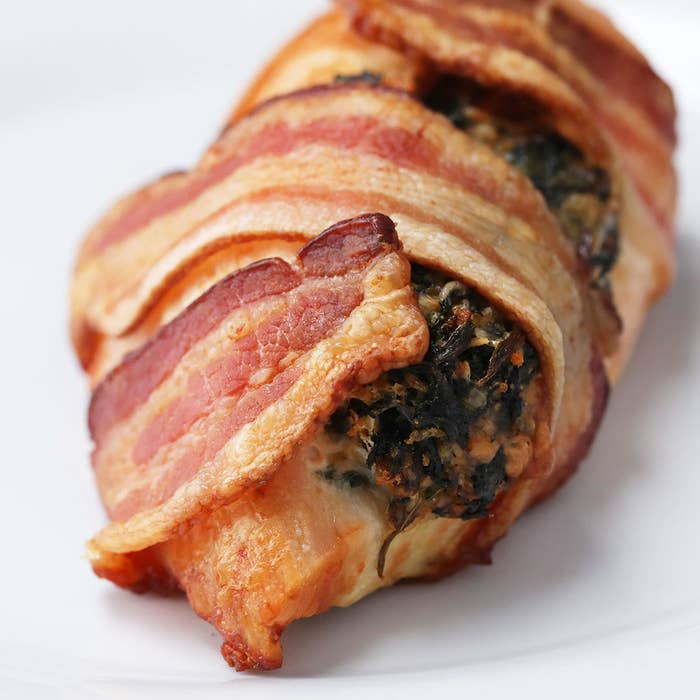 INGREDIENTS
Servings 4
10 ounces frozen spinach, thawed and drained
2 tablespoons panko
¼ cup grated Parmesan
⅛ teaspoon cayenne
⅛ teaspoon nutmeg
2 tablespoons Campbell's Cream of Bacon Condensed Soup
4 boneless chicken breasts
8-10 slices thick cut bacon
2 tablespoons olive oil
Salt and pepper
PREPERATION
1. Preheat oven to 350°F/180°C.

2. Combine spinach, cayenne, nutmeg, panko, Campbell's Cream of Bacon Condensed Soup, and Parmesan, then set aside.

3. Carefully slice into the thickest part of the breast, being careful not to cut all the way through, creating a pocket. 

4. Spoon spinach mixture into chicken breasts, being careful not to overstuff.

5. Wrap each chicken breast in 1-2 slices of bacon (depending on thickness).

6. Cover and bake for 25-30 minutes, or until bacon is crisp and chicken is cooked through (160°).

7. Enjoy!