This Quinoa Eggplant Parm Boat Is SO Perfect For A Vegan Lunch
#VeganFridays
by
,
Quinoa Eggplant Parm Boat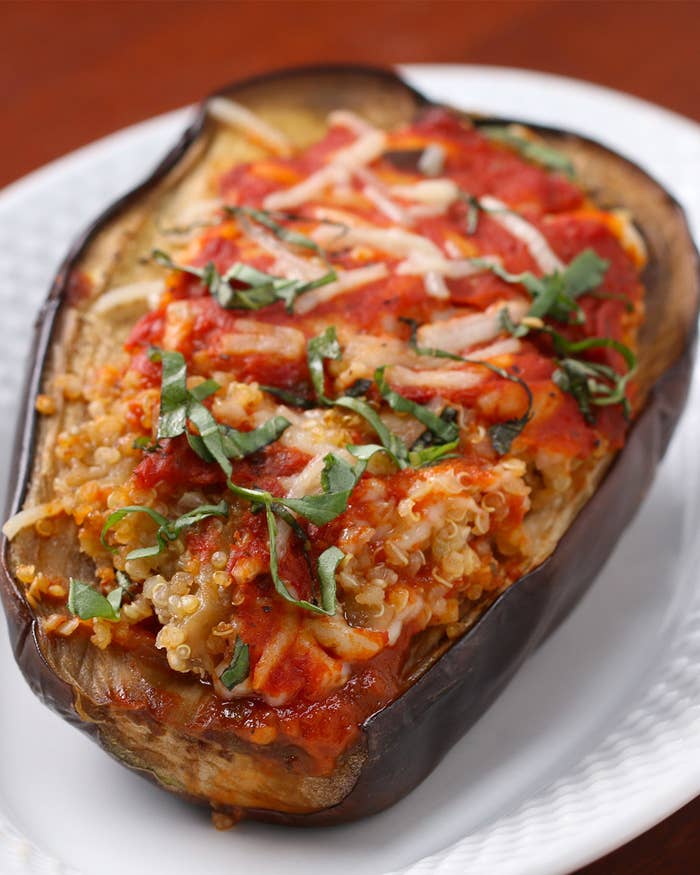 INGREDIENTS
Servings: 4
INGREDIENTS
2 eggplants
Olive oil
½ teaspoon kosher salt
½ teaspoon pepper
¼ cup onion, chopped
3 cloves garlic, minced
½ cup quinoa
1 cup vegetable stock
1 cup vegan shredded mozzarella
1 cup marinara
PREPARATION
1. Preheat oven to 375ºF/190ºC.
2. On a cutting board, slice off the stem of the eggplants, and then cut in half lengthwise.
3. Cut or scoop out the middle of the eggplants and place on a sheet tray. Roughly chop scooped out center of the eggplant, and set aside.
4. Drizzle eggplant halves with olive oil, salt, and pepper, then bake for 10 minutes.
5. In a pot, heat 1 teaspoon of olive oil over medium heat. Add the onion and cook until soft.
6. Add the garlic and quinoa. Stir and cook for 2 minutes.
7. Add the vegetable broth, stir, and bring to a boil.
8. Cover and reduce heat to a simmer for 15 minutes.
9. Uncover and scoop evenly into the eggplant boats.
10. Cover the tops with cheese, spread marinara on top, and sprinkle with more cheese.
11. Bake for 20-25 minutes, or until the cheese is melted.
12. Enjoy!