Garlic Herb Chicken And Rice Bake
Your perfectly balanced dinner is here!
by
,
Garlic Herb Chicken And Rice Bake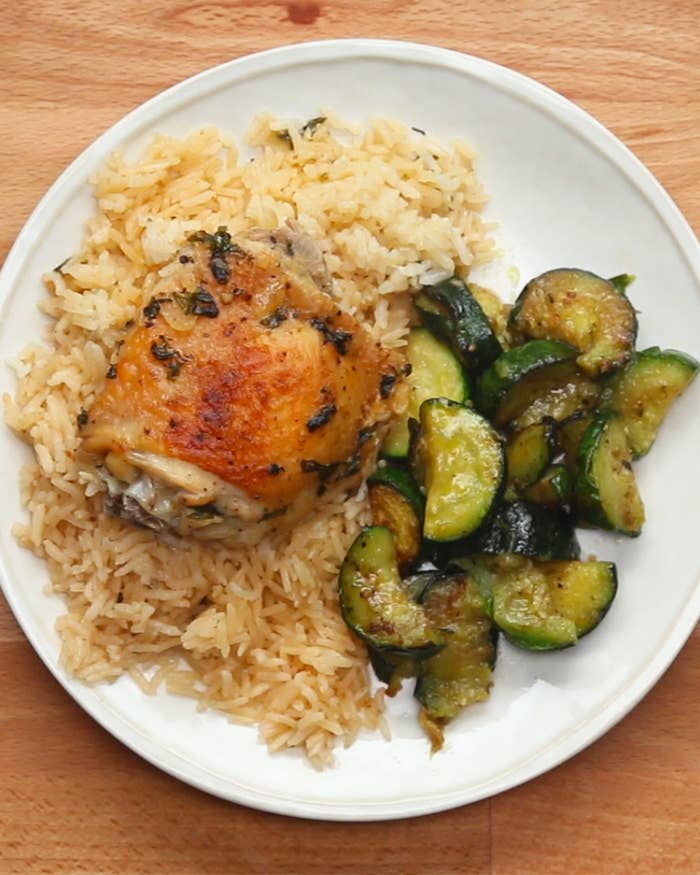 INGREDIENTS
Servings: 5
3 teaspoons seasoned salt, divided
1 teaspoon black pepper
½ teaspoon onion powder
½ teaspoon garlic powder
1 teaspoon vegetable oil
5 bone-in, skin-on chicken thighs
1 cup onion, diced
5 cloves garlic, minced
2 tablespoons parsley, minced
1 tablespoon thyme, minced
1 tablespoon oregano, minced
2 cups long grain rice
3 cups chicken broth
PREPARATION
1. Preheat oven to 400ºF/200ºC.
2. Combine half of the seasoned salt, black pepper, onion powder, and garlic powder in a bowl and mix to combine.
3. Heat oil over medium heat in a large Dutch oven. Sprinkle seasoning mix over chicken thighs and cook, skin side down until the skin becomes slightly crispy (approximately 8-10 minutes). Flip the chicken thighs over to cook the other side (3 minutes), then remove from pan.
4. Add onion and stir until translucent, then add garlic and herbs, and stir.
5. Add in rice and the rest of the seasoned salt, and stir to combine. Pour chicken broth over rice mixture and lay the chicken thighs (skin side up) on top.
6. Cover with lid and bake for 35-40 minutes.
7. Remove from oven, cool for 10 minutes, and serve.
8. Enjoy!