Beef And Cheese Tortellini Bake
Easy weeknight dinner for your family.
by
,
Beef And Cheese Tortellini Bake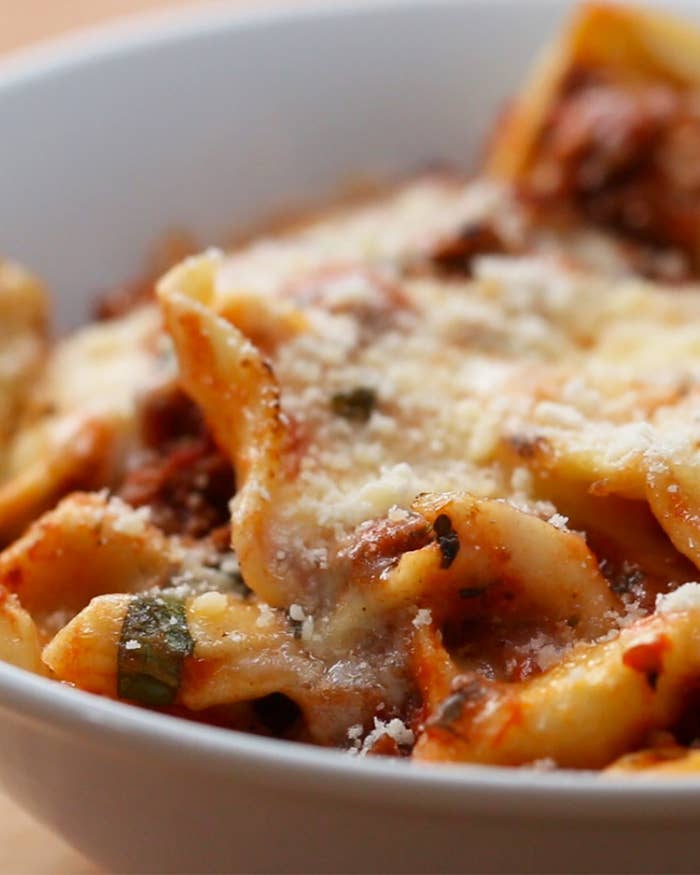 INGREDIENTS
Servings: 6-8
1 teaspoon olive oil
1 pound ground beef
Salt, to taste
Pepper, to taste
½ cup onion, chopped
1 clove garlic, minced
1 teaspoon dried oregano
1 teaspoon dried thyme
2 teaspoons dried parsley
1 28-ounce can crushed tomatoes
¼ cup basil, sliced
2 cups shredded mozzarella
1¼ pounds cheese tortellini, cooked and drained
PREPARATION
1. Preheat oven to 375ºF/190ºC.
2. Add a teaspoon of olive oil to a heavy saucepan and brown the beef over medium-high heat. Season with salt and pepper.
3. Move beef to one side of the hot pan and add in onions. Stir to soften, then add garlic.
4. Mix in the dried herbs and crushed tomatoes. Bring to a boil and cook for 5-10 minutes, stirring occasionally. Taste and season with salt and pepper as necessary. Remove from heat.
5. Spoon a thin layer of meat sauce in the bottom of a casserole dish. Layer as follows: tortellini, cheese, basil, sauce, tortellini, cheese, basil, sauce, and cheese.
6. Bake for 15-20 minutes, or until cheese is melted and bubbling.
7. Cool for several minutes and serve.
8. Enjoy!