Megan Guthrie is an 18-year-old student from Miami, Florida, and like many people her age, she's obsessed with TikTok. In August last year she began making videos on the platform after being grounded by her parents.

Her TikTok videos — which show her making jokes, dancing or jumping on the latest trend — took off. Her account @megnutt02 has more than 1.7 million followers, and her videos have been viewed hundreds of millions of times.

"I began making TikToks and got more and more likes. I've been trying to make a career out of it," Guthrie told BuzzFeed News.

In early April nudes Guthrie had taken when she was 17 and sent to one other person began circulating on the internet.
The images first leaked onto Discord, she said, before making their way onto other social media platforms and websites. They went viral. A (now-defunct) subreddit created to share the images was the fastest growing subreddit on April 3.
Her TikTok username was a trending search on Pornhub, which hosted video slideshows of the images. One person even recreated the images in Minecraft.

Guthrie first found out about the leak when she heard from friends who had been sent the images by people online.
"I was made aware of it when some of my caring and dedicated followers decided to track down family members and friends and [direct message] them ... I was really confused and angry about why people would release them, the mean spirits that it took to send them," she said.
Guthrie felt violated. People she didn't know that well from school were messaging her to see if she was OK.
"Those were private photos, taken underage, and no-one deserves to have their private photos leak and to be shown to the world and to be constantly reminded about it," she said.
People began harassing Guthrie with her images. Hundreds of accounts on TikTok used the images as their profile picture and commented on her videos so anyone who looked in the comments would see them. People posted the photographs on Instagram and tagged her dozens of times. Others included the images in TikToks so that people searching her name would find them. Guthrie said her videos began being automatically flagged for review as soon as she posted them — something she attributes to being caught in the crosshairs of TikTok's moderation.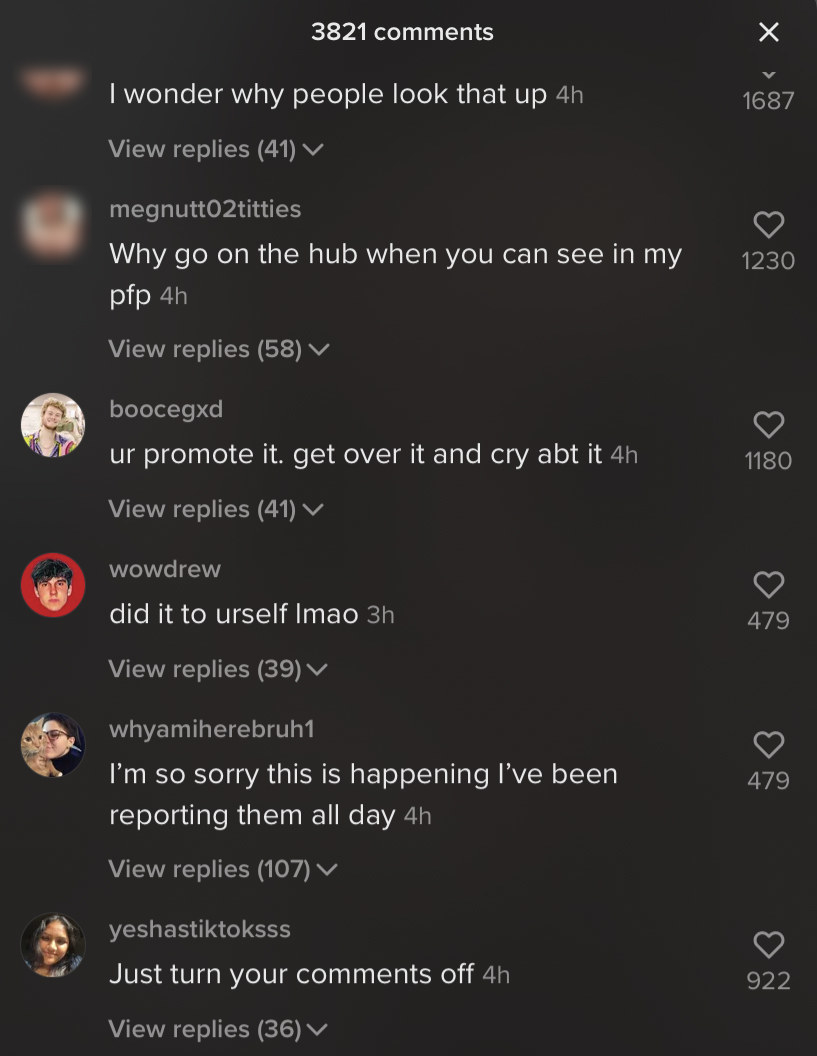 Fights began to break out in the comments between people blaming Guthrie for the images and those defending her against harassment. One verified TikTok user commented on a video where she referenced the leak: "ok i tried defending u but now there's no defense".

Guthrie recalls people accusing her of benefitting from the situation.

"It's a violating experience and a lot of people say 'you get clout off it, you get followers'. That's great and all but it's still a situation you don't want to be in," she said.
A TikTok spokesperson told BuzzFeed News that they were aware of the behaviour and were cracking down on it. They denied Guthrie's account had been affected by their moderation.
"The offending imagery, which originated on another platform, has been removed from TikTok and the accounts have been banned," they said.
Guthrie is disappointed with TikTok's response. Guthrie's profile had been flooded with her underage images for days before the offending comments and accounts began to be deleted en masse. TikTok's search autocomplete function still suggests "Megnutt02 leaks" when you type in her account name. No-one from the platform contacted Guthrie, despite her attempts to get in touch.
The images are still popping up on TikTok, however.

"There's no excuse for TikTok allowing this. They need to have a better protocol in place. People report the account, but the account gets taken down 24 hours later, and by then they've already made two new accounts," Guthrie said.
Guthrie was heartened, however, by the response from other big TikTok creators who supported her in messages and videos. She said it's common for young women on TikTok to be sexualised by people on the platform, and that others had also had their nudes leaked and shared without their consent.
Some people even began comparing Guthrie to Amanda Todd, a 15-year-old who killed herself after she was blackmailed into sharing intimate images online. Guthrie said she's OK, and has been able to cope with the harassment so far.
"Luckily, I have the right support system and I've been able to move past this and not let it affect me. I'm lucky that I'm in a good place," she said.
Things haven't changed too much for Guthrie. Like many others, she's studying from home. She still wants to become an actor. She's even still making TikToks (including videos that address her harassment.)
But now she wants to help others who end up in the same situation and is looking into ways she can do that. She plans to launch a YouTube channel where she will talk about what this experience was like for her.

"I feel like I'm not a victim, but I have been victimised. The only thing that separated me has been my mindset. Now, I'll ride the wave, I'm going with the flow," she said.