This Man's Post Was The First To Be "Corrected" By Facebook Under Singapore's Fake News Law
"Facebook did a great job," said Alex Tan. "They didn't say that this post contains a falsehood."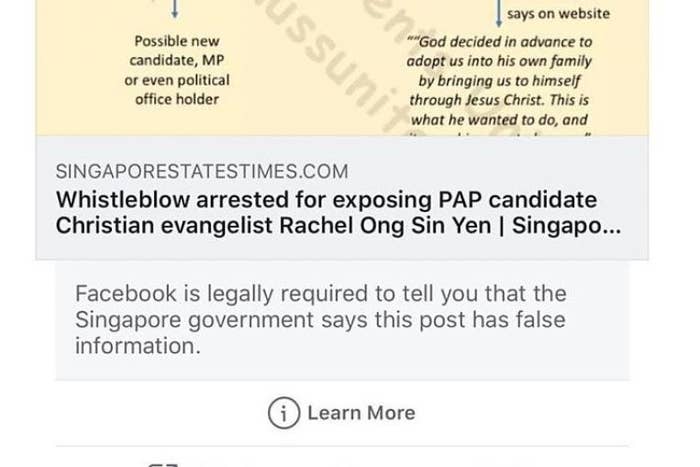 Alex Tan heard the news secondhand that the Singaporean government was using its fake news law against him. A friend contacted Tan over Messenger on Nov. 28 to tell him Singaporean media outlets were reporting one of his Facebook posts had been determined as fake news, and that he had been issued with a "correction direction".
The direction, which ordered Tan to edit the post to say it contained false information, is a newly-acquired power for the Singaporean government. It arises from the recently passed Protection From Online Falsehoods And Manipulation (POFMA) Act.
The penalty for not following such an order can be up to a year in prison and a SG$20,000 (US$14,600) fine.
Tan, who is an Australian permanent resident, has run the anti-Singaporean government blog States Times Review and its Facebook page, which has 53,000 likes, since 2015.
The correction direction (and an accompanying post on a government website) referred to a Nov. 23 post on Tan's Facebook page that alleged a Singaporean whistleblower had been arrested. The Singaporean government said no such arrest was made.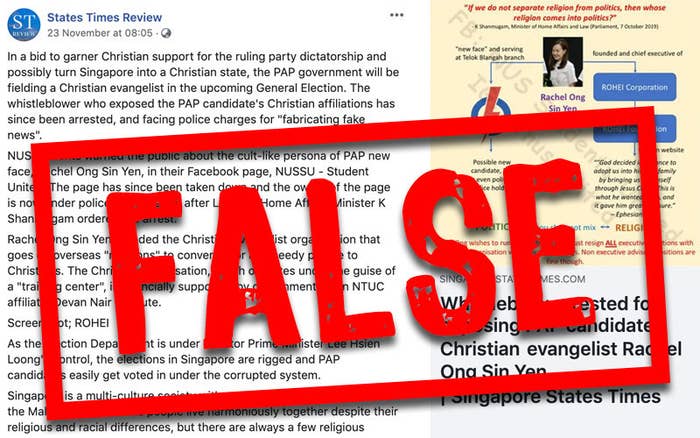 Tan, who has lived in Sydney, Australia since 2015, told BuzzFeed News that he has not been contacted by the Singaporean government about the post. Singapore's POFMA office didn't answer questions about whether it had attempted to contact Tan.
After learning about the order, Tan updated his post to include the Singaporean government's response. In an interview with BuzzFeed News, Tan conceded the claim about the arrest (which was based on a tip-off) may not be accurate, calling it "sensationalised".
He did not, however, comply with the directive by editing the post to say it contained false information. "Basically, on the same day [I became aware of the order], I put up a post saying that I wouldn't comply with orders from a foreign government," Tan said.
That's when the Singaporean minister for home affairs K. Shanmugam did something that had never been done before: on Nov. 29, Shanmugam instructed the POFMA office to order Facebook to correct the post.
Facebook's potential penalty for failing to correct the post would be a SG$1 million (US$ 730,000) fine initially, and an additional SG$100,000 (US$ 73,000) each subsequent day it remained unamended.
On Nov. 30, it was reported that Singaporean Facebook users were seeing a notice below the post, saying "Facebook is legally required to tell you that the Singapore government says this post has false information".

Users outside of Singapore were not able to see the notice. BuzzFeed News' attempts to view the notice by using a VPN to connect to Facebook through a Singaporean IP address were unsuccessful.
A Facebook spokesperson confirmed the company had complied with the order.

"As it is early days of the law coming into effect, we hope the Singapore government's assurances that it will not impact free expression will lead to a measured and transparent approach to implementation," a Facebook spokesperson told BuzzFeed News in a statement.
Tan said Facebook never contacted him about the notice. He has also only seen the disclaimer through other people's screenshots in media coverage, because he doesn't live in Singapore.
Still, he's pleased with how Facebook has handled the order. He thinks the move draws attention to the lack of press freedom in Singapore, which is ranked 151st out of 180 countries in the 2019 World Press Freedom Index.
"If you read the notice, it says that Facebook was legally required to inform you that the Singaporean government says this is false," Tan said. "Facebook did a great job. They didn't say that this post contains a falsehood."
Since receiving the order, he's also put the post on Twitter, LinkedIn and in a Google Doc. The POFMA Office has not issued a corrective directive to these companies at the time of publication.
Tan suspects the government wielded its newfound powers to see how Facebook and the public would react.
"It's an experiment to see how quickly social media companies like Facebook would react, and to see if they're willing to comply," Tan said. "I believe they intend to exercise these powers during the election in a couple of months."
Tan said he's not worried about the threat of jail time because he will soon become an Australian citizen and is not planning on returning to Singapore.
"To be honest, as long as I stay in Australia, I don't really care," Tan said. "This is way below my other priorities. I've got my full-time work here. I just bought a new apartment. I'm not really losing sleep over it."