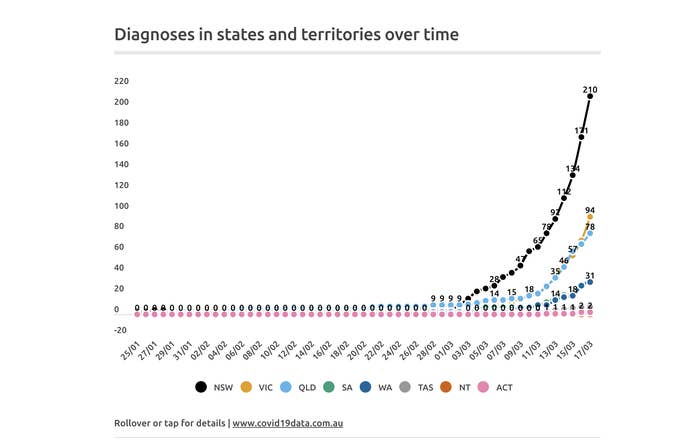 Australia has at least 454 cases of COVID-19, the disease caused by the coronavirus. At least, that's the latest figure released by the nation's Department of Health.

But if you ask others, Australia has significantly more than that. Some people have been publishing their own count — and more — in near real-time, using publicly available information.
These independent coronavirus trackers are filling the information vacuum left by the government, which they say isn't doing a good job of keeping citizens informed.
Before March 15, Australia's federal government didn't have a website with regularly updated numbers of coronavirus cases. And while the government has started publishing figures on its website, the independent coronavirus tracking resources are providing more information — such as ages, genders, even the sources of location transmissions — all in one place and updated more often.
Juliette O'Brien is a journalist and a communications consultant who runs covid19data.com.au, which tracks information about the spread of the coronavirus in Australia.
She came up with the idea a few weeks ago when she was at work at the Sydney Morning Herald. She and her colleagues were searching for a graph of how many cases had been confirmed in Australia with a state-by-state breakdown — but there was no central source for this information.
O'Brien began to go through the news reports of cases one-by-one and came up with the idea of creating the website to share the information with the public.
"I think the people in newsrooms and in health departments were so tapped in that they didn't realise it," she said. "Because if you're in the public and you're not tapped into every minute of the news cycle, you're getting lost in the swamp of information."
The website, launched on March 13, draws from news reports and updates from state health authorities to track the number of COVID-19 cases, where the subjects had been and, in some cases, how they had contracted the virus.

More than 200,000 people have viewed covid19data.com.au in excess of 315,000 times.
"I was really surprised by the reaction to it. I just told people about it, and they told people about it. In just three days I've received 600 emails, grown my Twitter follower account by thousands, and everyone has said it gives them a simple, clear visual about what is happening in the country," she said.

O'Brien thinks it's an important service, and one she's disappointed that neither government nor the media is effectively filling. She think the federal government's being inconsistent about how it's treating the public.

"They trust individuals to self-isolate, so they don't enforce a lockdown. But then we're not trusted with all the information. We're just reassured."
Despite the rising number of cases, some types of information about the coronavirus in Australia are becoming more difficult to find.
O'Brien said initially when there was just a trickle of cases, state health departments were giving detailed information about how each individual caught the virus. Now they're being less specific and that, she says, makes it harder to stay informed.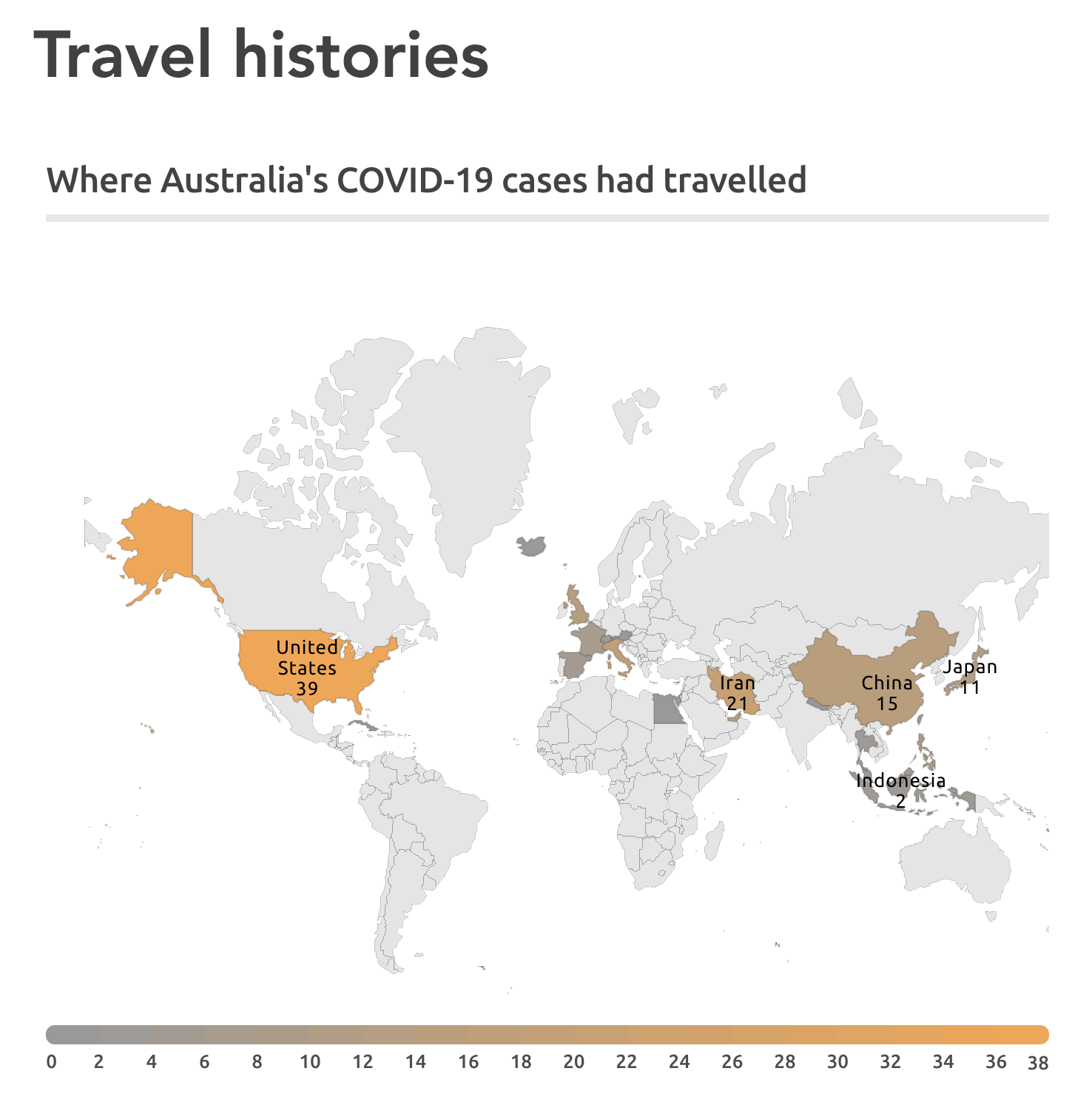 Morgan, who spoke on the condition of anonymity, runs the @VirusWatchAu Twitter account where he regularly posts state-by-state case breakdowns. He started the account in late January because he couldn't find anyone else posting Australia-focused information about the virus outbreak. He said he's motivated by a sense of ensuring accountability.

"I was surprised by the lack of government and media coverage in Australia to what was happening in China with the coronavirus," he wrote in a message. "Also, [I was] sceptical of the numbers."
The account tweets case and death numbers, as well as job listings that mention coronavirus, state health resources and even a timeline of Tom Hanks' visit to Australia — to figure out whether the actor caught the virus in Australia.
Morgan said he's no longer getting shifts at his casual role, so he's free to spend up to six hours a day researching the coronavirus in Australia.

"Information isn't being released in a consistent and systematic way so I literally have to go through the media releases or watch press conferences," Morgan said.
Jessica runs the @COVID_Australia Twitter account, which lists coronavirus cases for each state. She began started tracking the outbreak for her own interest, but created the account to share the information with others.
Jessica updates figures every hour of the day — significantly more frequently than the federal government's daily updates. She has tweeted more than 550 times to her 8,300 followers since she started the account on March 5.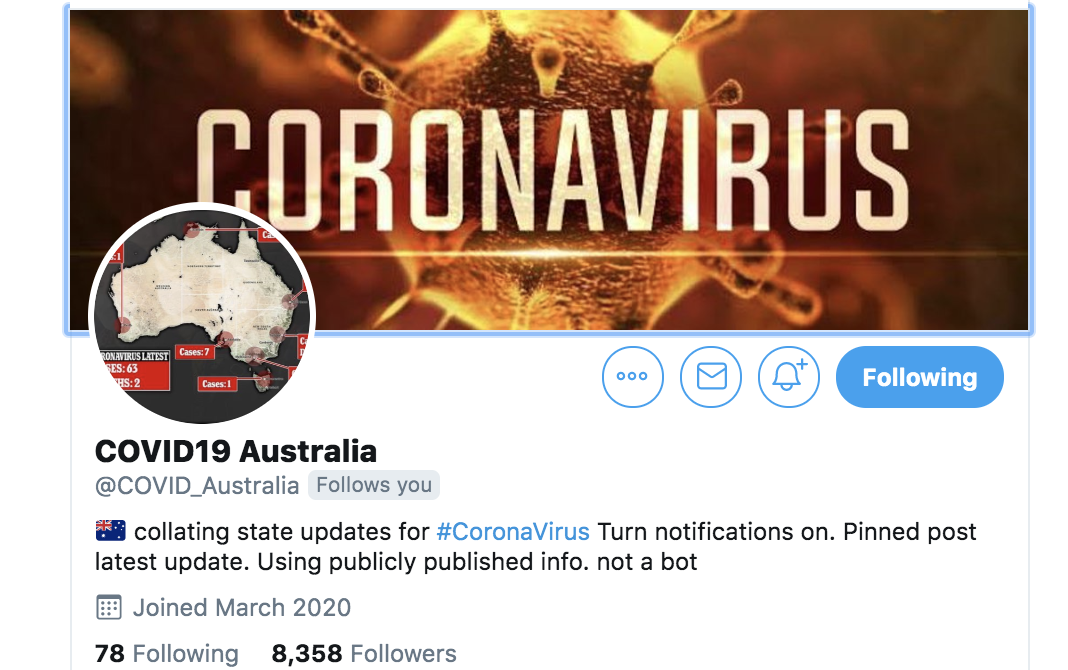 Jessica doesn't blame government for not providing this information because "they are so busy at the moment, I can see why there's a lag". That being said, she thinks it's important that people have this information quickly.

"It's going to get out of control very quickly and last a long time. I think the numbers are useful for the public to gauge the seriousness of it and equally important to let people know our recovery rates," she told BuzzFeed News.
Her bosses know how much time she is spending on this — Jessica works full-time — because they, along with her friends, have been coming to her to stay informed.
"It's not cutting into my sleep yet, but that may change," she said.