An Online Conspiracy Theory About The Bushfires Was Aired In Australia's Parliament
The theory, similar to one floated by Brazilian president Jair Bolsonaro during the Amazon fires, has been circulating online since September.
Australian senator Concetta Fierravanti-Wells has used her platform in the federal parliament to float a conspiracy theory that "ecoterrorists" or environmental activists deliberately lit Australia's bushfires to promote acceptance of climate change.
In a speech to parliament on Feb. 11, the Liberal Party representative for New South Wales questioned whether alleged arsonists were "lone actors or part of a sinister collective conducting ecoterrorism" and said the scenario suggested "a level of coordination". The senator also referred to possible overseas involvement and cited the California wildfires.
This may be its first airing in parliament, but the theory has swirled around Australia's right-wing internet circles since the beginning of the country's deadly bushfire season.

It joins other widely spread false and misleading information — including debunked claims that the Australian Greens were responsible for a downturn in hazard reduction burning and that arsonists are to blame for the severity of the bushfires — that has in recent months sent a virulent and powerful message denying the effects of climate change.
Representatives from the NSW Rural Fire Service and Victorian Country Fire Authority have said lightning strikes caused the majority of the most destructive blazes this season. Arson accounted for 1% of the land burned in NSW, and less in Victoria, the ABC reported.
Of the arson arrests that have occurred, police have not alleged fires were lit as part of environmental activism.
Australian Strategic Policy Institute's Cyber Centre researcher Elise Thomas said variations on the ecoterrorist theory had been spreading online for months.

"Online, we know that these theories have been spreading through social media and have been propagated by a range of fringe conspiratorial and right-wing media outlets, many of which are not even Australian," she told BuzzFeed News.
Only a few weeks after Brazilian president Jair Bolsonaro claimed that environmental NGOs were lighting fires in the Amazon, commenters on Australia's far-right Facebook pages began to mention the theory.

Facebook page Rite-ON published a post blaming arson rather than climate change to its 11,500 followers on Sept. 10. One of the top-voted comments said, "Makes you wonder if these arsonists are setting these to assist their colleagues with their claims of climate change."

As the bushfires worsened towards the end of 2019, the conspiracy theory became more prominent.
When a user posted an article about bushfire related arrests to the Australian Climate Sceptics Group on Dec. 7, multiple users claimed the alleged arsonists were either environmental or Islamic terrorists.
On Dec. 24, climate change denier and Liberal Party MP Craig Kelly alluded to the conspiracy theory on a post made to his Facebook page — seemingly the first time this was mentioned by an Australian politician.
After running through numbers of arson arrests in two states, Kelly wrote: "I wonder if any are Extinction Rebellion types trying to fulfil their prophecy?"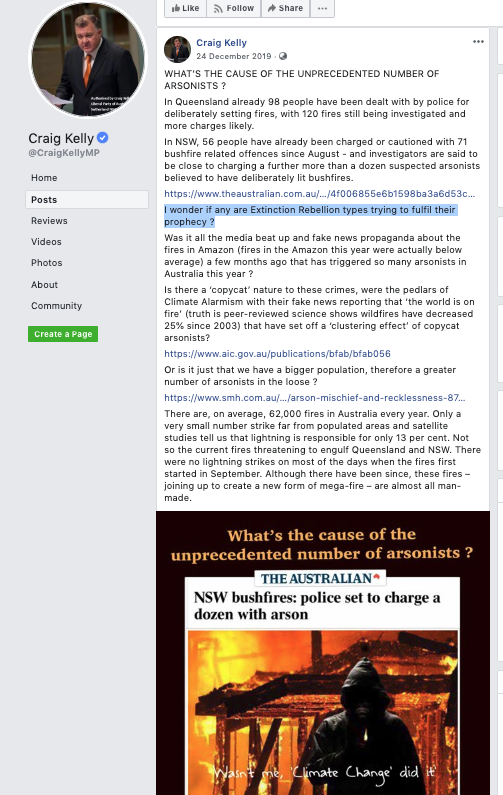 The theory's spread began to accelerate and move onto different platforms as the bushfires, particularly those along the east coast, reached a peak over the period between Christmas and New Year's Eve.

A Jan. 1 tweet claiming "hundreds" of climate activists had lit fires — linking to an article that said no such thing — received more than 650 retweets.
Another tweet from British Twitter user @petemorristwit claiming "Antifa, the Greens or climate change activists" were among 200 arrested for arson — a figure that has subsequently been debunked — was also retweeted more than 660 times.
As well, prominent British climate change denier Christopher Monckton wrote that some arson was caused by "environmentalist extremists trying to 'raise awareness' of global warming" on Jan. 5.

By Feb. 11, the theory had made its way to Fierravanti-Wells, who in her speech late on Tuesday called for extending surveillance measures to catch arsonists, and for the National Security Committee of Cabinet to discuss eco-terrorism.

Thomas said we probably haven't seen the last of the conspiracy.

"It is very worrying to think that action or policy decisions might be taken on the basis of conspiracy theories about some sort of imaginary cell of 'eco-terrorists', with no evidence that such a cell actually exists," she said.

Fierravanti-Wells did not respond to questions by time of publication.