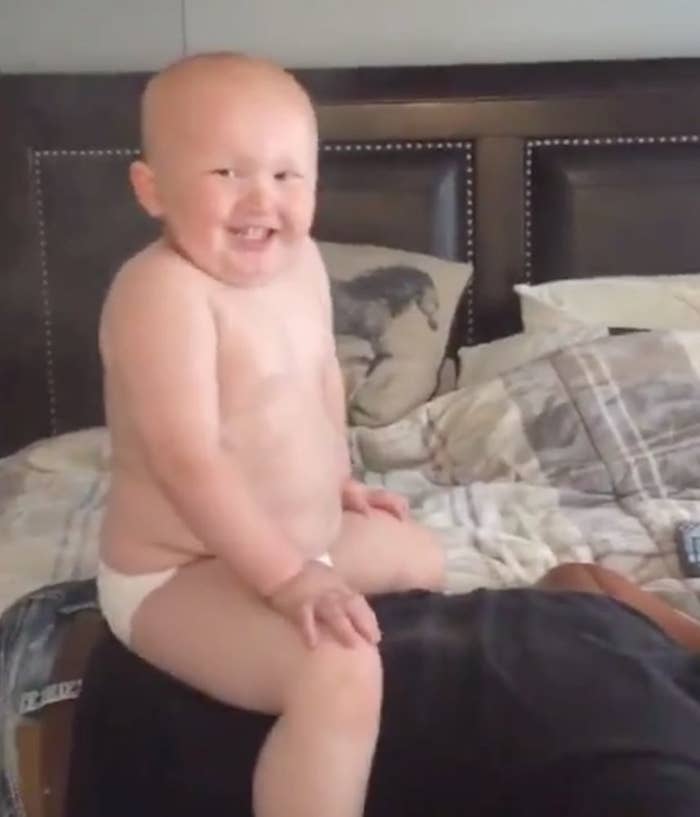 When 3-year-old Gavin was born, he was a fairly average-sized baby — 6 pounds, 15 ounces; and 19 inches long. But since then, the toddler has grown. A lot.

"We go for a regular doctor's check-up. There's a growth curve — he's off the charts! He's been off the charts since after birth," his mother, Kat, told BuzzFeed News.
Now, Gavin is 43 inches tall. He's a healthy and very happy kid.
He loves Halloween, birthdays and M&Ms candy. He spends his days playing with Kat (who is 5'8), his father Galen (5'10) and 16-year-old brother Caleb, on their farm in America's Midwest. They're all working and studying from home during the coronavirus lockdown.
Gavin has also recently become a big star online. On Saturday, Caleb introduced his mother to TikTok. Kat spent the whole day scrolling through the short video platform, and got the idea to share Gavin with the world.
"I woke up on Sunday and I said to my husband 'I'm going to make him famous' and it happened," she said.
Soon after, Kat shared videos of Gavin on her account @kat.027 doing what toddlers do, like playing in the mud.
Lifting with his toy truck.

Even "driving" (it's ok, he's not actually driving).

After uploading these TikToks, Kat began to notice the growing attention on Sunday evening but didn't think much of it. Then the next morning, her videos exploded.

"My 16-year-old, Caleb, he woke me and said I had so many views," she recalled.
Kat's videos have now been viewed on the platform more than 18.5 million times since Sunday, and liked nearly a million times. Her top viewed video shows a gleeful Gavin jumping up and down on his dad's back, while Galen lies on a bed. It's been viewed more than nine million times.
While many people who've seen Gavin are supportive ("This boy is just so stinking adorable!") or just in awe at the size of this lad, there are negative comments, too.
One Twitter user tweeted one of Kat's videos with the caption "is anyone else just absolutely REPULSED by this giant baby". It's been retweeted more than 35,000 times, and liked by hundreds of thousands of people.
Kat has seen comments mocking Gavin, as well as some questioning her parenting and speculating about Gavin's size.
"There's been good comments, bad comments. There's funny [ones]. But some are mean, even a bit harsh about it. He is what he is," she said.
She wants people to stop being rude and said the comments did upset her initially.
"At first it did a little, but we have thick skin, it's not big deal to us. People can be mean online, they're behind a mask."
But she doesn't plan to stop sharing videos any time soon. Gavin isn't aware of his newfound internet stardom — he's still playing with his dogs, laughing with his family and pretending it's his birthday every week.
In 20 years, Kat jokes, Gavin is going to "hate me" because of the videos. But until then, she thinks they are a good distraction for people.

"We're in a bad time at the moment," she said. "I think he's brought a lot of joy to people. I wish I had a mom-cam on myself because I can't capture all the stuff he does."