Other than the haze, ringing smoke alarms and face masks, it's business as usual in Sydney.
Food delivery workers continue to zip through traffic in the CBD on bicycles and scooters, dodging pedestrians to pick up and drop off food.

Popular food delivery companies have continued to accept orders despite air quality levels far exceeding "hazardous" levels, raising questions about the health of the workers spending long periods exposed to the smoke.
Eleni, who declined to provide her last name, rides a push bike to deliver for Uber Eats. She said she's aware of the dangers of riding in the smoke, but is still choosing to work. She bought a face mask to wear while riding — albeit one that doesn't meet the standard recommended to protect users from smoke.

"I can't afford to not deliver," she said.

An investigation conducted by the Fair Work Ombudsman earlier this year found that Uber delivery drivers are considered independent contractors and not employees in Australia. This means they are not entitled to certain workplace standards and benefits such as the minimum wage, superannuation, and annual leave and sick leave. Because independent contractors are not entitled to paid leave, any work missed is lost income.
Some workers in other professions who work outside, such as electricians and dock workers, have stopped work due to Sydney's air conditions. And experts have recommended that residents avoid spending long periods outside or exercising in the smoke.

BuzzFeed News contacted Uber, Deliveroo and Menulog to see whether they had any plans to suspend delivery services due to the smoke. All said they didn't. Uber and Deliveroo said they were providing information to their riders.
Michael Kaine is the president of the Transport Workers' Union, which represents food delivery drivers. He said the food delivery companies' resistance to stopping work or providing safety equipment for their riders isn't surprising.

"These are the same companies which don't provide them with proper wet gear for the rain," Kaine told BuzzFeed News. "They don't provide them with rest areas where they can re-hydrate when it is hot and don't halt work when there are storms.
"The smoke levels in Sydney are at times well above hazardous levels and most workers do have the right to stop work. If food delivery riders stop work even during storms they can get penalised for not doing shifts and not making themselves available for work."
Some riders are choosing not to work. Abu Sufiyan said he's been delivering for Menulog on his scooter but has stopped because of the smoke.

"I stopped. Not sick, but had suffocating problem while breathing," Sufiyan wrote to BuzzFeed News in a message. "On top of that, continuous sneezing."
Sufiyan wants to see the companies do something to help riders with the smoke.
"They should pay for [masks]. It would be nice if they can provide some kind of incentives. Like increase pay for delivery."
Uber Eats rider Fakhari agrees with Sufiyan. He's continued to deliver, but he's been wearing a mask with a handkerchief over the top while delivering. He wants the company to pay riders more and provide masks for them.
"The haze can make you sick. So at least Uber should compensate us by giving us a mask for this scenario."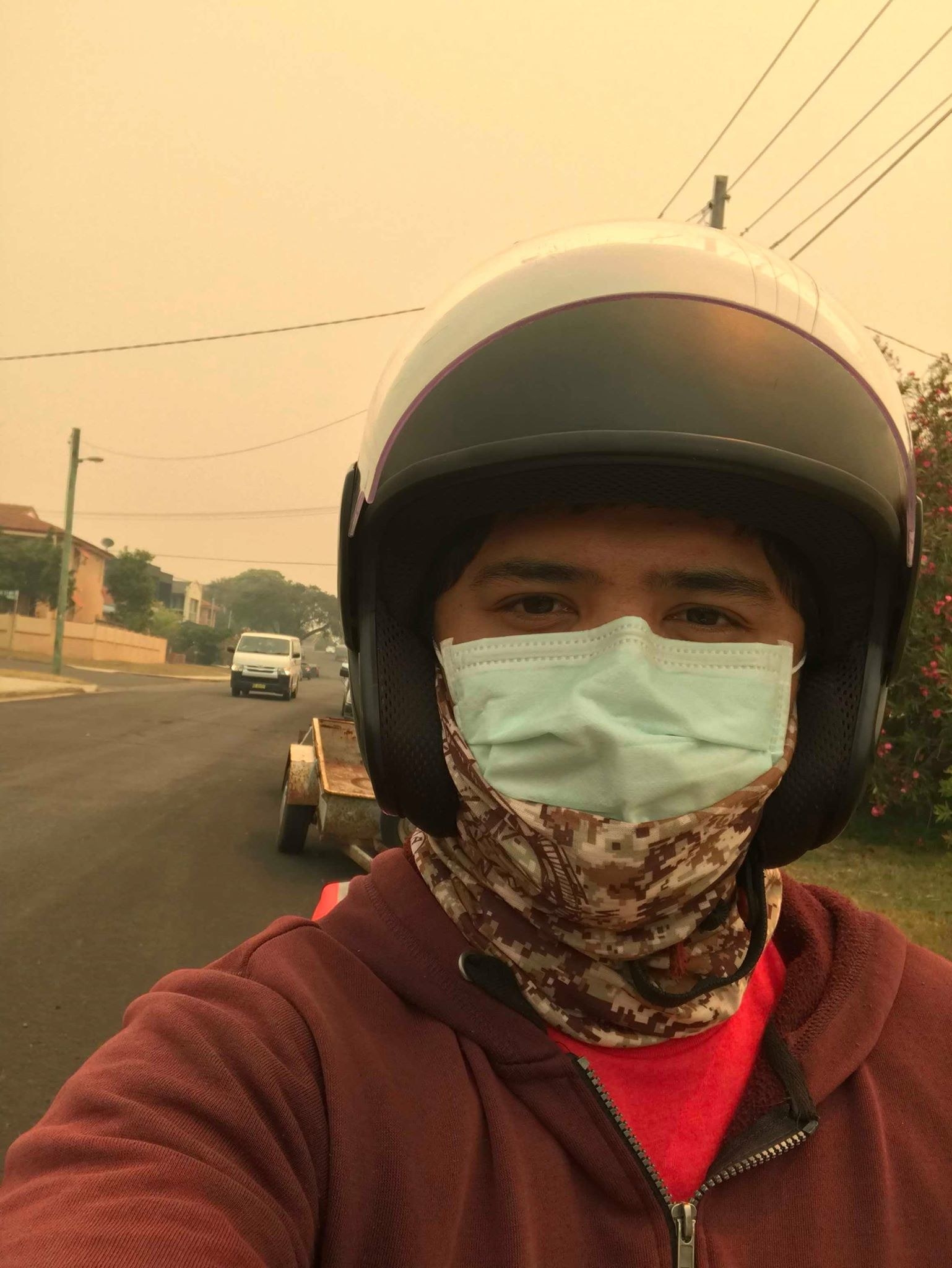 Even if it doesn't make a big difference, Fakhari thinks that doing anything would at least show some gratitude to their workers who are delivering in tough conditions.

"At least we can see that they appreciate their drivers who are doing their best to send the food to the customer for Uber's sake."
UPDATE
This post has been updated to clarify the legal status and entitlements of independent contractors.