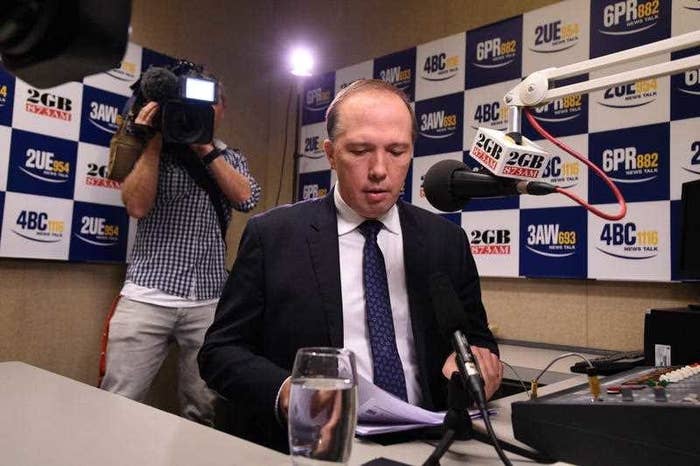 Last week in an interview on 2GB radio, one of Australia's most senior politicians, Peter Dutton, agreed with host Ray Hadley that "busload[s] of Asian Australians" were touring regional supermarkets and buying up supplies to sell overseas in the coronavirus outbreak. There were investigations into what he believed to be criminal behaviour, the home affairs minister added.
The evidence for this rumour is flimsy — amounting to a handful of talkback radio callers and two photographs of an empty bus in a parking lot — and other credible news organisations have been unable to substantiate it.
But the chat between a powerful politician and radio host illustrates how rumours and hoaxes designed to stoke racism against Asian Australians are making their way into the mainstream as the coronavirus pandemic spreads. And many of them are built off the trope that Asian Australians are selfishly stockpiling, hoarding and selling goods overseas for profit during the panic.
A specific type of anti-Chinese stockpiling narrative emerged following a 2008 food safety incident in China where 300,000 children became sick or died after being fed formula. Fears about the safety of Chinese products created a huge demand for Australian products, with up to 90% of Australia's formula produce going to China as recently as 2018.

Since then, the Australian media has reported on "daigou" — personal shoppers who purchase goods from Australian stores to send send back to China — who have been blamed for perceived shortages of goods in Australia.
This narrative has been repurposed for the current pandemic. Last week, BuzzFeed News reported that posts from a fake Facebook account pretending to be a Chinese woman trying to recruit people to buy toilet paper to be sold overseas had been widely shared on social media.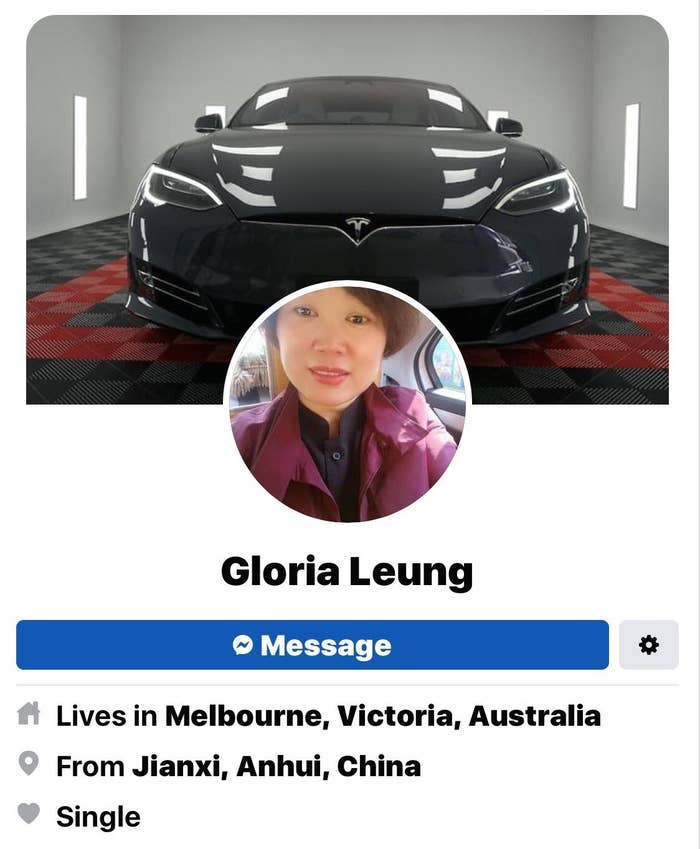 The account has since been deleted, although an associated Facebook page remains active and screenshots of the account are still circulating.

Another extremely viral Facebook post recounts visiting a factory in Melbourne, Australia, and falsely alleges that "Chinese people [are] buying up all our stock from supermarkets" and exporting it overseas. The post has been shared more than 100,000 times.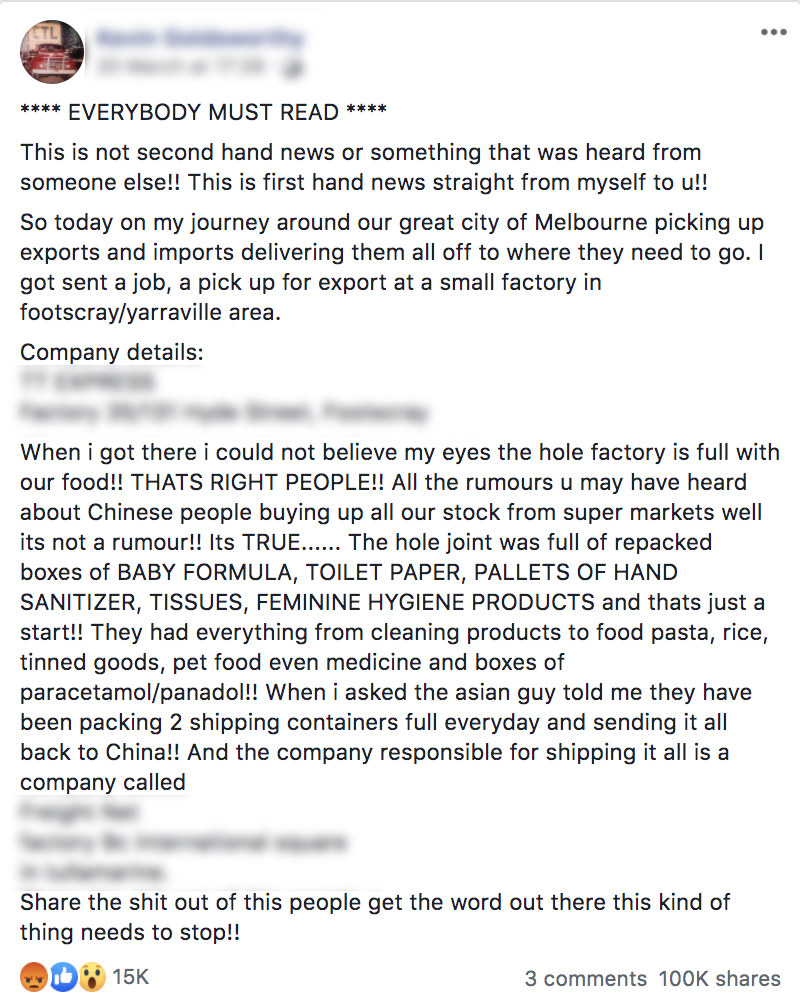 This is unsubstantiated. Victoria Police "found these claims to be false" after a phone call with a company representative (although police declined to provide any details of their conversation with BuzzFeed News).

BuzzFeed News has been unable to contact either the company or the person running the Facebook account that posted the viral rumour.
But the lack of proof hasn't stopped the abuse in the comments section. Twitter user Liz Crash documented people accusing China of committing genocide and intentionally creating the coronavirus as a biological weapon.
Other misinformation has taken the form of older content being repurposed or re-shared to foment anti-Asian sentiment.
One YouTube video titled "RAW FOOTAGE: Organized Asian raiding party in Australian supermarket", showing a group of people appearing to purchase baby formula from a supermarket, has been viewed more than 395,000 times (with more than 120,000 likes, shares and comments on Facebook) since March 18, 2020.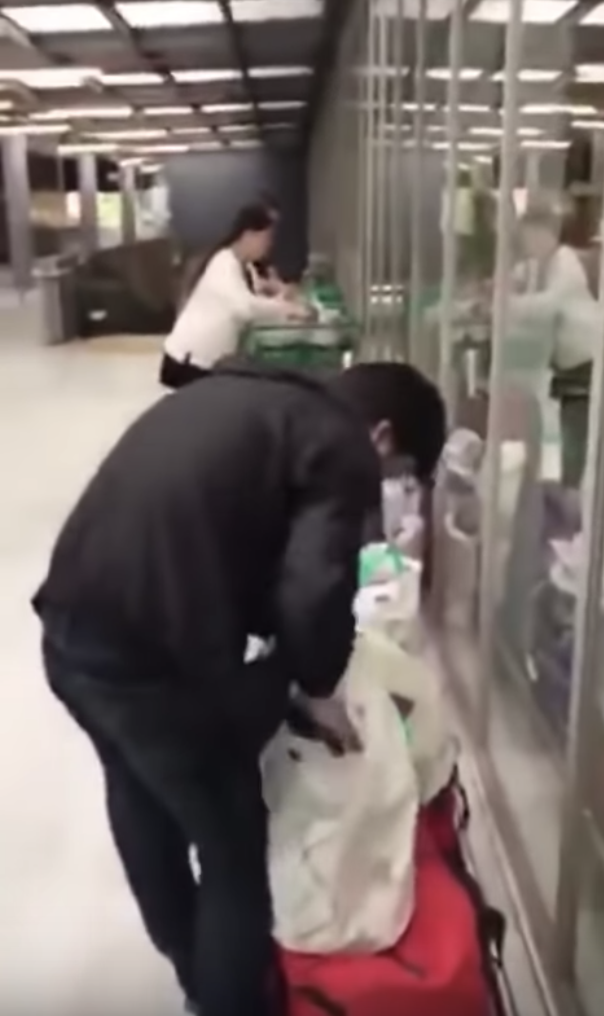 The person behind the channel — which is called AusNatGoy (Goy is an alt-right term) — later commented on the video that it is "old footage presented as an example of past and ongoing behaviour".

Similarly, Australian right wing Facebook groups are sharing old news reports about Chinese daigou. One 2017 article, "Busted: Warehouses full of baby formula headed to China" has been shared, liked and commented on more than 20,000 times since March 23, 2020.
Australia has a long history of Sinophobia, dating back to anti-Chinese race riots during the Gold Rush and officially codified in the White Australia policy, which ended in 1973.
Federation of Ethnic Communities Council of Australia (FECCA) chairperson Mary Patetsos told BuzzFeed News that the council is already seeing the consequences of heightened racism as the coronavirus pandemic unfolds. She's noticed multiple hoaxes that encourage anti-Asian sentiment (as well as abusive language and behaviours).
"These types of racist hoaxes are, unfortunately, not surprising, and cumulatively the thousands of instances of racism being experienced by Asian Australians has the effect of making people feel unsafe," she said.
Patetsos called on the federal government to actively dispel these rumours.
"As the coronavirus crisis worsens and fear within the community deepens, we expect to see a rise in racist attacks on Asian Australians. The government should address this problem now before it escalates through a specific coronavirus anti-racism campaign."