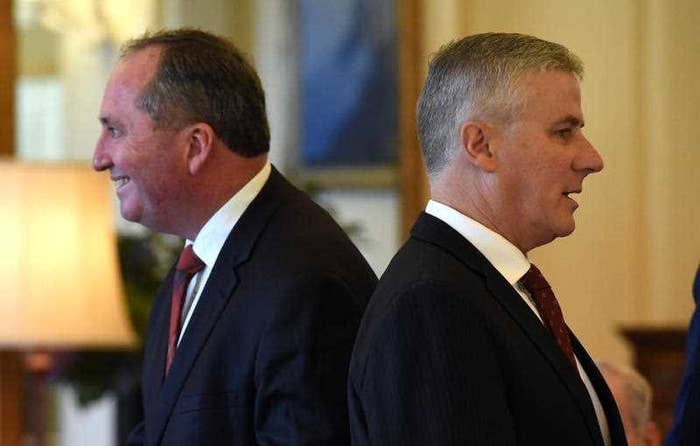 Deputy prime minister and Nationals leader Michael McCormack has fended off a challenge from the man who used to hold his job, Barnaby Joyce.
Joyce — who you might remember as the man who was deputy prime minister before facing scandals regarding his citizenship, extra-marital affair, and an accusation of sexual harassment — said on Monday he would throw his hat into the ring for the position he resigned from in February 2018.
The two went head to head in a partyroom meeting on Tuesday morning, and McCormack was re-elected. David Littleproud was elected as the new deputy Nationals leader at the same meeting, replacing Bridget McKenzie.
Shortly after the ballot, McCormack addressed the press with his new deputy, saying it was an "honour and a privilege" to continue to serve as Nationals leader.
"I look forward to continuing to work with Barnaby Joyce who put his hand up for the leadership," he said.
"This is about hope, this is about vision for people in regional Australia. It's about getting back to business. The shenanigans are over," Littleproud said
Backbencher Llew O'Brien said he would move a spill motion vacating the National Party's leadership following McKenzie's resignation on Sunday.
She stepped down after a report from Prime Minister and Cabinet secretary Phil Gaetjens found she had an undisclosed conflict of interest in the "sports rorts" scandal.
An earlier report, from the auditor general, had made a more damning assessment of how the sports grants scheme was administered under McKenzie, and accused the government of pork-barrelling.