PAN SEARED SCALLOPS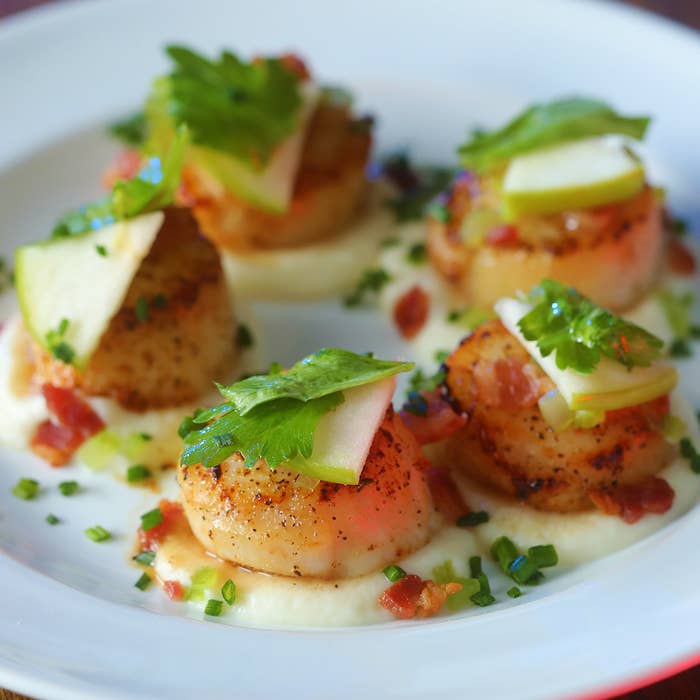 INGREDIENTS
Servings: 1–2

Quick pickled apples
½ teaspoon black peppercorn
½ teaspoon mustard seeds
½ teaspoon fennel seeds
¼ teaspoon cloves
¼ teaspoon salt
3 tablespoons white wine vinegar
½ cup sugar
½ cup water
1 Granny Smith apple, thinly sliced
Celery root puree
1 ½ cups celery root, peeled and diced
½ cup heavy cream
¼ cup milk
½ tablespoon butter
1 small garlic clove, chopped
1 teaspoons salt
¼ teaspoons pepper
Celery leaf salad with lemon vinaigrette
1 ½ teaspoons lemon juice
1½ teaspoons white wine vinegar
2 tablespoons extra virgin olive oil
½ cup celery leaves
Salt
Pepper
Assembly
5 large sea scallops, dried
Salt and pepper
2 tablespoons canola oil
1 tablespoon butter
½ pound thick-cut bacon, diced very small, cooked and drained
4 blanched celery stalks, diced very small
2 tablespoons diced chives (garnish)
PREPARATION
To make quick pickled apples, place all ingredients except for apples in saucepan and simmer until sugar is dissolved.

Place thinly sliced apples in jar or bowl and pour pickling mixture over apples until covered. Set aside to cool.

Next, make the celery root puree. In large saucepan, melt one tablespoon of butter, add chopped garlic, and saute for 1 minute until fragrant.

Add peeled and cubed celery root, milk, and heavy cream, then stir in salt and pepper. Cover and simmer on medium-low heat for 15 minutes until root is soft.

Pour all contents of saucepan into powerful blender and blend until completely smooth. Remove from blender and set aside in squeeze bottle.

To make salad with lemon vinaigrette, add lemon juice and white wine vinegar to small bowl. Slowly whisk the olive oil until emulsified. Season to taste with salt and pepper. Dress celery leaves with small amount of vinaigrette. Set aside until ready to plate.

To prepare scallops, start by drying scallops well. Then season one side generously with salt and pepper.

Heat a pan on medium until very hot but not smoking. Add 2 tablespoons of canola oil and place scallops in pan, seasoned side down. Then, season upturned side with salt and pepper.

Saute for 1 minute and add tablespoon of butter, basting the scallop with liquid as it melts. After 1 more minute, flip scallop and cook for another 2 minutes, continuing to baste.

To serve, squeeze small circle of celery root puree onto plate. Place cooked scallop on top and sprinkle first with blanched celery, then bacon cubes, followed by a slice of pickled apple, and then a few leaves of salad. Finish with chopped chives. Repeat same assembly process for remaining scallops.

Enjoy!