Pure + The Thirteenth Year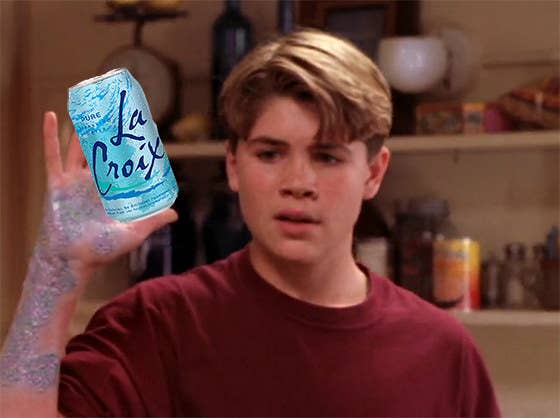 This one is obvious. When I think of the crisp, and for lack of an better word, "pure," flavor of the "Pure" La Croix, it's impossible to not think of The Thirteenth Year. It's a real fish out of water, coming of age tail about a young man discovering he's a merman on his 13th birthday. Whether it's because the movie features many large bodies of water, or because the lead actor in the film is too pure and darling for the cruel human world – this film/La Croix pairing will lead to a whale of a good evening (and I'm done with water-themed puns, I swear).
Lime + Luck of The Irish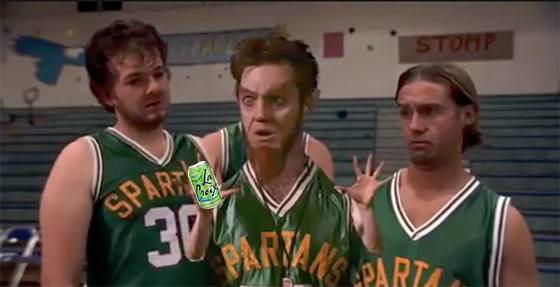 The Luck of The Irish is straight up BIZARRE. This film is basically the exact same plot of The Thirteenth Year (see above), but it's about a young man turning into a Leprechaun. Yep...weird. But you know what else is weird? That one year that McDonald's released a LIME FLAVORED SHAMROCK SHAKE around Saint Patrick's Day. I distinctly remember it, (honestly maybe it was a fever dream), this is why I declare that the only possible La Croix flavor that you should drink while watching this film is "Lime." It's classic, it's refreshing, it's sour, (just like those evil leprechauns) and the label is green just like a four leaf clover. (All that being said, I will easily update this post if they ever launch a mint flavor, which would honestly be great.)

Lemon + Lemonade Mouth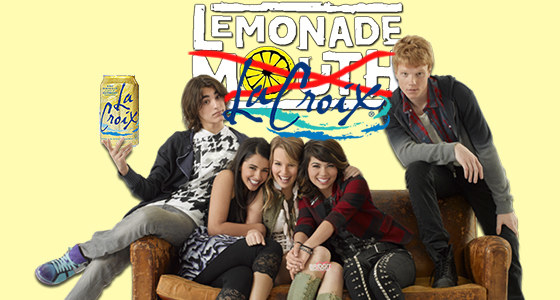 Because I mean...duh...Also don't even start with me about how the song "Determinate" went so hard, they didn't have to do that, but they did...for us. IMHO this film should've had the same mass appeal as High School Musical and I'm NOT just saying this because of that one time I met Bridgit Mendler and she told me I had "beautiful natural nails." If you don't drink a lemon La Croix while enjoying this adorable film about a group of ragtag delinquents who drink magical lemonade while in detention and form a band that shakes the "status quo" of their high school, then I literally don't know what you're doing with your life.

Orange + Halloweentown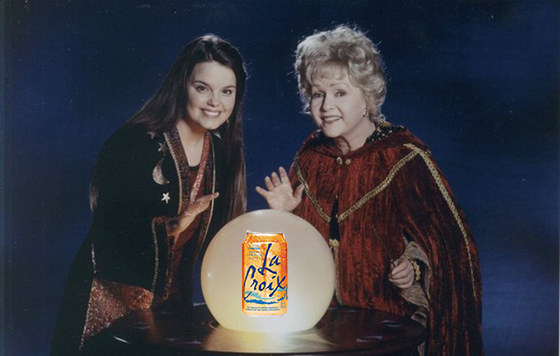 I mean...the signature colors of Halloween are black and ORANGE. Just looking at the giant pumpkin nestled in the heart of the fictional (or is it? *insert skeptical looking emoji*) town called Halloweentown in the titular film, makes me crave PSLs and orange Tootsie Pops. Halloween is spooky, and what's the spookiest fruit? ORANGES. Maybe this one is an example of a low-hanging fruit pairing (pun intended), but let's just go with it, okay?
Berry + Cowbelles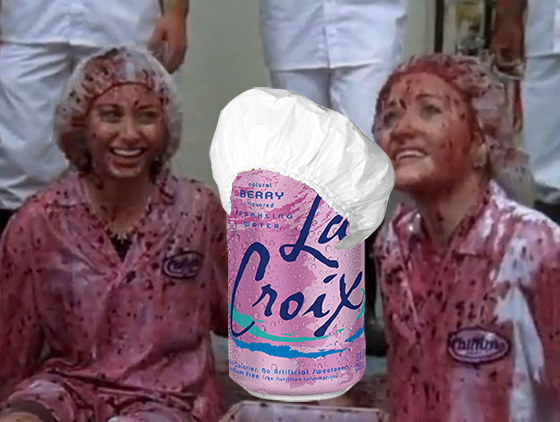 The only better pair than Aly and AJ Michalka is berry flavored La Croix and the film Cowbelles. This film is a tale of two rich girls who are forced to learn the true value of a dollar when their glitzy life is stripped away from them and they are forced to work on their parents' dairy farm (the exact same concept as Material Girls starring Hilary and Haylie Duff and True Confessions of a Hollywood Starlet starring Jojo). The girls are cute and bubbly and there is one scene involving a food fight disaster with berries and yogurt and it's an absolute hot mess. So let's all collectively cheer to berry flavored La Croix and to the two cutest lil' strawberries ever featured on Disney Channel, Aly and AJ!

Cran-Raspberry + Cadet Kelly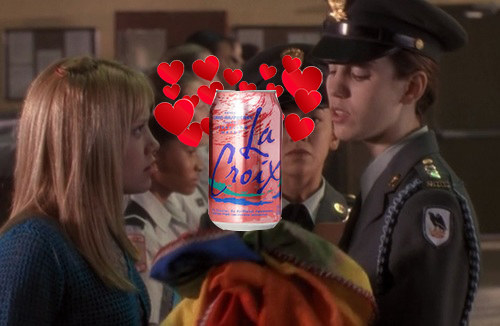 Cran-Raspberry is a complex flavor, it's a little bit country and a little bit rock n' roll, it's part bitter and part sweet. This is the perfect flavor to pair with the film Cadet Kelly because the juxtaposition between the two flavors in the sparkling water is the exact same juxtaposition between the bitter Christy Carlson Romano and sweet lil' Hilary Duff. Plus the weird, pink, abstract watercolor-looking La Croix label design is extremely reminiscent of the pink camo that H-Duff wore for the promotional poster (eat your heart out Kylie Jenner). P.S. Did anyone feel major sexual chemistry between Christy and Hillary or was that just my queer ass...?

Pamplemousse + Stepsister from Planet Weird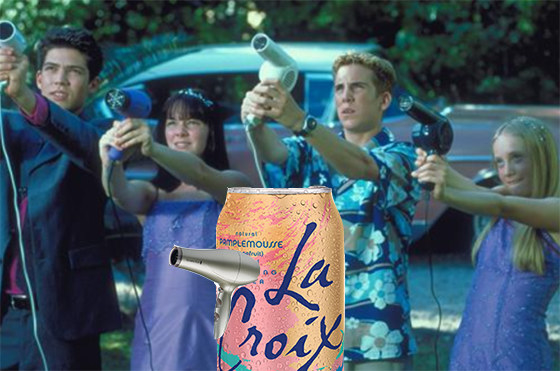 I need to be honest, Stepsister from Planet Weird is BY FAR the most underrated DCOM of all time. No one ever seems to remember the bizarre movie about an average American girl whose new step-sister happens to be an alien bubble from another planet. Plus, this movie features windsurfing, funky clothes, and evil bubbles, what else could you want? SO, in honor of a movie that sounds weird but turns out to be AMAZING, the most obvious pairing for this film is Pamplemousse...DUH. Not to mention, that the pink and spherical nature of grapefruit is really reminiscent of the bubble aliens from the planet Circulon.
Peach-Pear + Zenon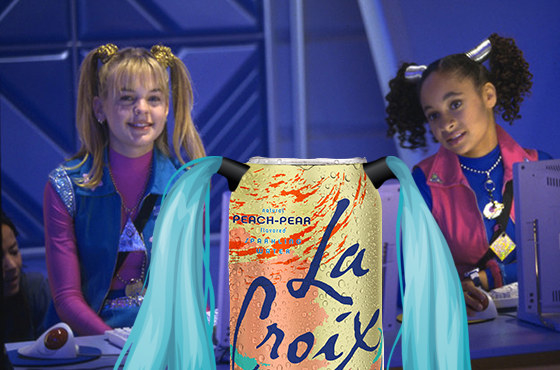 A NEW AGE flavor for a NEW AGE kinda girl, am I right? The Zenon franchise is based in the year 2049 (which shockingly is only 31 years away AHHH) and it's about a young girl named Zenon who lives in outer space who has to go to earth...and needs to save a thing...or needs to be punished for doing something bad...and Protozoa is a hot singer with Guy Fieri hair... OK, TBH I don't really remember the EXACT plot of the first film, but all I know is that they invented Facetime, and that in the Zenon universe, I bet a peach-pear would exist, okay? It's fun, it's refreshing, it's sweet and slightly-confusing-but-you-don't-question-it, it's EXACTLY like the film Zenon.
Coconut + Johnny Tsunami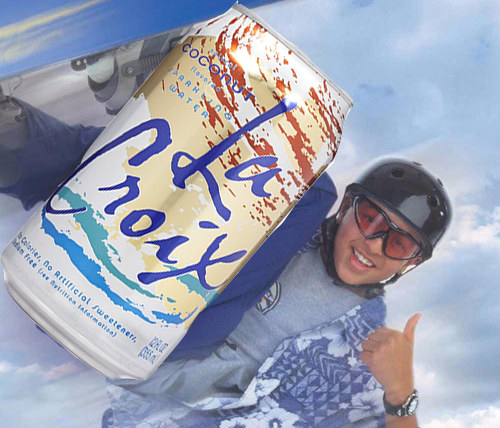 Let me begin this one by saying that if pineapple La Croix flavor is EVER released, you can bet this post will be updated. Johnny Tsunami follows the very specific formula that DCOM's all seem to follow. We take a kid (this time from Hawaii) and put them in a weird different environment (Vermont) and we watch them deal with culture shock while calamity ensues, ultimately making them a better person, and they learn to love said new place. With Johnny being from Hawaii, I obviously had to pair this film with the coconut flavor La Croix, let's be honest, I did this because it sorta tastes like sunscreen.
Apricot + Eddie's Million Dollar Cookoff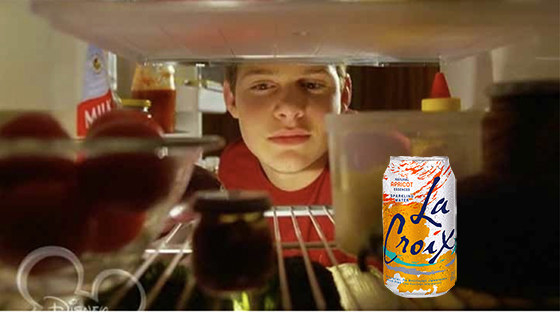 One thing that drives me crazy about some DCOMs is the very fragile male-influenced and weirdly-specific dynamics of the "status quo" of high school. Let me explain, in the film Eddie's Million Dollar Cook Off, a young baseball player stumbles into discovering a hidden talent for cooking, much to the dismay of the fellow high schoolers, his team and his dad (why tho?) who'd prefer he continued doing sports and stuff. This is so dumb because who would care if an athlete wanted to cook (I'm looking at you High School Musical franchise)? If anything I feel like they would encourage it so that he'd bring really delicious food to the games. I'm pairing this film with apricot flavored La Croix, because it's the bougier flavor that food connoisseur appreciate.
Passionfruit + The Cheetah Girls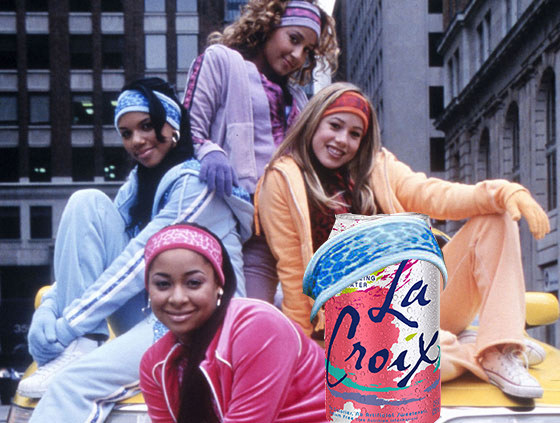 "IF YOU CAN'T RESPECT MY ART, THEN YOU CAN'T HAVE MY HEART." If that quote alone doesn't show the passion of the film The Cheetah Girls, then I honestly don't know how to prove it to you. This film is about four young girls struggling to find their voice, maintain their friendship and make it as a cheetah-licious girl group in New York City, while corporate slugs and their inflated egos try to break them down. These girls have charisma, uniqueness, nerve and talent and let's be honest PASSION (for tracksuits, music, dogs and hot sauce). The best pairing possible for this film is passionfruit, hands down. Also, lowkey, this is the best flavor and the best DCOM.
Mango + Brink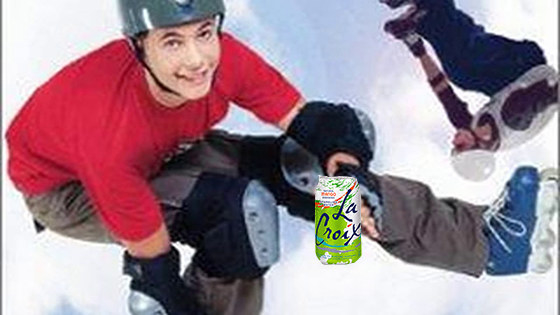 ERIK VON DETTEN. Erik Von Detten is the star of the film Brink, a film about a team of raggamuffin rollerblading teens, who skate not for notoriety or money, but for the LOVE of the sport (is it a sport? *shrug*). There is obviously more to the plot, but tbh if you didn't get lost in Erik Von Detten's dark brown eyes, perfectly shaggy hair and perfect cheekbones then you're fake. Erik Von Detten's stage presence is as refreshing as the Mango flavored La Croix and that is why I chose this pairing.
Tangerine + The Other Me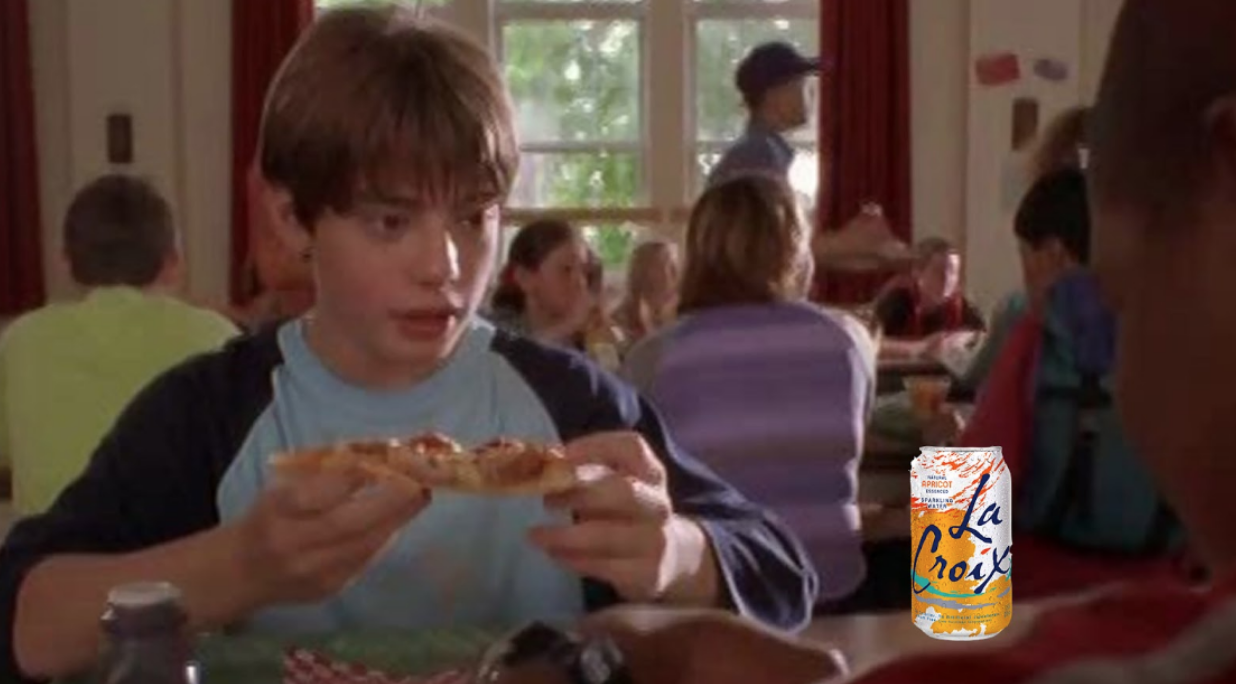 LAST BUT CERTAINLY NOT LEAST, Tangerine. Okay before I get ahead of myself, The Other Me is a movie about a young man who accidentally clones himself. This movie features one of my favorite dance sequences of all time and features the youngest Lawrence brother, Andy, who is absolutely darling. I pair The Other Me with the "Tangerine" flavor because let's be honest, it's the other orange flavor...get it? Okay, I need to be canceled already.