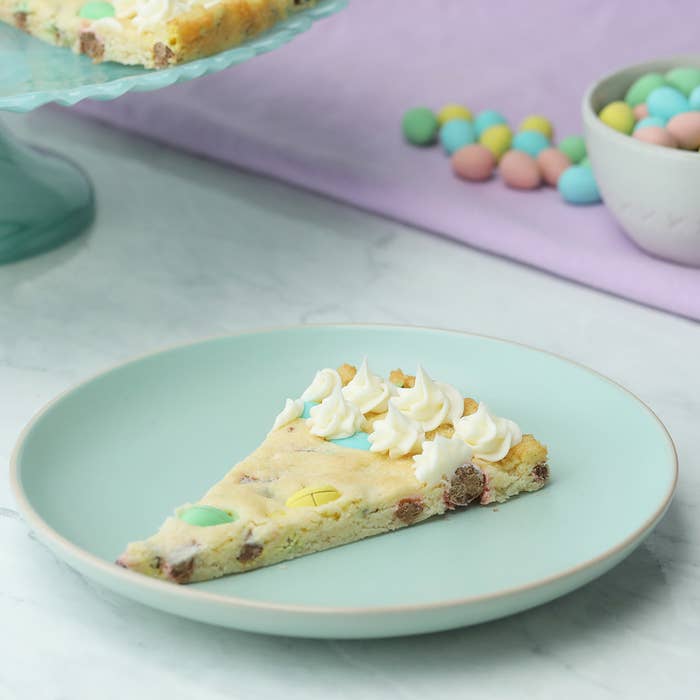 Servings: 12
INGREDIENTS
1 cup Cadbury Mini Eggs, divided
11⁄4 cups all-purpose flour
1⁄4 teaspoon baking powder
1 teaspoon kosher salt
1⁄2 cup butter, softened
3⁄4 cup sugar
1 egg
1 teaspoon vanilla extract
1 jar vanilla frosting
PREPARATION:
1. Spread 1⁄2 cup Cadbury Mini Eggs on a cutting board. Chop with a knife. Set aside.
2. Whisk together flour, baking powder, and salt. Set aside.
3. Place butter and sugar in a medium bowl. Cream together with a hand mixer until light and fluffy, about 3 minutes. Mix in egg and vanilla extract. Mix in dry ingredients, then fold in the chopped Cadbury Mini Eggs.
4. Chill dough for 30 minutes.
5. Preheat oven to 350°F (325°F for convection ovens). Grease a 12-inch cake pan. Line the bottom with a parchment circle.
6. Spread dough in an even layer in pan. Top with the rest of the Cadbury Mini Eggs.
7. Bake for 10–14 minutes or until cookie is set and edges are beginning to brown. Remove from oven and cool completely in the pan (run a knife along the edge of the pan to release the cookie while cooling).
8. Carefully flip cookie out onto a cutting board to decorate.
9. Fill a pastry bag fitted with a star tip with frosting. Decorate cookie with small stars of frosting all the way around the edge.
10. Slice and serve!
CADBURY MINI EGGS is a trademark of Mondelēz International group, used with permission.