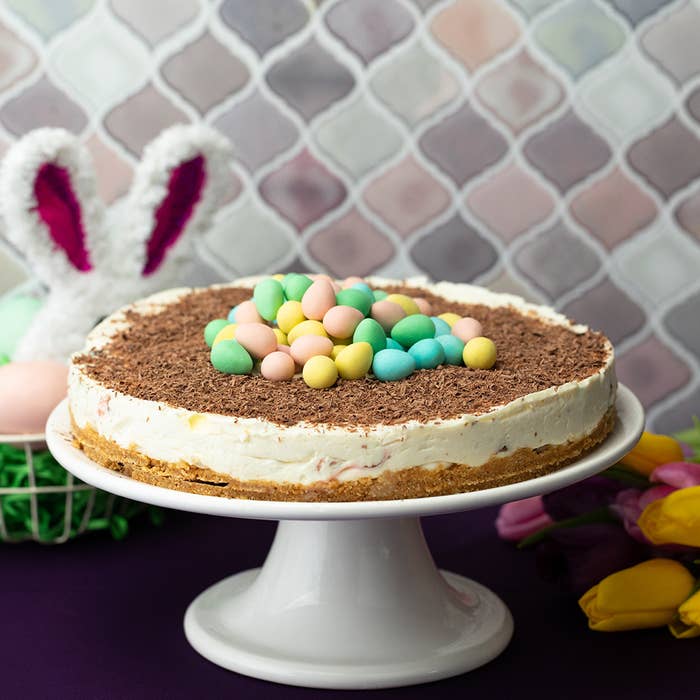 SERVINGS: 10
INGREDIENTS:

Crust
1 1⁄2 cups graham cracker crumbs
2 tablespoons brown sugar

Pinch of salt

1⁄2 cup butter, melted
Filling
2 (8-ounce) packages cream cheese, softened
1 1⁄2 cups heavy cream

2 teaspoons vanilla extract

1⁄2 cup sugar
1⁄2 teaspoon salt

1⁄2 cup (100 grams) Cadbury Mini Eggs candy, roughly chopped
Garnish
1 cup (200 grams) Cadbury Mini Eggs candy
PREPARATION:
1. Grease a 9-inch springform pan and place a circle of parchment into the pan. 

2. Crust: Mix together graham cracker crumbs, brown sugar, and salt. Stir in melted butter. Crumbs should stick together when pressed. Pour into the springform pan and press 
crust down into an even layer. Chill for 10 minutes while you make the filling. 

3. Filling: Use a hand mixer to beat the cream cheese on high speed. Pour in heavy cream and vanilla extract and beat on high speed until smooth and thick, approximately 2 minutes. Add sugar and salt and beat until everything is smooth and well-incorporated. Fold in roughly chopped Cadbury Mini Eggs candy. Pour filling on top of crust and smooth top with a spatula. Refrigerate overnight. 

4. Before serving, garnish with Cadbury Mini Eggs. Slice and serve!