NEW YORK, Feb. 12, 2019 -- Tasty, the largest social food network in the world, is known for its signature recipe videos that make cooking fun and accessible. Now, it's bringing the Tasty-lens of "creative twists on classics" to the frozen aisle with the launch of Tasty Ice Cream.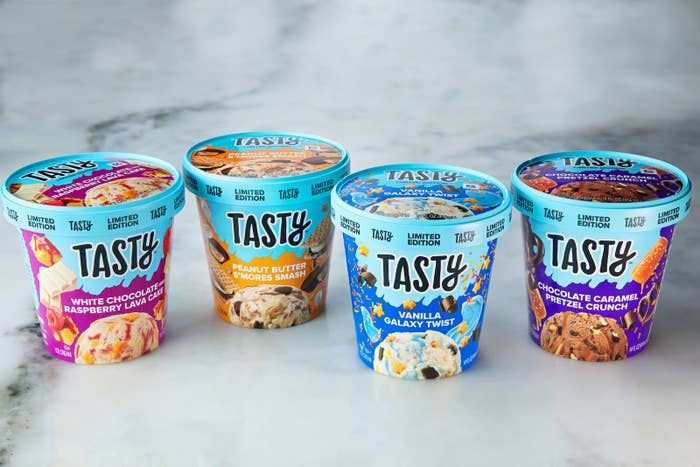 Starting this month, four unique flavor combinations will start hitting shelves. Scoop them up quickly: once they sell out, they're gone. That's because Tasty Ice Cream is the first of its kind – it is the only ice cream brand to offer exclusively limited edition flavors. This launch marks the first introduction, and consumers can look forward to two more launches throughout 2019 – meaning eight more delicious flavors to explore.

The first flight of flavors, which were created based on Tasty audience insights and will be available throughout the spring, includes:
Vanilla Galaxy Twist: silky blue frosting swirls around classic vanilla ice cream with caramel flavored stars and rainbow sprinkles
Peanut Butter 'S'mores Smash: a peanut butter-marshmallow ice cream studded with peanut butter cups and graham cracker crunchies, mini marshmallows, and an ooey-gooey fudge swirl
Chocolate Caramel Pretzel Crunch: pretzel bites floating in a rich chocolate ice cream with a salted caramel swirl
White Chocolate Raspberry Lava Cake: white chocolate flavored ice cream, thick swirls of raspberry and chunks of cake
"Tasty's accessible lens on cooking and food has changed the way people are eating all across the world. We're excited to bring Tasty's bold and fun takes on recipes we know people love to ice cream," said Talia Halperin, General Manager of Tasty Commerce. "Our exclusively limited-edition ice cream gives us the chance to do what we do best – continue innovating in the kitchen and sharing our tastiest creations with consumers."

To bring these delicious limited edition flavors to life, Tasty worked with Nestlé to create and distribute the ice cream. "Nestlé's commitment to making great tasting and high-quality ice cream paired with Tasty's daring and different approach to recipe development created the perfect team to bring a whole new approach to the ice cream aisle," said Kerry Hopkins, Manager of Ice Cream Innovation at Nestlé Dreyer's Ice Cream. "We think ice cream is season-less, so not only do we get to share these first four flavors – inspired by Tasty's dedicated fans – but ice cream lovers can look forward to fresh new flavors rolling out every few months for the rest of this year."
Vanilla Galaxy Twist, Peanut Butter 'S'mores Smash, Chocolate Caramel Pretzel Crunch and White Chocolate Raspberry Lava Cake are available in grocers across the US in 14 oz. containers at a suggested retail price of $4.99. The second and third flights of flavors will launch in early summer and early fall 2019.

For more information, visit https://tasty.co/tasty-ice-cream
Download images here.
About BuzzFeed
BuzzFeed is the world's leading tech-powered media company, with a cross-platform news and entertainment network that reaches hundreds of millions of people globally. The company produces articles, lists, quizzes, videos, original series; lifestyle content including Tasty, the world's largest social food network; original productions across broadcast, cable, SVOD, film and digital platforms for BuzzFeed Studios; original reporting and investigative journalism through BuzzFeed News; and BuzzFeed Commerce, which develops social commerce products and experiences, as well as licensing and other strategic partnerships.
About Nestlé® USA
Named among "The World's Most Admired Food Companies" in Fortune magazine for 22 consecutive years, Nestlé USAis committed to enhancing quality of life and contributing to a healthier future. By providing choices, from nutritious meals with LEAN CUISINE® to baking traditions with NESTLÉ® TOLL HOUSE,® Nestlé USA makes delicious, convenient, and nutritious food and beverages that make good living possible. With 2017 sales of $9.7 billion, Nestlé USA is part of Nestlé S.A. in Vevey, Switzerland— the world's largest food company.