New York, N.Y. (February 24, 2022) – Leading airport retailer Stellar Partners, Inc. (Stellar) and BuzzFeed, Inc. (BuzzFeed), premier digital media company for the most diverse and most socially-connected generation, are entering into an exclusive agreement to bring premium news convenience stores to airports across the United States.
Across food, news, pop culture and commerce, BuzzFeed drives conversation and inspires what audiences watch, read, buy, and obsess over next. The dynamic partnership will tap into BuzzFeed's consumer insights to elevate the merchandise strategy.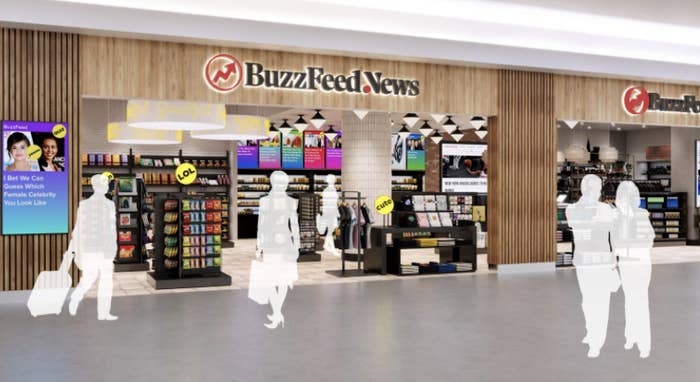 The first two BuzzFeed stores will open in the spring of 2022 in LaGuardia Airport's (LGA) newly built Terminal C, which will also open this spring.

"We are incredibly proud of this collaboration to develop exciting retail stores that bring the power of BuzzFeed news and entertainment to airports nationwide," said Stellar CEO Padraig Drennan. "Stellar's retail expertise combined with BuzzFeed's trendsetting appeal will help redefine newsstands and convenience for the modern traveler."
"We are thrilled to build a long-term partnership with Stellar and extend the BuzzFeed brand to airports across the country." said SVP of Consumer Products, Melanie Summers. "We'll utilize our data-driven research and insights to give consumers a curated travel experience with the products they want most."
Travelers at LGA will be able to quickly grab travel supplies, snacks, magazines, beauty and lifestyle items, and more while speeding through self-checkout. While travelers are browsing, they will be able to see the latest news and entertainment provided by BuzzFeed on monitors throughout. Stores will also support local businesses and carry products for purchase that will vary by region.
The new LGA news convenience stores and partnership with BuzzFeed, Inc. represent Stellar's vision to introduce new and exciting concepts to airports. These locations will be the latest in Stellar's portfolio of news convenience stores across 21 U.S. airports.
About Stellar Partners, Inc.
Headquartered in Tampa, Florida, Stellar Partners, Inc. is a leading airport retailer that develops, operates, and markets a portfolio of award-winning news/convenience and specialty stores that range from exclusive brands and regional favorites to well-known luxury brands. Founded in 1965, the company currently operates more than 100 stores that enrich the traveler's shopping experience in 21 major U.S. airports. Stellar was named Best Airport Retailer for 2016 by Airport Revenue News and received the 2018 Airport Minority Advisory Council (AMAC) Inclusive Leader Catalyst Award as well as the 2019 Airport Council International – North America (ACI-NA) Inclusive Champion for Associates Award. For more detailed information on the company and our brands, visit StellarAirportStores.com.
About BuzzFeed, Inc.
BuzzFeed, Inc. is home to the best of the Internet. Across food, news, pop culture and commerce, our brands drive conversation and inspire what audiences watch, read, buy, and obsess over next. Born on the Internet in 2006, BuzzFeed, Inc. is committed to making it better: providing trusted, quality, brand-safe news and entertainment to hundreds of millions of people; making content on the Internet more inclusive, empathetic, and creative; and inspiring our audience to live better lives.
###
Stellar Media Contact:
Shayna Iglesias
BuzzFeed Media Contact:
Juliana Clifton