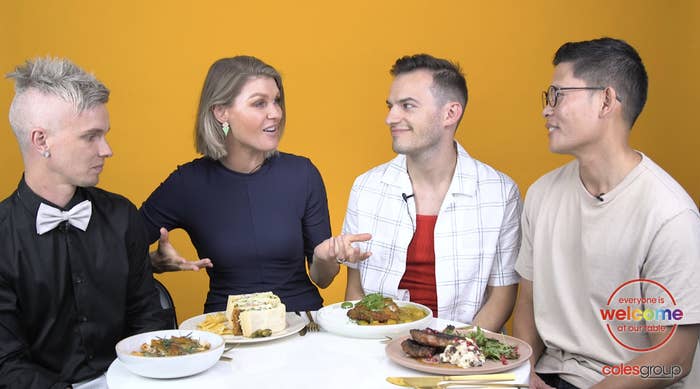 February 24, 2023 — Today, Coles and BuzzFeed Australia dropped a special "Heaps Queer'' edition of "Chefs Try Each Other's Comfort Meals" – the latest episode in the long-running "Chefs Try" cooking series, which champions diverse cultural, sexual and gender representation in the kitchen. "Heaps Queer" is an additional, fan-favourite BuzzFeed original video series, spotlighting stories from the Australian LGBTQI+ community.
Watch the Coles x BuzzFeed Australia episode here.
The video features a diverse cast of queer Australian talent, including Tasty's Ryan Paturzo, "Chefs Try" regular Will Mahusay, as well as Coles chef ambassador Courtney Roulston and Coles store manager and Drag icon Tyler (MisTy DelRay).
The episode is the latest initiative by Coles Group to celebrate inclusivity and support LGBTQIA+ communities and events all across Australia. As part of their World Pride partnership, Coles launched the "Everyone is welcome at our table" campaign — encouraging all Australians to pull up a seat during Pride.
Coles Head of Sponsorships & Events, Carmel Horvath, said: "We are committed to attracting, employing and supporting all Australians — regardless of age, disability, race, gender identity, gender expression, sexual orientation, religion, ethnicity, family responsibilities or cultural background. This partnership with BuzzFeed enables us to further celebrate bringing everyone to the table — uplifting the LGBTQIA+ community through shared food and open conversation, and driven by Coles ambassadors."
Julia Willing, BuzzFeed Australia's Director of Content, said: "Our mission at BuzzFeed is to spread truth and joy — and we achieve that by spotlighting diverse talent, cultures and conversation. We were thrilled to partner with Coles on this special edition episode of "Chefs Try" — proving how shared food and open conversation can create a table where everyone feels welcome."
As part of the partnership, Coles and Tasty Oz will be producing additional original recipe content, as well as written guides to celebrating World Pride.
Read more here.
Press Contact: PR@BuzzFeed.com
###