BuzzFeed, Inc. is headed to Austin, Texas for a weekend of events during SXSW that explore the future of innovation, content creation and tech -- with a special focus on creators and AI. Join the teams from Complex, BuzzFeed, Tasty, Pero Like and Pigeons and Planes for two days of engaging conversations, refreshing coffee (or cocktails), explorations of cutting-edge AI technology, and the future of the creator economy.
BuzzFeed, Inc. will host an unforgettable weekend on March 11 and March 12, from a pop up HQ in East Austin's Revival Coffee at 1405 E 7th St Austin, Texas.
Details below, RSVP to pr@buzzfeed.com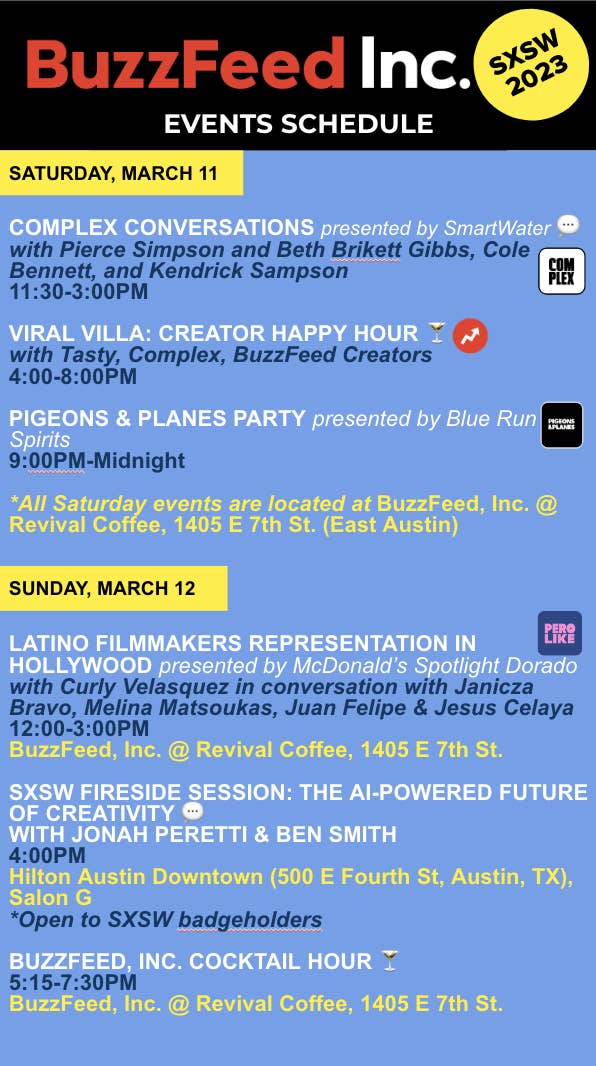 Saturday, March 11
Complex Conversations: SmartWater
Join Complex's Senior Editorial Producer and On-Air Talent, Pierce Simpson, for a special COMPLEX CONVERSATIONS. Joined by luminaries of style, music, entertainment, sports, activism, and education, this group of dynamic panelists will reveal their lessons on their paths to success. Beth Brikett Gibbs, Cole Bennett, and Kendrick Sampson discuss their origin stories, how they've built their brands, and the pivotal career moments that have led to them being revered as some of the industry's brightest leaders. Presented by SmartWater
Date: Saturday, March 11
Time: 11:30 AM - 3:00 PM

Panel begins at 12:00PM with bites and bubbles!

Location: BuzzFeed, Inc. @ Revival Coffee, 1405 E 7th St
Viral Villa: BuzzFeed, Inc. Creator Happy Hour
Mix and mingle with the stars of Tasty, Complex, BuzzFeed and Pero Like, onstage together for the first time ever. It's a house party where the guests of honor can tell you everything you need to know to go viral (or something like that).
Pigeons and Planes: Presented by Blue Run Spirits
Come hang for snacks, drinks and vibes -- live performance by Armani White, Joaquin + Friends. Entry is subject to capacity and is first come, first served. Invite-only, 21+
Date: Saturday, March 11
Time: 9:00 PM - Midnight
Location: BuzzFeed, Inc. @ Revival Coffee, 1405 E 7th St

Please note that entry to the space is via secret alleyway behind the E 7th Revival building, with entry located between Navasota and Onion Streets.

Invite-only, 21+
Sunday, March 12
Increasing Latino Filmmaker Representation in Hollywood: Presented by McDonald's Spotlight Dorado
Join BuzzFeed's Curly Velasquez as he moderates a powerful conversation with Latino filmmakers who'll explore the current state of diversity within the film industry and the actionable steps studios can take toward creating more movies that celebrate the beauty of diversity. This panel will feature emerging filmmakers; Juan Felipe, and Jesus Celaya, who will offer insight into their rise to recognition, alongside the award-winning filmmaker Melina Matsoukas and Janicza Bravo, who'll discuss their continued commitment to increasing Latino Filmmaker representation in Hollywood. Presented by McDonald's Spotlight Dorado short film contest, which awards three emerging Latino filmmakers $75K to produce their short films. Visit SpotlightDorado.com to learn more. The submission period closes on April 21.
Date: Sunday, March 12
Time: 12:00-3:00 PM
Location: BuzzFeed, Inc. @ Revival Coffee, 1405 E 7th St
SXSW Fireside Session: Jonah Peretti on AI
Official SXSW Fireside with Jonah Peretti, co-founder and CEO of BuzzFeed in conversation with Semafor's Ben Smith on recent breakthroughs in artificial intelligence, the opportunities and applications of AI for good, and infinite opportunities for creativity. Like the shift to mobile and the rise of the smartphone, artificial intelligence will shift culture, and change the trajectory of media creation and consumption across the publishing industry.
Date: Sunday, March 12
Time: 4:00 PM
Location: Hilton Austin Downtown, Salon G

500 E Fourth St. Austin, TX
Hilton, Room: Salon G

Open to all SXSW badgeholders
BuzzFeed, Inc. Cocktail Hour
Join BuzzFeed, Inc. and CEO Jonah Peretti for a post-SXSW fireside conversation cocktail hour with tacos, takeaways and more! (details on Jonah's keynote above)
Date: Sunday, March 12
Time: 5:15 PM - 7:30 PM
Location: BuzzFeed, Inc. @ Revival Coffee, 1405 E 7th St