NEW YORK – OCTOBER 25, 2022 – BuzzFeed, Inc., a premier digital media company for the most diverse, most online, and most socially engaged generations the world has ever seen, today unveiled the full line-up of vendors and creators for its inaugural Eat Your Feed Fest (EYFF). The first food festival experience from First We Feast and Tasty will debut at ComplexCon November 19-20, offering fans the opportunity to meet their favorite creators, discover what's next in food, and taste the internet's trendiest bites.
"We are excited to announce the line-up for the first-ever Eat Your Feed Fest," said Chris Schonberger, GM of First We Feast. "When Tasty and First We Feast started building this festival, we set our goal on delivering an immersive two-day experience that allowed both brands to bring their most coveted shows to life. First We Feast is bringing its slate of shows, our high-energy hosts and chefs along with a highly curated selection of different culinary perspectives that highlight the diversity of the Los Angeles County food spectrum to Long Beach, CA. We are breaking phone screens and pulling our audience into our food universe for what will surely be a memorable and filling experience."
EYFF will not only be a place to sample the unique flavors of the local Los Angeles and Long Beach area, but a platform for innovative culinary creators to connect with new audiences. First We Feast and Tasty are inviting the next generation of chefs to participate in the festival through exclusive menu items with local restaurant partners, live taste tests, and live cooking challenges.
"The festival will be packed with the best, most innovative food talent all weekend long," said Hannah Bricker, GM of Tasty and Lifestyle Brands. "We're thrilled that fans will have an opportunity to not only meet some of the beloved hosts from First We Feast, like Sean Evans and Tasty creator Twaydabae but also discover the emerging creators we've invited to share their unique culinary POVs."
When fans arrive at EYFF, they'll be treated to a curated line-up of 25 diverse, local Long Beach and Los Angeles food vendors serving beloved menu items from their establishments, plus exclusive menu items only available at the festival. Each vendor has been hand-picked by First We Feast and Tasty, with the help of food culture agency Care of Chan.
The full line-up features fan favorites and fresh, new flavors including:
Featured talent in this year's line-up includes:

First We Feast Talent: Sean Evans, George Motz, Nicole Russell, Jesus Trejo

Tasty Creators: Jasmine Pak, Twaydabae, Joe Sasto, Ellen Marie Bennett, Gideon General, Owen Han, Toni Chapman, Jeri Mobley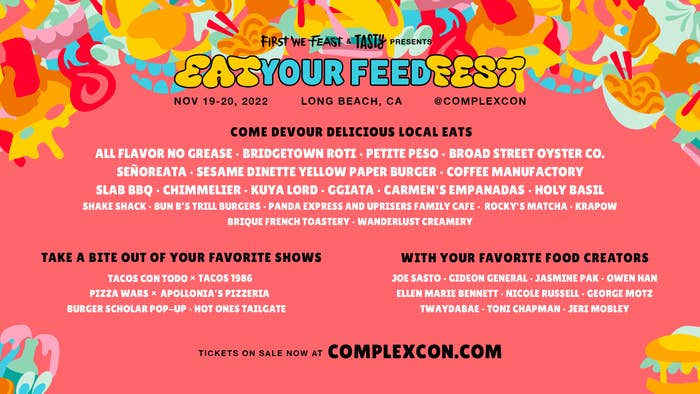 The new food festival experience is the first collaboration between First We Feast and Tasty, two of the internet's most influential culinary brands, and the first joint experiential offering from BuzzFeed, Inc. following its acquisition of Complex Media in December 2021. Building their first joint experiential event, the two brands reimagine a traditional food festival by inviting their massive audiences to shape the festival, offering this global community a seat at the table to help select vendors, and vote on the event's featured dishes and bites.

ComplexCon, the annual festival hosted by Complex Networks since 2016, and the first-ever Eat Your Feed food festival will occur Nov. 19-20 in Long Beach, California. For more information and to purchase tickets go to www.ComplexCon.com.
About BuzzFeed, Inc.
BuzzFeed, Inc. is home to the best of the Internet. Across pop culture, entertainment, shopping, food, and news, our brands drive conversation and inspire what audiences watch, read, buy, and obsess over next. Born on the Internet in 2006, BuzzFeed is committed to making it better: providing trusted, quality, brand-safe news and entertainment to hundreds of millions of people; making content on the Internet more inclusive, empathetic, and creative; and inspiring our audience to live better lives.