BuzzFeed is thrilled to be joining a national group of platforms, media companies, nonprofits, election admins, influencers, celebs and businesses to celebrate the first-ever Vote Early Day on Saturday, October 24, 2020!
Elections are about the choices. We are at a tipping point for Americans casting their ballots early, with over 200 million eligible voters than can now cast early ballots some way. According to the U.S. Election Assistance Commission, in the 1992 presidential election, only about seven percent of voters voted early. In the last presidential election, 40% did, up from 32% in 2008.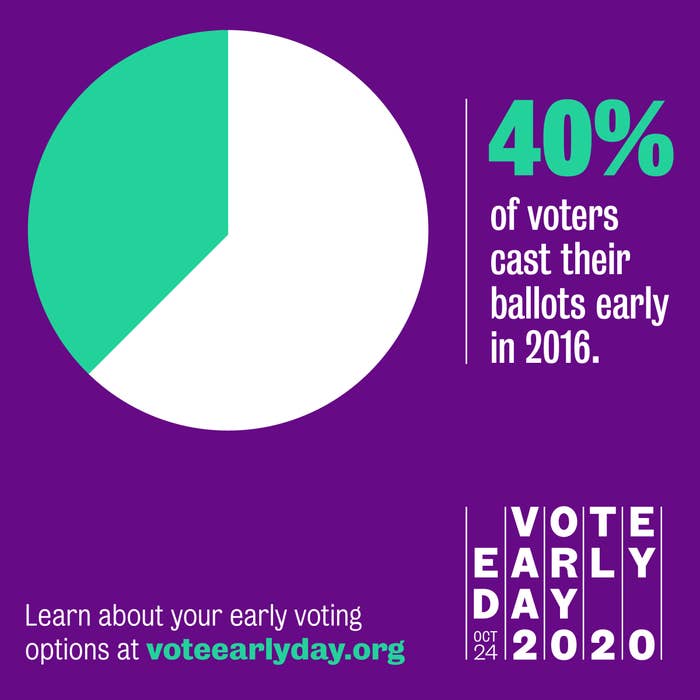 Voting early simplifies processes for election administrators, makes it easier for people juggling family and work responsibilities to participate, and keeps lines shorter on general Election Day, November 3. Early voting provides an additional opportunity for millions of Americans to cast their vote and participate in democracy.
Still, there remains some confusion about early voting, as nearly 25% of Americans are not informed on how to take advantage of their early voting options. Most qualified voters can cast their ballot prior to Election Day, but rules vary across the country and election laws continue to change.
That is why BuzzFeed has teamed up with MTV and over 60 other organizations - including When We All Vote, NAACP, Snap Inc., Patagonia, Twitter and others - to celebrate Vote Early Day, share accurate information around early voting, and see that all eligible voters are represented at the polls.
Learn more about Vote Early Day and your state's early voting information at www.voteearlyday.org. We'll see you at the polls on Oct. 24th!