A Labor MP Accidentally Sent A Private Message Via His Public Twitter Account
With reporting by Alice Workman on the campaign trail and the BuzzFeed politics team in Sydney.
The Day So Far
Opposition leader Bill Shorten is in a spot of bother after further evidence emerged of divisions within his party over asylum seeker policy.
Prime minister Malcolm Turnbull today visited a hospital in Queensland to talk up the government's innovation agenda. He's flying to Sydney this afternoon.
Given how tight the polls are, a lot of the talk this morning is about the possibility of Labor and the Greens forming a minority government. The Greens are up for it while Labor has ruled it out.
Federal Liberal director Tony Nutt has confirmed no final decisions have been made on preferences. There's been some suggestions the Liberals will preference Greens over Labor in some states.
Shadow Treasurer Chris Bowen has given a wide ranging speech at the National Press Club, where he touched on, among other things, the imminent demise of the 5c coin.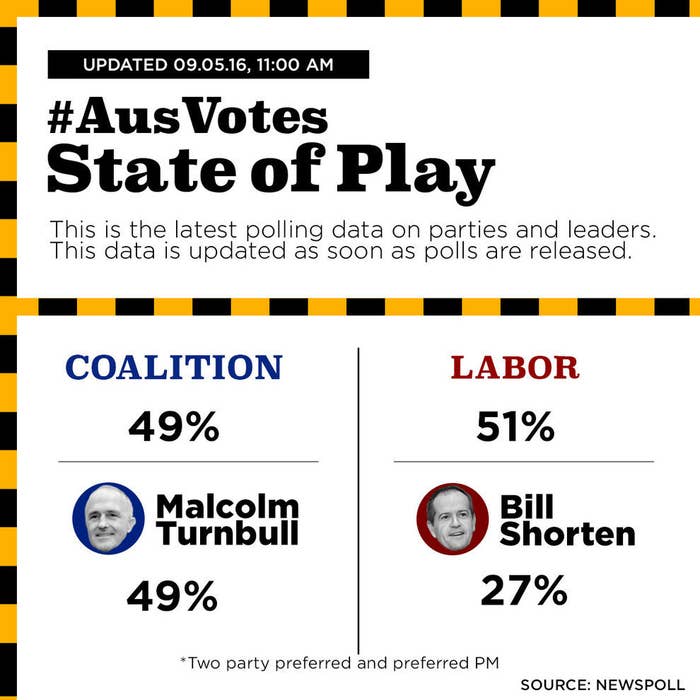 Then been plenty of argy bargy today over preference deals in key seats between Labor/The Greens/The Liberals. Labor MP Rob Mitchell put the blindfold on and waded into the controversy full force this afternoon by sending a private message via his very public Twitter account.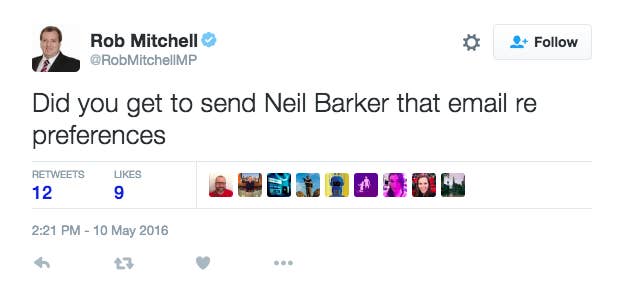 It's interesting because Neil Parker is the Greens candidate in Mitchell's seat of McEwen, and McEwen is Australia's most marginal seat, held by just .02%, so preferences will be crucial on July 2. What could they have been discussing, we wonder. Twitter certainly wanted to know.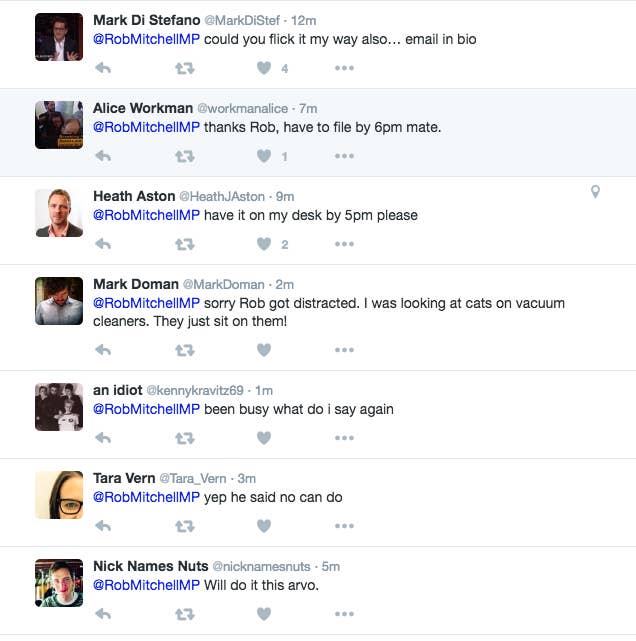 Mitchell tweeted again a few minutes later, telling everyone to chill out, but not providing many more answers. The mystery continues.
A beardless shadow Treasurer Chris Bowen has given a wide-ranging speech at the National Press Club, explaining Labor's economic policies. It's all the sort of stuff you'd expect, but right towards the end he touched on an important topic: The future of the 5c coin.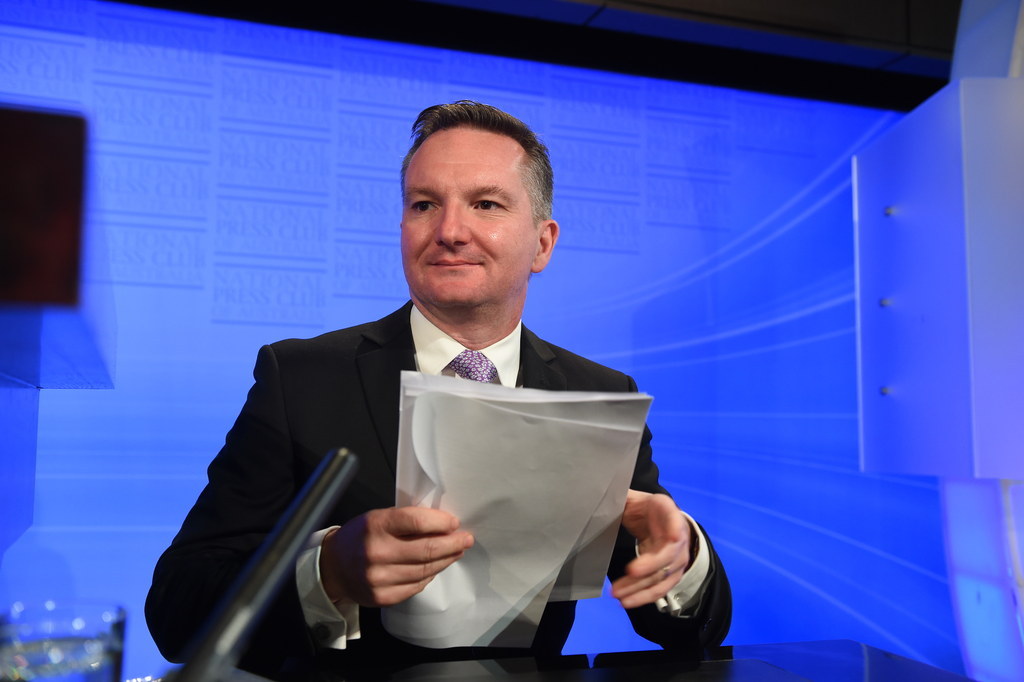 Just last week, treasurer Scott Morrison prematurely killed off the Chunky Echidna, before the Royal Australian Mint revived it.
Asked about the future of the coin today, Bowen said Labor had no definitive plans to get rid of the coin, but would listen to whatever the Mint has to say on the subject.
The Mint has been trying to get rid of the coin since 2011, so it looks like the echidna's days are numbered.
You can read Bowen's speech here, if that's something you're into.
Notice anything familiar about the government's campaign logo? Here's this year's version...
And here's the version from 2013 when Tony Abbott was leader. Hmmm.
Prime minister Malcolm Turnbull is visiting a hospital in Queensland, checking out a new robotic arm used to perform hip replacement surgery, in an attempt to spruik the government's innovation agenda.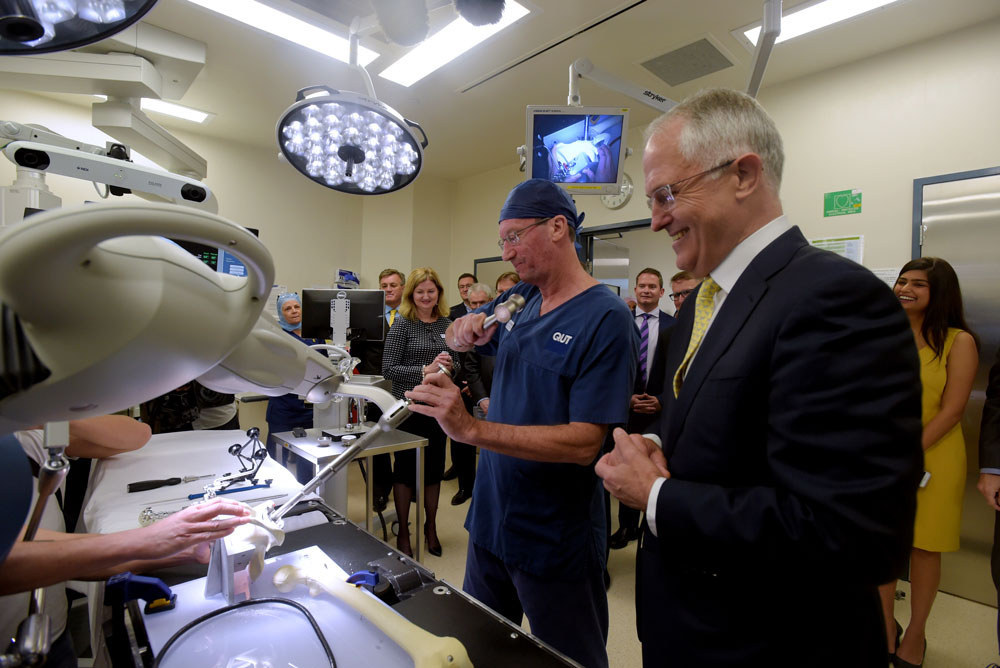 But discussions quickly turned to the possibility of the Coalition forming a minority government with the Greens ("no chance"), a Reserve Bank note which supports changes to negative gearing ("it's two years old and it was directed at a different issue"), and tax cuts for people earning more than $80,000 ("96% of Australians will be better off").
After that, the PM criticised the opposition on boats, as you'd expect then moved on. He's expected to land in Sydney later today.
Labor leader Bill Shorten held a very awkward press conference this morning with one of his candidates - Cathy O'Toole in the Queensland seat of Herbert - after this photo of O'Toole protesting bipartisan refugee policy emerged.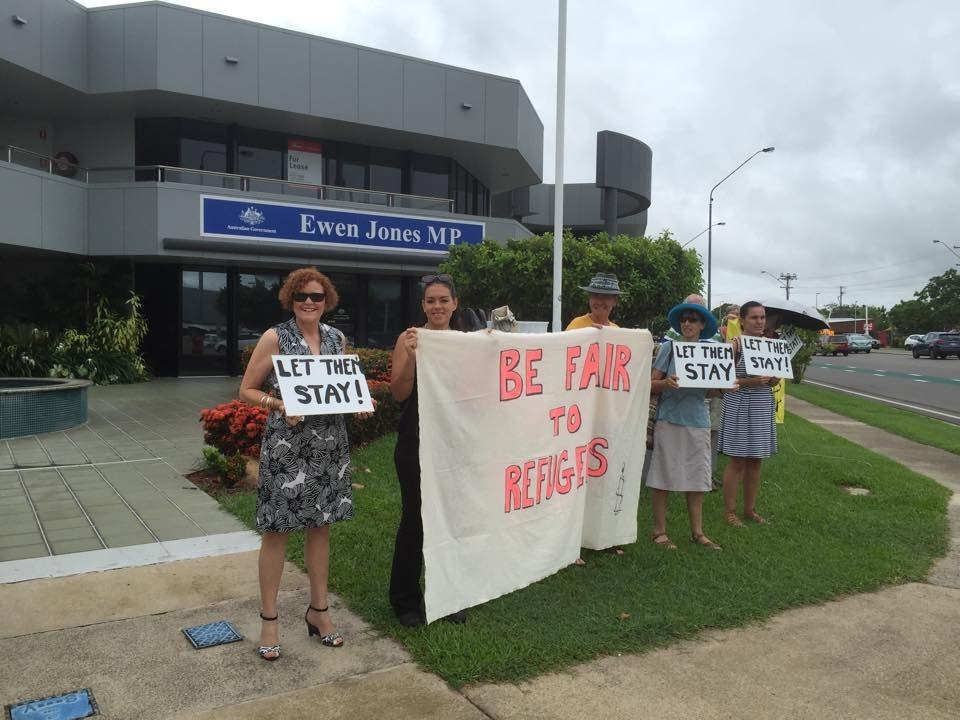 The photo, which is still live on O'Toole's official Facebook page, shows the candidate standing outside LNP MP Ewen Jones' office, calling for a "humane refugee policy."
"On Friday morning I stood with my Amnesty International Australia friends peacefully demonstrating in support of a humane policy for refugees," O'Toole said in the photo's caption. "We were also taking a stand against keeping children in detention. Children do not belong behind wire fences they deserve to be playing, going to school and living peaceful lives with their parents in a save home."
It raises some awkward questions for Shorten, who has been trying to play down suggestions that his party is divided on refugee policy.
Asked several times today if she supported boat turnbacks, O'Toole would only say that she supported current Labor policy - all while Labor leader Bill Shorten stood right next to her.
O'Toole defended the photo, saying she is a proud supporter of Amnesty International. Eventually Shorten stepped in, saying O'Toole had been asked enough questions thankyouverymuch.
It comes a day after another Labor candidate, Sophie Ismail, criticised the policy of boat turnbacks.
It's a fraught issue for Labor, and Shorten wants to make it absolutely clear that eLabor's policy is identical to the government's, even if Labor's own candidates don't like it.
Dennis Jensen, the Liberal MP who lost a pre-selection battle in his WA seat of Tangney, has gone on a bit of a rant about the status of his Liberal party membership. Remember, he's still a Liberal MP until July 2.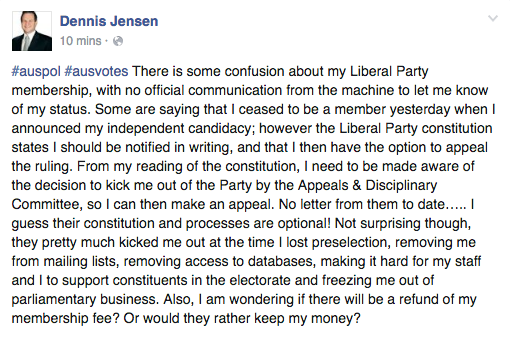 Some anti-Turnbull posters have started popping up in his Sydney seat of Wentworth.
Greens leader Richard Di Natale says he'd happily back Labor to form government in the event of a hung parliament.
Speaking to BuzzFeed News shortly before the election campaign officially kicked off, Di Natale said it's "inconceivable" that the Greens would support a Liberal/National coalition government.
"I think they're a shocking government and they should be turfed out," he said, while confirming the Greens would consider lending their support to Labor in the event of a hung parliament.
Despite media speculation, Di Natale says the party won't be preferencing the Liberal party on how to vote cards.
"Some seats we'll make decisions not to recommend preference at all, others we'll preference Labor but it depends on the strength of the candidate and how the local branch feels."
The Greens are hoping to pick up one or two extra seats in the lower house, and one extra Senate seat in QLD. They're running candidates in inner-city Melbourne and Sydney, targeting Batman, Wills, Melbourne Ports, Higgins, Grayndler, Sydney, Richmond, Freemantle and Brisbane.
Di Natale is confident the Greens will pick up extra votes this election by leading on issues that matter most to young people.
"I think we're picking up people from across the political spectrum because we offer a more progressive, longer term view, a bit of courage and we're prepared to stand up and back issues that other parties won't," he says.
"If it was just the under 30s who were voting there would be every chance we'd have a Green Prime Minister."
Opposition leader Bill Shorten has categorically ruled out forming a coalition government with any party, saying Greens MP Adam Bandt is "dreaming" when he says he'd consider it in the event of a hung parliament.
"Labor will fight this election to form its own government and to form a government in our own right. Labor will not be going into coalition with any party," Shorten told the ABC this morning.
Labor senator Sam Dastyari is playing a key role this campaign: Chief bus driver.
Good morning and welcome to day 2 of the 2016 federal election campaign. All of the talk this morning is about the possibility of a Labor/Greens coalition government. Given how tight the polls are, it's not out of the question.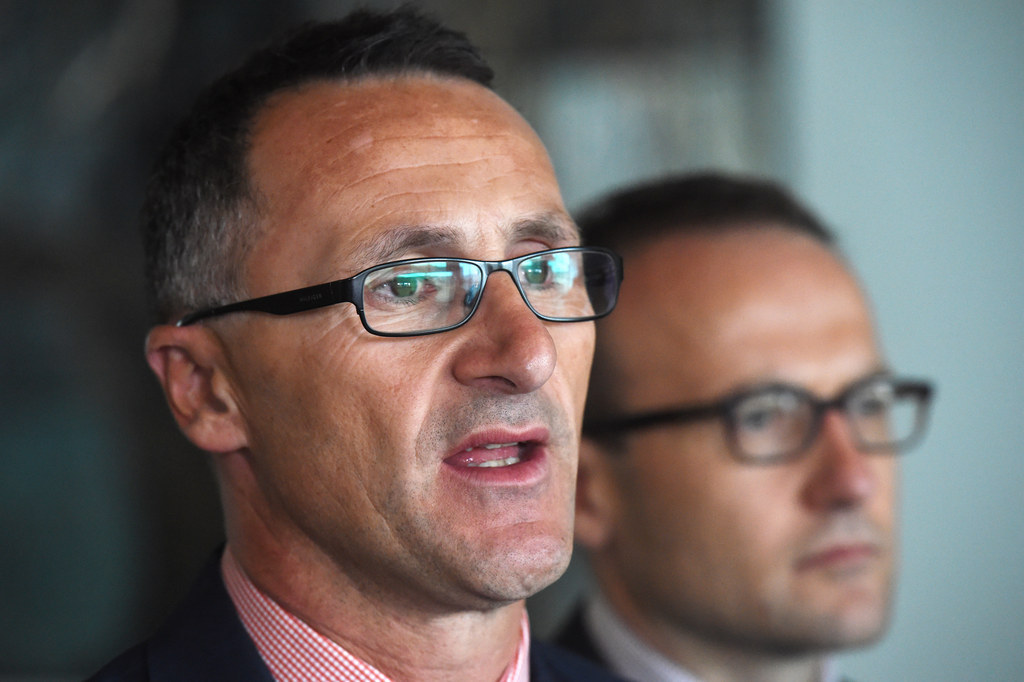 Asked about the possibility last night on the ABC's Q&A, The Greens' sole MP in the lower house, Adam Bandt, said he'd be open to siding with Labor in the event of a hung parliament.
"I would like to see Greens working with Labor," he said. "I think the big question will be whether Labor wants to do it. We're up for it and I think you'd want an agreement that delivers a stable and effective and progressive parliament and everyone would have to give a bit because it would have to be reasonable."
But this morning, deputy Labor leader Tanya Plibersek shot the idea down in flames, remembering that things hadn't worked out so well when something similar happened in 2010. She reckons Australia would be "horrified" by the idea.
"Some of the compromises that [Labor] made cost us quite dearly during that time in government," she told the ABC this morning. "We are playing to win. We're not playing to be part of a coalition government."
Let's look at the numbers.
There are 150 seats in the House of Representatives, meaning a party needs at least 76 to form government.
Currently the Coalition has 90 seats and Labor has 55, but thanks to a few electoral re-distributions, Labor has already notionally picked up one extra seat. That means that if Labor can attain a swing towards it of 4%, it will win government.
But, if it only gets a swing of between 3.4% and 3.9%, the major parties will have to rely on likely crossbenchers Bandt, Cathy McGowan in Indi, Bob Katter in Kennedy or Andrew Wilkie in Denison to form government.
With the way the polls are at the moment, it's really not out of the question.