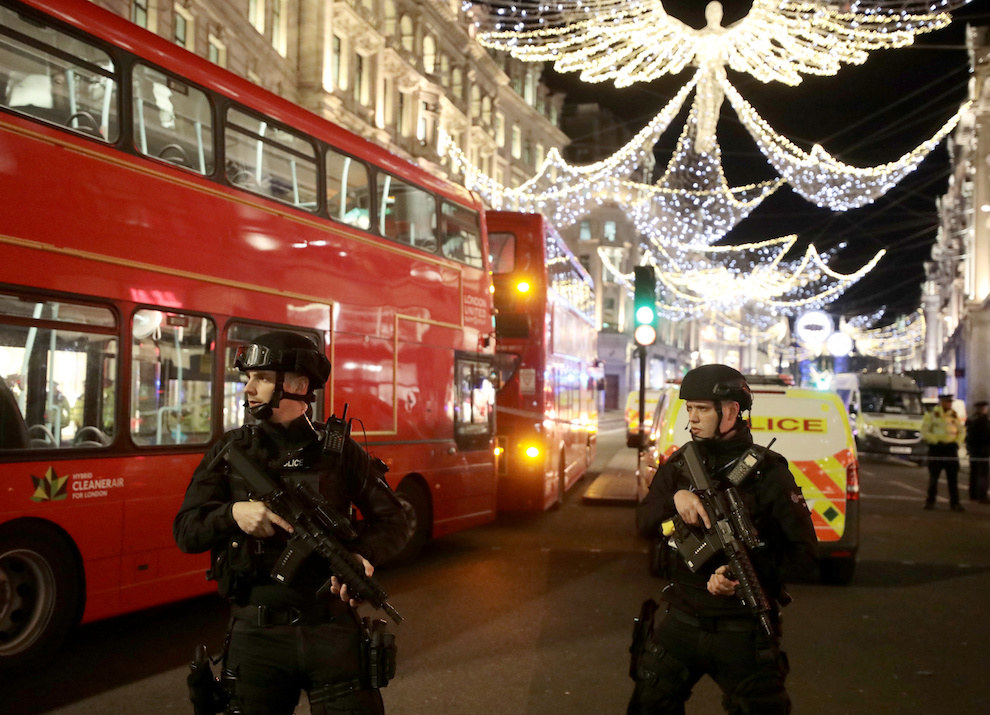 Armed police stood down after reports of "shots fired" near Oxford Circus tube station, in central London, at the start of the evening rush hour.

Shortly before 5pm people were seen running and shouting along Little Argyll Street, off Regent Street.
In a statement, the Metropolitan Police said it responded to an incident at 4:38pm, after a "number of reports of shots fired" on Oxford Street, and on the underground station, Oxford Circus.
The Met updated its statement and said that given "the nature of the information received, the Met responded in line with our existing operation as if the incident was terrorism, including the deployment of armed officers".

"Officers working with colleagues from British Transport Police carried out an urgent search of the area. No casualties, evidence of any shots fired, or any suspects were located by police."

Officers were later stood down, they said, adding that members of the public could now leave the surrounding buildings. There would be an increased police presence with "some cordons" remaining in place.
In a statement, BTP said its officers were "unable find any evidence of gunfire", but that officers remained on scene. The force later thanked the public and said it was "working quickly" to reopen stations.
Shortly before 6pm Transport for London tweeted to say that Oxford Circus tube station had reopened, after TfL and the Victoria line tweeted in the immediate aftermath of the incident that the line was closed.

The London Ambulance Service (LAS) said it was "aware" of the incident on Oxford Street.

British Transport Police tweeted that it knew of "a woman sustaining a minor injury when leaving Oxford Circus station". It continued: "There are no other reported casualties."

The London Fire Brigade was also on the scene, responding to the reported "incident". It had three fire engines and 15 firefighters on the scene.
This is a breaking news story. Follow @BuzzFeedNews for updates.