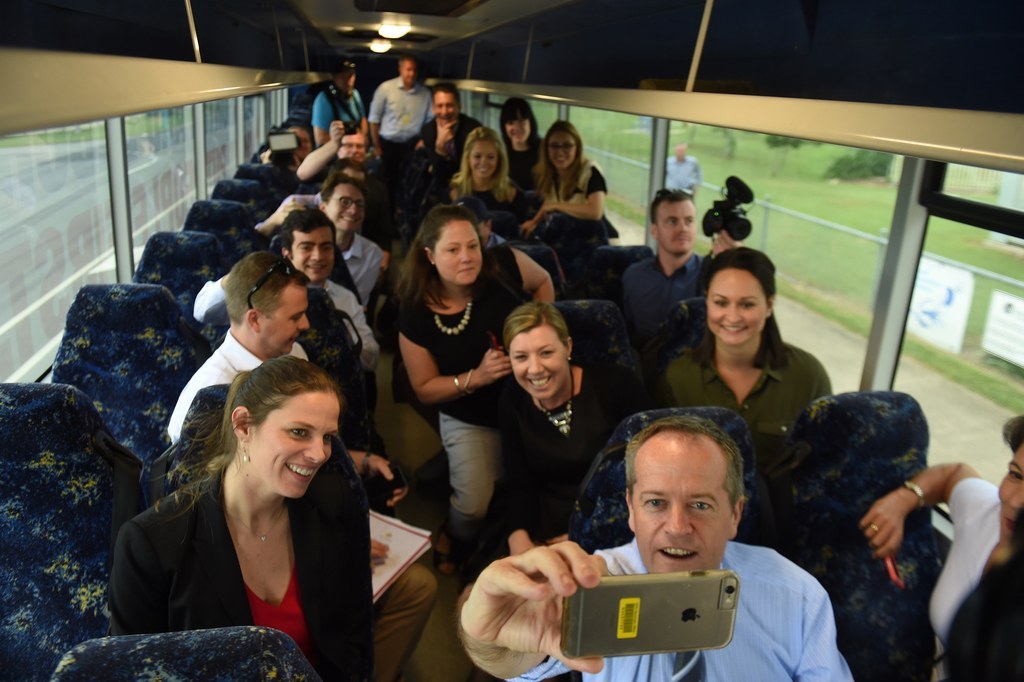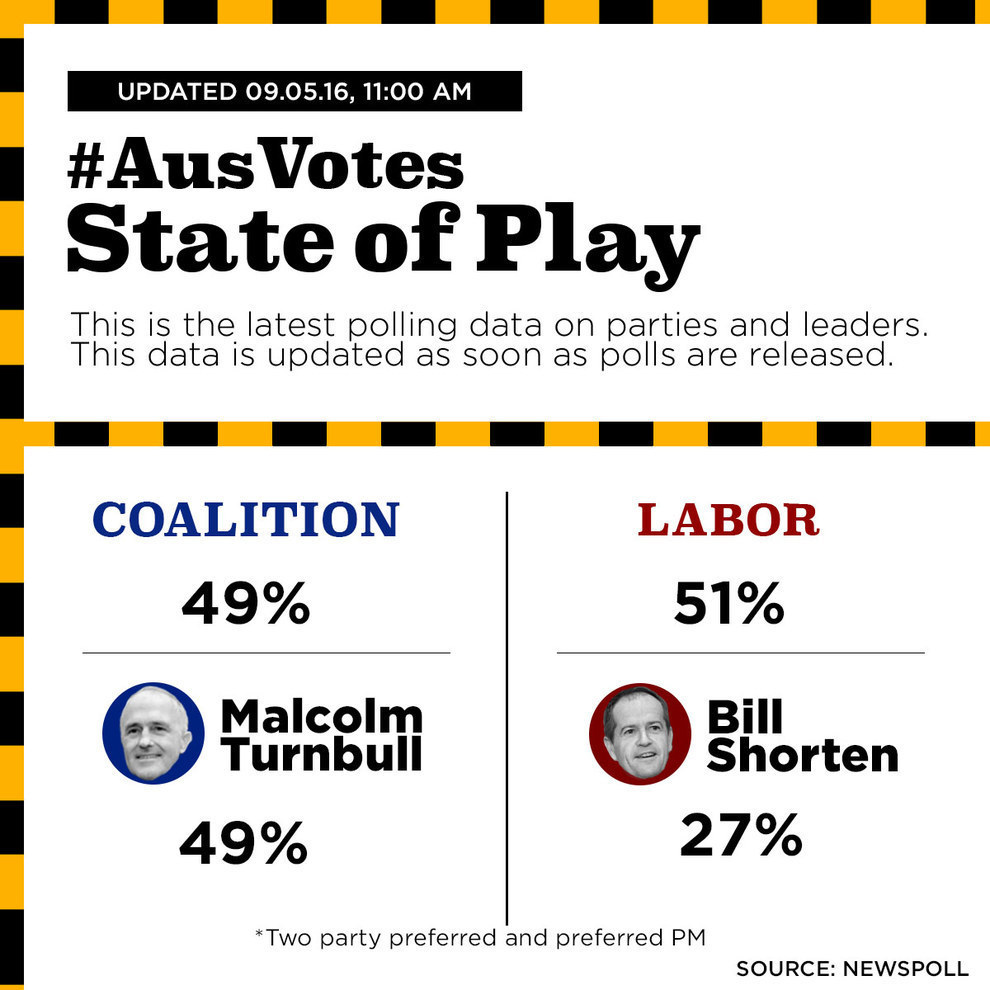 Updates
Greens Senator Sarah Hanson-Young says she was denied a visit to the widow of a refugee who self-immolated on Nauru last month, because the visit would violate caretaker conventions.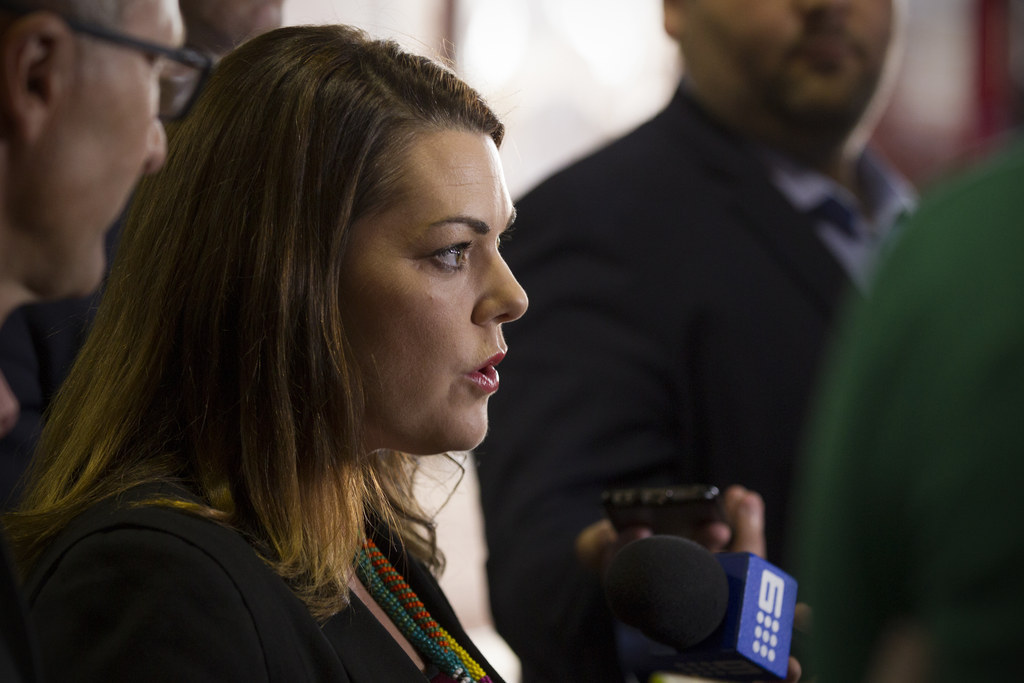 But when pressed on which guidelines the visit would violate, the Department of Immigration could not name them. Read the full story here.
It comes on the same day that a 26-year old asylum seeker died of a suspected heart attack on Nauru.
Deputy Labor leader Tanya Plibersek has defended boat turnbacks, amid a third day of division in her party over the issue.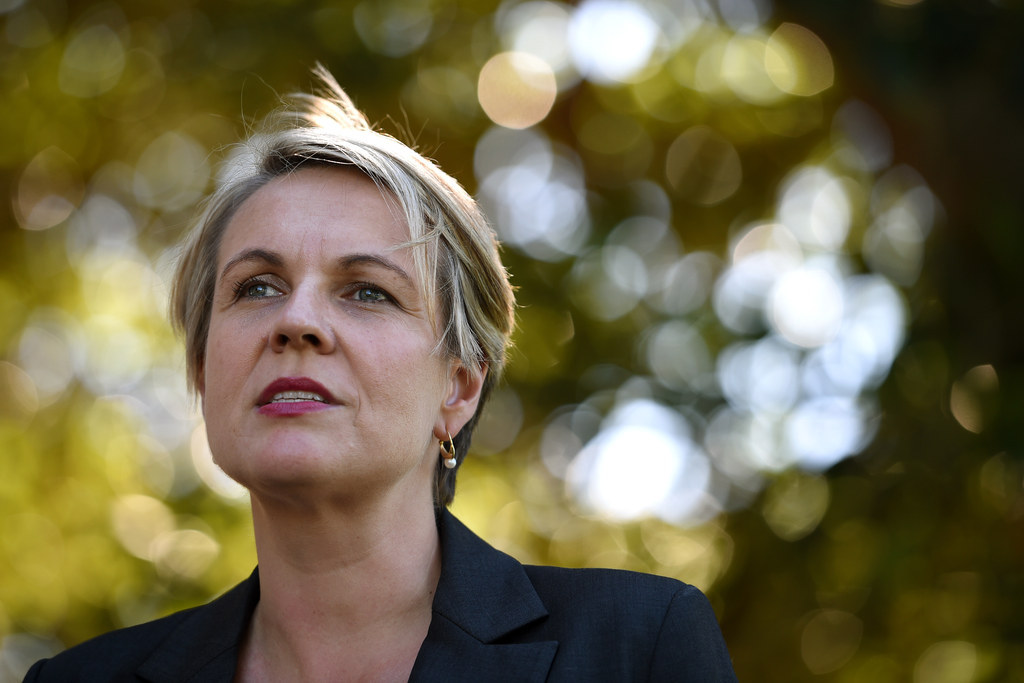 Several Labor candidates have voiced their opposition to the policy in recent days, embarrassing leader Bill Shorten, who would rather be talking about pretty much anything else.
Today it was the turn of Tasmanian Senator Lisa Singh, who said she'd rather not see any boat turnbacks at all.
"Of course I don't want turnbacks to happen... I don't think anyone in our party does," Singh said at a campaign event on Wednesday.
Plibersek, who is facing a tough challenge from the Greens in her seat of Sydney, said "of course" she supports turnbacks.
Our policy was very vigorously debated at our national conference. We concluded as a group that turnbacks need to be one of the policy options available to us to stop people drowning at sea," she told the ABC.
"We absolutely don't want to see thousands of people coming to Australia, ripped off, exploited by criminals who don't care whether these people make it or not. They don't care whether this dangerous journey ends the life of an asylum seeker. Nobody wants to see that start again."
"We have said turnbacks have to be one of the policy options available to us."
Bill Shorten is the first leader to pick up a child this campaign. Our hats off to him.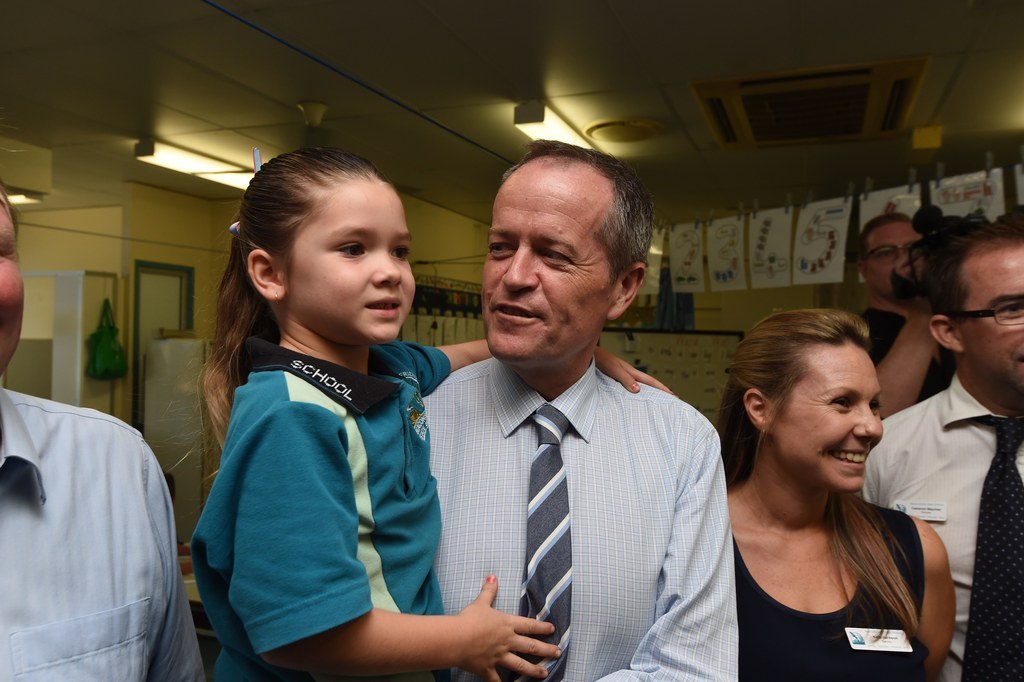 The opposition leader is in Mackay to talk about education funding - which has been his theme of the week - and to announce 44.6 million in new funding for 'targeted teaching', which assesses where a child's learning is at, and spending directing attention to the areas that need improvement.
It's not a lot of money, but it's a stark contrast to Malcolm Turnbull, who hasn't announced any new spending measures in the campaign. He's probably waiting until we get closer to the election date, when more people are paying attention.
Interestingly, Shorten also wouldn't rule out sending Australia straight back to the polls if this election ends with a hung parliament. Both parties have ruled out forming minority government with the Greens, and if they stick to their word, we may be voting twice this year.
Malcolm Turnbull was due to hold a streetwalk through Penrith this morning, but it's now been suddenly cancelled without reason.
The decision came after Turnbull and local MP, Fiona Scott, were subjected to some tough questioning about her role in the downfall of former PM Tony Abbott. (More on that below)
We haven't really seen the PM come into contact with too many 'ordinary' voters yet in this campaign, so things may have gotten interesting. Ah well, next time.
Scott Morrison would like you to know that the government says what it means and means what it says and does what the government says it would do.
Prime minister Malcolm Turnbull is in the western Sydney seat of Lindsay, which is centred on the working class suburb of Penrith. Lindsay has attained cult status for both parties, who see it as something of a bellwether for working class voters. You may remember Lindsay MP Fiona Scott as the woman Tony Abbott referred to as having "sex appeal".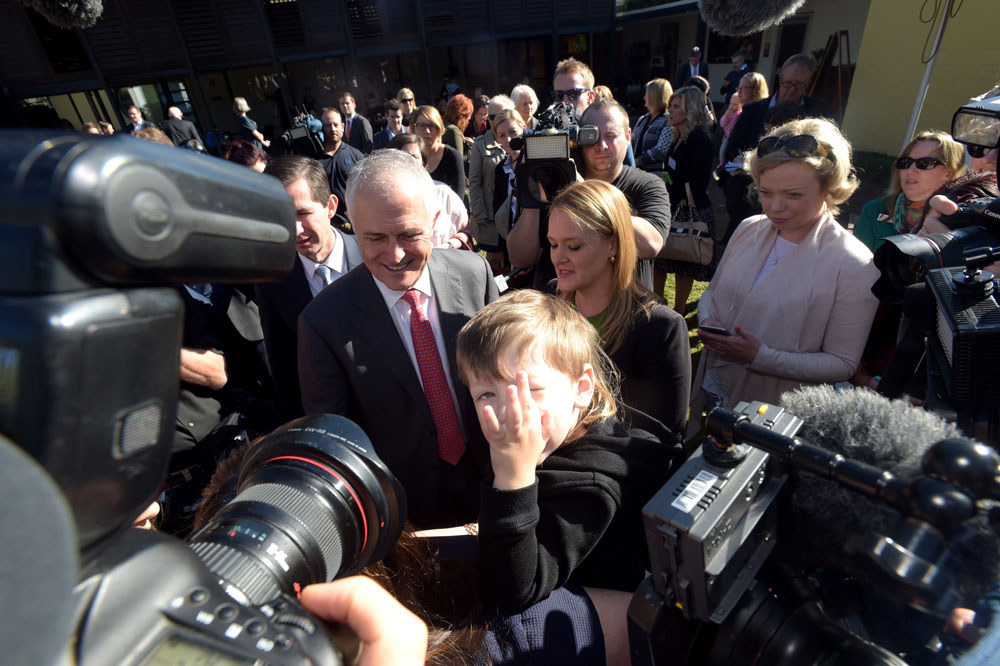 The first question asked of Scott wasn't a policy one, instead, she was asked who she voted for in the Liberal leadership ballot last September. She reportedly voted for Turnbull, and is said to be seen by many conservative Liberals as a traitor, for turning on Tony Abbott.
Scott declined to reveal who she voted for.
"I don't leak from the party room of I don't intend to start leaking from the party room," she said. "I have never disclosed how I voted, and frankly I never will.
"Because I think it's important for members of Parliament to be able to take the trust of their communities and the trust of their community is taking your vows and your oaths very seriously."
This answer prompted a "good on you" from the PM.
During his time at the Western Sydney Art Gallery this morning the PM met some of the friends* of local member Fiona Scott.
He was asked some tough questions on cuts to schools funding and mental health and ice treatment.
*Friends means people vetted by the PM's media team.
The first baby of the campaign has escaped unkissed.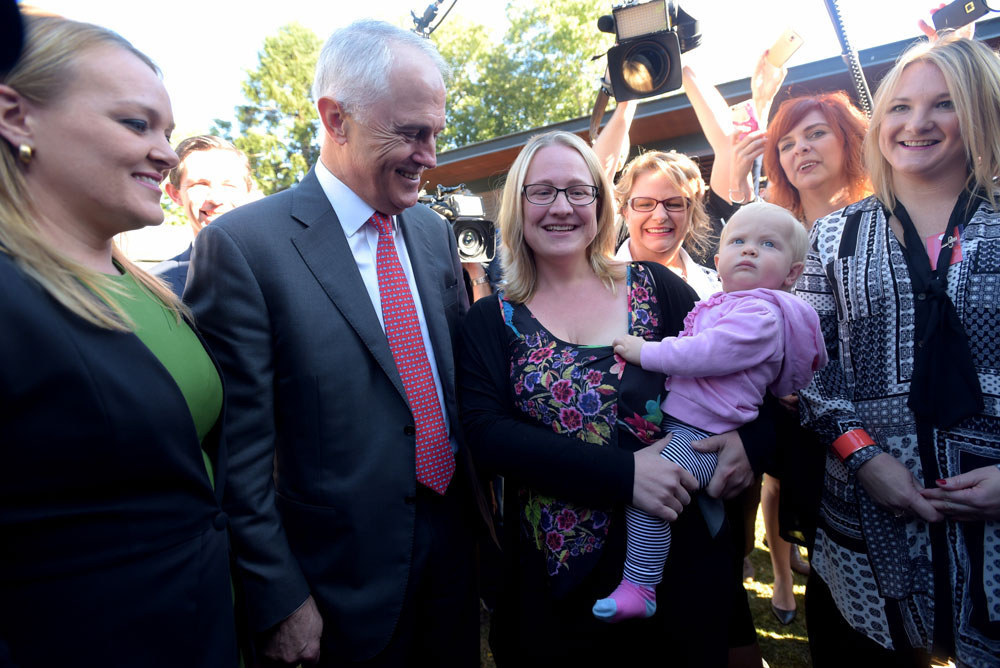 An important reminder that not everyone is tuned in to the election campaign just yet.
Will Australia's media pass the sniff test?
---
Day Three and the Prime Minister is visiting more marginal seats, this time around Sydney.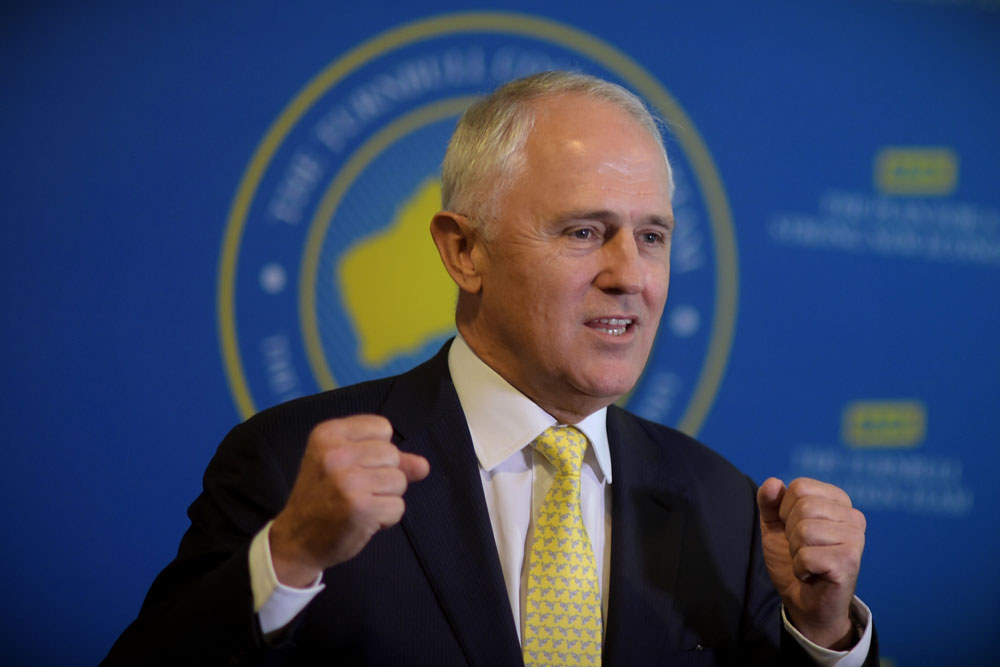 We're three days into the campaign and he's yet to promise a cent.
There are have been no annouceables, no big bucks, and gone are the Tony Abbott days of the PM rolling up his sleeves and getting his hands dirty on the campaign trail. We haven't seen the PM "have a go" at anything yet.
Anthony Albanese is fighting for his political life in the Sydney seat of Grayndler, and now he's got some backing from an unexpected source - News Corp's Daily Telegraph.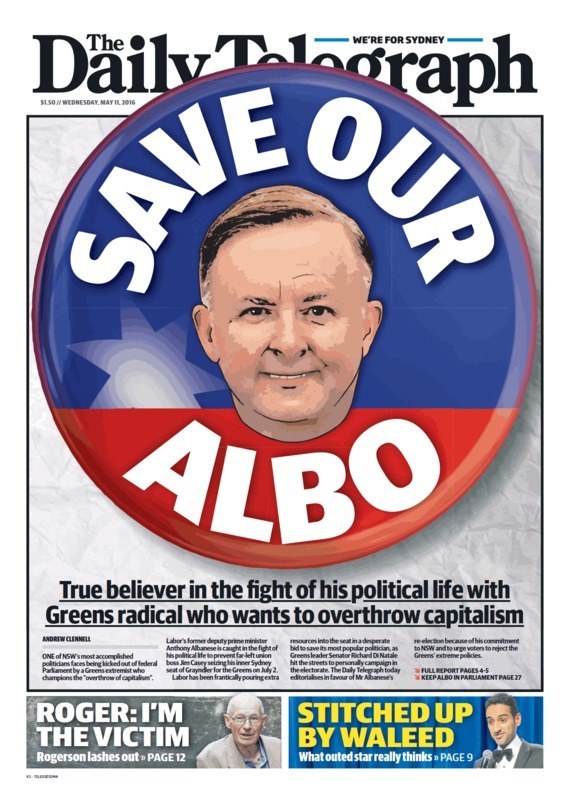 Albo's challenger is Greens candidate Jim Casey, and thanks to an electoral re-distribution, Grayndler is a real chance of slipping from Labor's hands.
This morning on Today, Albo put his case forward to voters of Grayndler, urging them to preference him first.
"I think people need to know that their vote counts. That they can't afford to vote one Green party, and two [Labor], if they want me to stay in the parliament. It's as simple as that."
Karl and Lisa then sang, "Give Albo A Chance" to the tune of Give Peace A Chance.