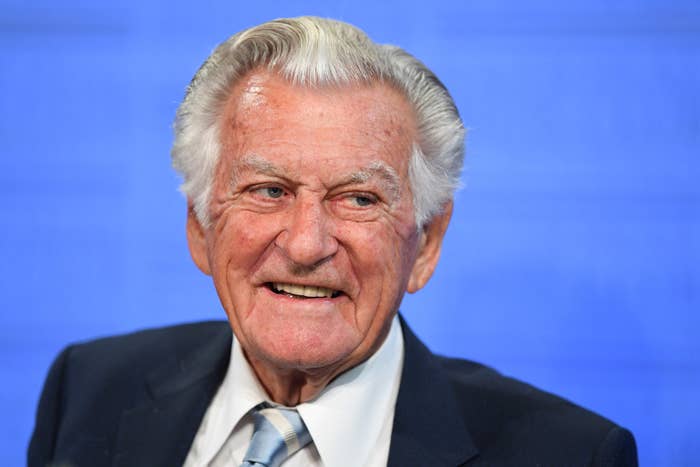 Australia's 23rd prime minister, Bob Hawke, has died at the age of 89.

Born Robert James Lee Hawke on Dec 9, 1929 in South Australia, the man widely known as "Hawkie" was Australia's third-longest serving prime minister, and Labor's longest serving PM. He led Labor to four consecutive election victories, and held the top job between 1983 and 1991.

He died peacefully at home according to his wife Blanche D'Alpuget.
"Bob was dearly loved by his family, and so many friends and colleagues. We will miss him," she said in a statement. "The golden bowl is broken."
The iconic Labor prime minister is remembered for introducing universal healthcare to Australia in the form of Medicare. The Hawke government also floated the Australian dollar, brokered an agreement with unions to limit their wage demands if the government pledged to minimise inflation, and set Advance Australia Fair as the country's official anthem.

Hawke was ousted in 1991 when his former deputy Paul Keating successfully challenged him for the leadership. Labor remained in power until 1996.

Hawke is also fondly remembered for his larrikin attitude. When Australia won the America's Cup sailing event in 1983, Hawke, dressed in a suit jacket with "Australia" emblazoned across it, said "any boss who sacks anyone for not turning up today is a bum!"
In recent times Hawke was often called upon at sporting events to skoll a beer, and even had a beer named after him.

His health had been failing in recent times, and he opted against speaking at the Woodford Folk Festival in Dec. 2018 as he has done every year for the previous 10 years, citing ill health.
Labor leader Bill Shorten said in a statement on Thursday night that he had promised Hawke he would "win for him" at Saturday's federal election, and recounted the last time he saw the Labor party giant.

"It was Monday 6 May, the Sydney sun was out, that famous silver mane, now snow-white. Cigar in hand, strawberry milkshake on the table, the hefty bulk of his dictionary holding down the day's cryptic crossword," Shorten said.

"I gave the man who inspired me to go into politics a gentle hug, I tried to tell him what he meant to me, what he meant to all of us. I couldn't quite find the right words, few of us can, when we're face to face with our heroes.

"But Bob knew. He knew what he meant to Australia, he knew what he had achieved for the country. He knew he was loved, right to the end."

Paul Keating said in a statement that he and Hawke's partnership had formed the "monumental foundations of modern Australia".

"He understood that imagination was central to policy-making and never lacked the courage to do what had to be done to turn that imagination into reality," Keating wrote.
"And that reality was the reformation of Australia's economy and society and its place in the world."
Many others, including prime minister Scott Morrison and Australia's first female prime minister Julia Gillard, have paid tribute to Hawke.
He is survived by D'Alpuget and his three children, Sue, Stephen, and Rosslyn.

A private funeral will be held by Hawke's family, with a memorial service to take place in Sydney in the coming weeks.