Labor On The Back Foot Over Asylum Seekers As Campaign Kicks Off
Reporting by Alice Workman in Brisbane and the BuzzFeedOz Politics team in Sydney.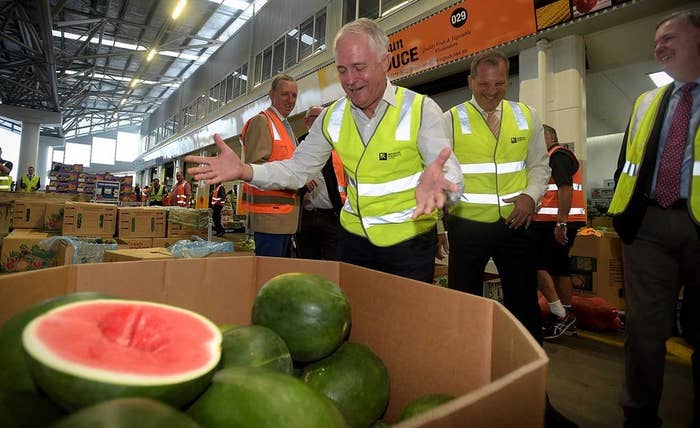 What We Know So Far
It's the first full day of the marathon, 55-day election campaign.
Malcolm Turnbull has kicked off his campaign at a fruit market in Brisbane. He ate a watermelon.
Bill Shorten is in Tasmania for the 10th anniversary of the Beaconsfield mining disaster, before heading to Cairns later.
Four polls in four days with close results: 50-50, 50-50, 51-49 to ALP and 51-49 to LNP. It's going to be a long, close campaign all about QLD and NSW.
Immigration minister Peter Dutton has confirmed that Abyan, the Somali refugee who was flown to Australia for an abortion after allegedly being raped, has given birth.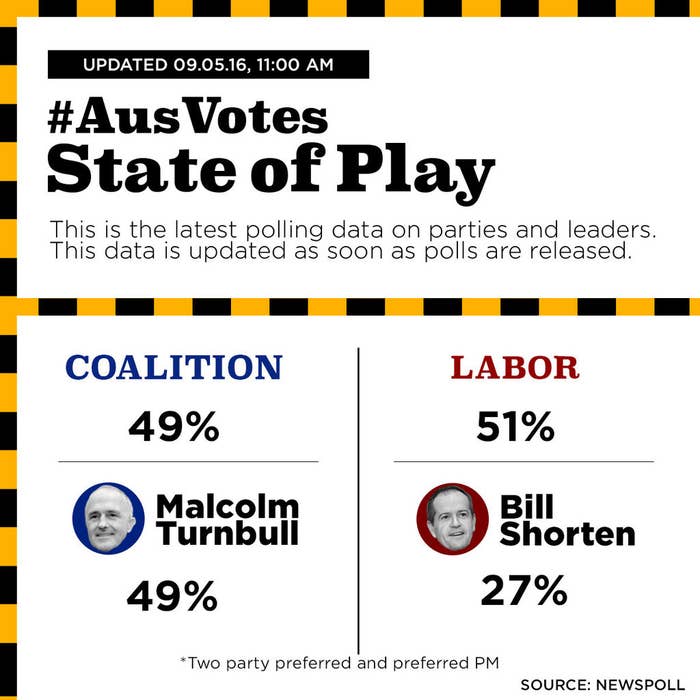 Sky News is reporting that Liberal MP Dennis Jensen, who lost pre-selection for the seat of Tangney in April, will re-contest the seat as an Independent.
Since losing pre-selection, Jensen has been an outspoken critic of his own party.
In particular, he's been critical of the alleged factional moves within the WA Liberal party which saw him ousted.
In parliament last week, Jensen was highly critical of the man who beat him for pre-selection, Ben Morton.
"The Liberal apparatchik candidate clearly believes that his bosses are the Liberal Party, not the constituents," Jensen said in parliament last week.
"Indeed, he believes he has a right to the seat, as did some Liberal Party powerbrokers. He believes he is entitled to a safe seat. It was about him and about the Liberal Party only. The constituents to him were irrelevant."
We've got our first truly dank hashtag of the campaign.
The opposition leader is being forced to defend his party on that issue that just won't go away - the boats. It comes after Labor's candidate in Melbourne this morning questioned official party policy.
"Our policy is clear," Shorten said at least five times during a press conference on Monday afternoon.
He wants to make it absolutely clear that Labor's policies on asylum seeker boats are the same as the government's.
"When it comes to people smugglers and turnbacks and not having onshore processing by people who are smuggled here by criminal syndicates, we are not for turning on our policy."
Expect to hear plenty more about boats before July 2.
Bill Shorten has finally popped his head up. He's at a school in Cairns discussing education for Indigenous kids.
"The truth of the matter is that our school system isn't doing as well for [Indigenous] children as it is for non-Indigenous children," he said at a press conference on Monday afternoon.
"The truth of the matter is we need more kids from an Aboriginal and Torres Strait Islander background to be finishing Year 12. We need to make sure the low levels of outcomes in terms of literacy and numeracy are improving."
Shorten then mentioned some previously announced measures in the Gonski school funding package which target Indigenous students, including 400 scholarships to help Indigenous students become teachers.
Former prime minister Julia Gillard has weighed in. Shockingly, she's backing Labor.
You've probably heard that this will be the first ~snapchat election.~ Well, this is how it starts.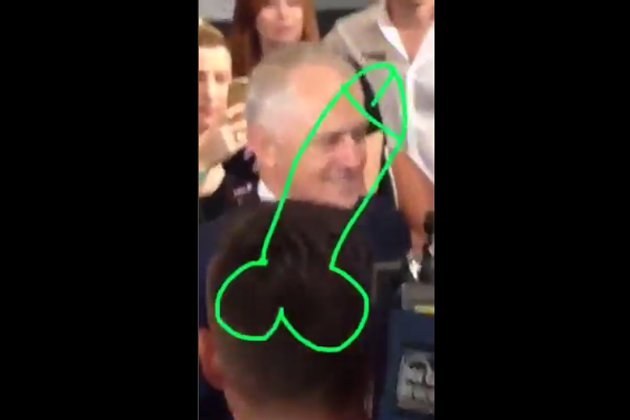 Immigration minister Peter Dutton is making sure we all remember which party stopped the boats. He's attacking Labor over border control after a few opposition MPs criticised their own party's policies.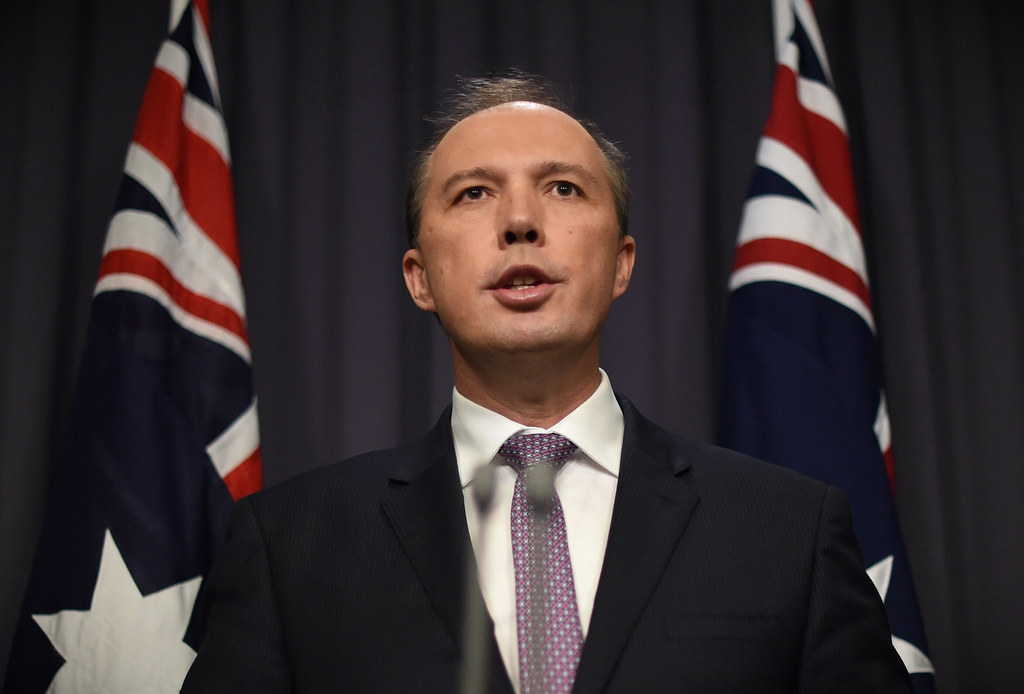 Labor's candidate in the Greens-held seat of Melbourne, Sophie Ismail, this morning raised concerns over boat turnbacks, which are part of official Labor party policy.
"Now this brings to 7 the number of people that have come out in opposition to their leader that are opposed to Labor's border protection policies," Dutton said on Monday morning.
"Mr Shorten wants people to believe... that if elected, Labor would just continue the policies which had been successful in stopping the boats. And what has been demonstrated both in terms of sitting members and Labor candidates, Labor is split and divided when it comes to border protection."
Dutton also confirmed that Abyan, the Somali refugee who was flown from Nauru to Australia for an abortion after she was allegedly raped, has now given birth.
If you haven't already, it's not too late to enrol to vote. Just do it. It takes four minutes and it's really important. Here's how.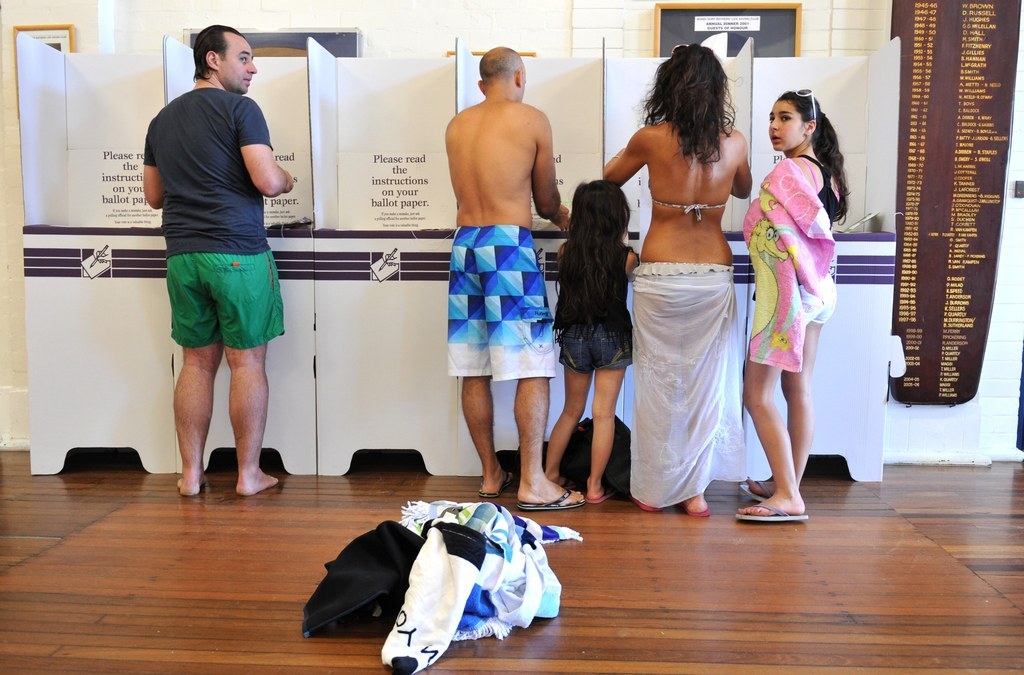 Here's a sneak peak of Bill Shorten's campaign bus. That's a lot of Bill.
Sydney's influential tabloid, The Daily Telegraph, has nailed its colours to the mast on the first full day of the campaign.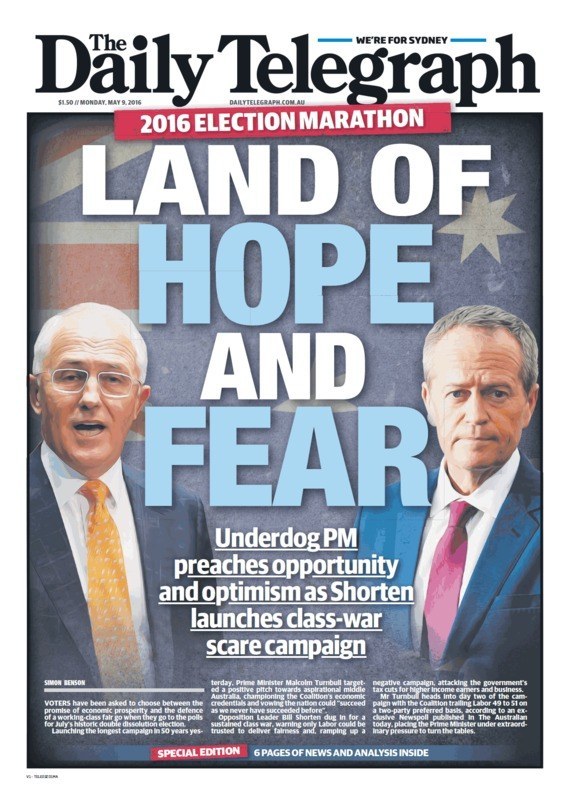 One thing you might not hear about this election campaign is Indigenous youth suicide, but here's a story from BuzzFeed News reporter Allan Clarke about the 'epidemic' taking place in WA.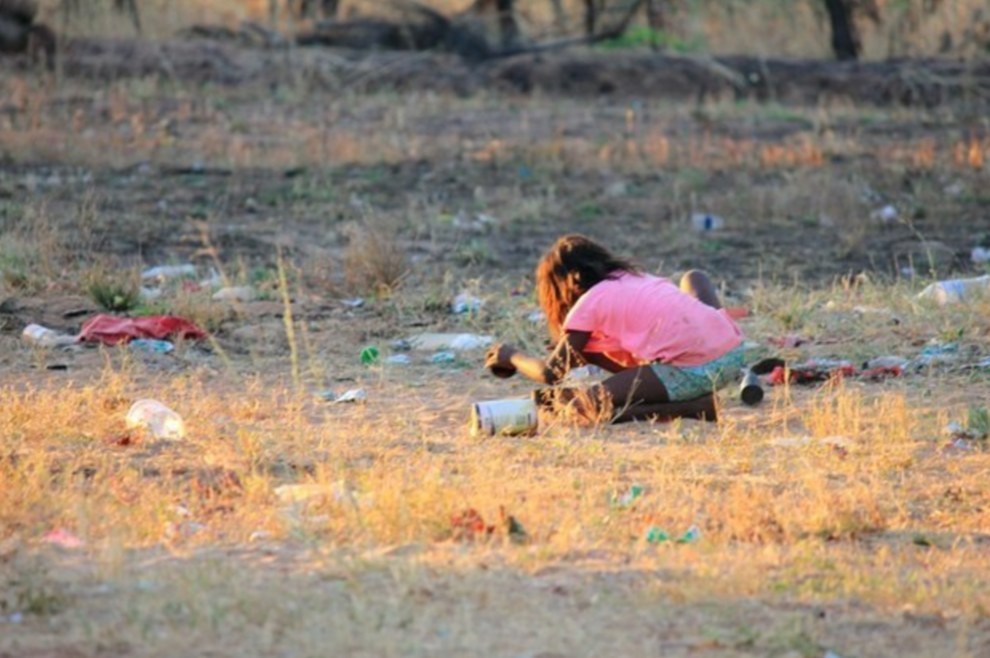 Former prime minister Tony Abbott has hit the hustings in his electorate of Warringah, looking a little lonelier than he probably planned at this stage of the election cycle.
Here's the latest from BuzzFeed News Political Reporter Alice Workman, who's travelling with the PM in Brisbane: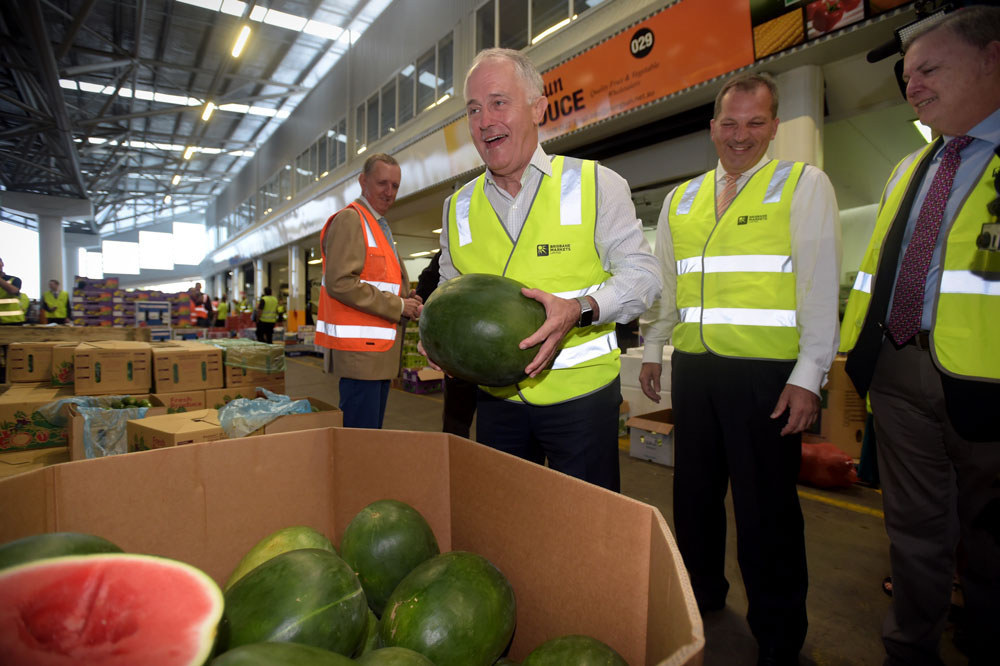 It's day one of the eight week election campaign (the second longest in history) and the Prime Minister is visiting marginal electorates in Brisbane.
Day one is all about Malcolm's melons - jobs and growth and small businesses owners.
First stop at 7am was the Brisbane Markets in the seat of Moreton, currently held by Labor's Graham Perrett with a margin of 1.6 per cent.
Malcolm Turnbull proved why he's the selfie king, posing for insty pics for every man and his mandarin.
The beaming PM told Liberal candidate Nic Monsour and some young grocers all about his first job as a banana seller at Paddy's Markets in Sydney, lifting pallets on and off trucks.
Because remember, there's always money in the banana stand.
"It's all about jobs and growth and eating bananas", the PM told the crowd.
A few minutes later he revealed he also lugged watermelon in his first job, before tucking in to a scoop (that's right a scoop of 🍉🍉🍉, not a slice) and declaring it "good melon".
Turnbull expertly avoided the lemons and onions, and didn't ask anyone what their favourite type of lettuce was.
Despite the warm welcome (one man said," I hope you're prime minister forever"), there was some ​˜awkward˜​ banter.
One man asked Turnbull about penalty rates and he turned and said "oh that's a large pallet".
After meeting the PM one young dude said it wasn't the most exciting thing that's ever happened to him.
The PM has two more stops today - Petrie and Bonner in Brisbane's East.
54 days to go!
It's early days, but the polls aren't looking great for the PM. Newspoll shows Labor is ahead, 51 - 49, meaning last week's Budget failed to move the dial at all. The Ipsos poll has the two major parties at 50 - 50.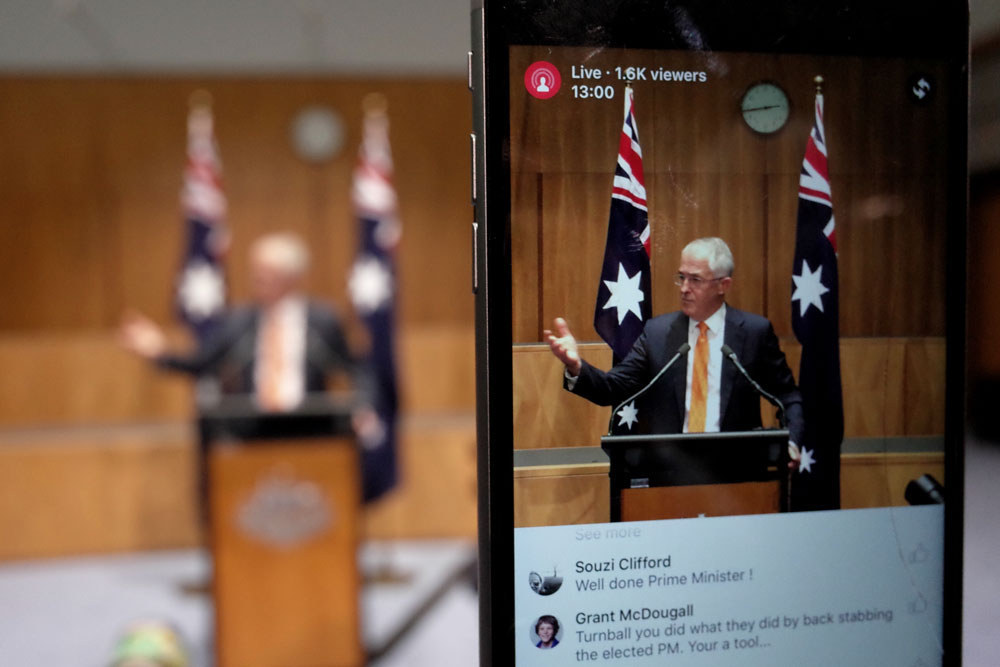 It's gonna be a long 55 days.
Prime minister Malcolm Turnbull has kicked off his campaign in Brisbane, visiting a fruit market to remind everyone that his first job was selling bananas. Look how happy he is with this watermelon.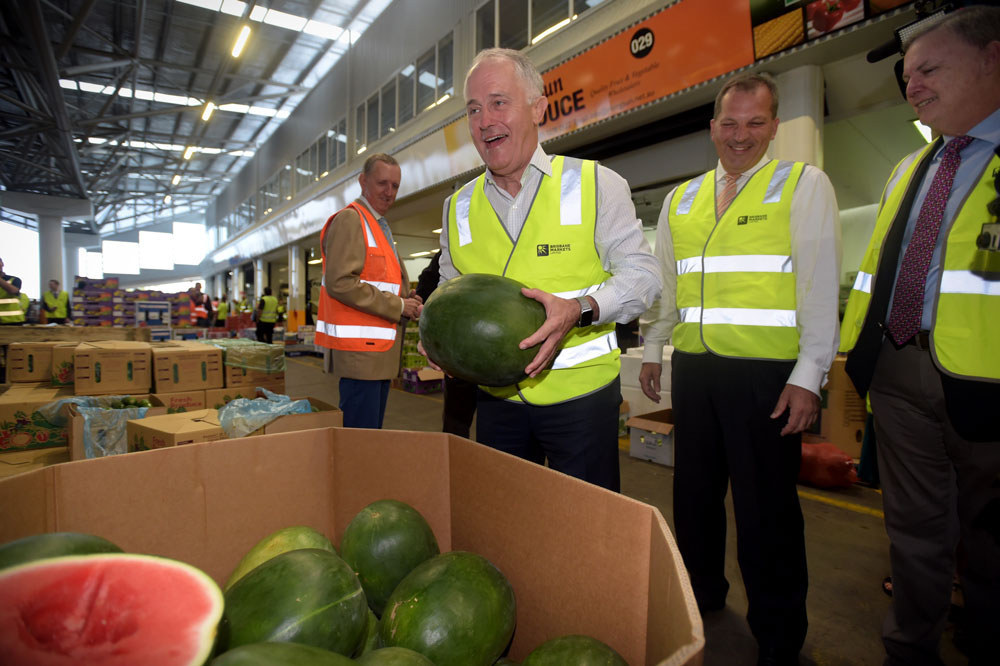 Meanwhile, opposition leader Bill Shorten is in Tasmania for the 10th anniversary of the Beaconsfield mine disaster. He's heading to Cairns later.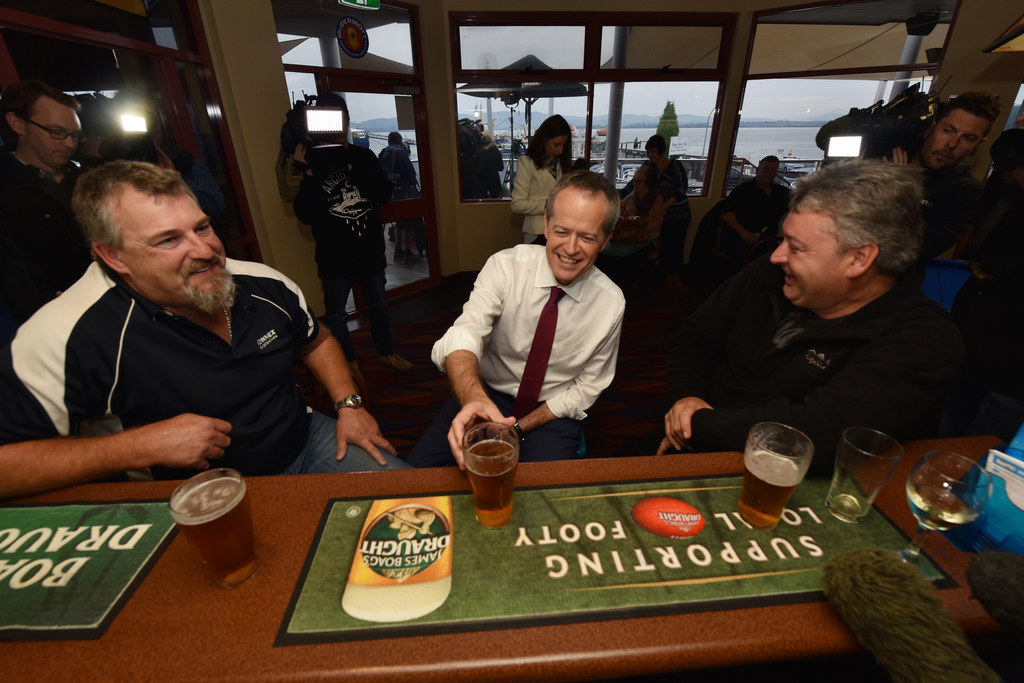 If you're wondering what this 55-day marathon campaign will really look like, you probably just need to look at the recent past.