Samsung Mexico COVID-19 Stay Home Success Story
Samsung partnered with BuzzFeed to create branded posts communicating the company's commitment to stay home messaging during COVID-19 while promoting a range of products, including the Galaxy S20 and Series A smartphones.
THE BUSINESS CHALLENGE
Samsung needed to adjust its advertising strategy and messaging to match the new, uncertain landscape resulting from the coronavirus pandemic keeping people confined to their homes.
GOAL
Samsung saw an opportunity to connect with its audience through digital channels and position itself as a brand facilitator of communication and entertainment while staying safely at home. While demonstrating its commitment to stay home messaging, Samsung also wanted to differentiate itself from competitors by highlighting its advantages as Android's main ally.

STRATEGIC INSIGHT
According to a Google study on the impact of coronavirus on consumers in Latin America, people are looking for the means to maintain contact with the outside world and adapt to this paradigm shift. They are turning to tech to stay positive and productive, reflected in the accelerated growth of searches related to technological tools.
BuzzFeed's primary coronavirus research showed a peak in consumption among its audience that presented a good opportunity to capitalize on their mobile usage. 70% of readers said they are or will be browsing the web more, 63% said they are or will be using social media more, 54% said they are or will be playing video games on their mobile devices more, and 39% said they are or will be taking online quizzes more.
While coronavirus brought an onslaught of bad news, 30% of BuzzFeed's audience said they feel it's important for publishers to highlight the positive just as much as the negative, while 19% said there needs to be breaks of joy within the news.

MAIN IDEA
To relay its key COVID messaging, Samsung tapped into BuzzFeed's deep audience knowledge and unique voice in talking about relatable situations to create posts that would keep readers entertained and informed while staying at home. BuzzFeed decided to approach the branded content for Samsung in a fun and enjoyable way, publishing 2 engaging quizzes and a helpful list of tips to give the audience that break of joy during a time when everything was filled with hardcore news.
Este "¿Qué prefieres?" será muy difícil si tu celular y tú son uno mismo (This "Would you rather?" will be very difficult if you and your mobile phone are "one"): BuzzFeed knows that "mobile addiction" is a strong identity within its audience, and knows the struggles people face with their mobile phones, wifi connection and social interaction. So it developed a quiz having the audience choose between day-to-day situations related to cell phones in a format that incorporates the unique characteristics of the Samsung A51 phone in an organic and fun way.

Dinos qué tanto usas tu celular y te daremos una actividad divertida para hacer en casa (Tell us how much you use your mobile phone and we will give you a fun activity to do at home): This quiz carefully paired up specs from the Galaxy S20 with current joyful events and the audience's interests in a "stay home" world to show readers how Samsung technology can help them have fun at home and keep people connected.

9 Tips para disfrutar al máximo tu tiempo en casa (9 Tips to fully enjoy your time at home): Based on the interests they shared, BuzzFeed gave the audience a list of tips for spending their time at home in the best way possible. Many of the tips relied on using technology, allowing a range of Samsung products to be featured organically in showing how the brand can make your time at home fun and productive.

DISTRIBUTION STRATEGY
The posts were distributed across BuzzFeed and Facebook from April through the end of June using a mix of targeting tactics. 1st party targeting was used to reach broad BuzzFeed and Facebook audiences, as well as users who have engaged with Bring Me, Bien Tasty, BF Mexico, Quiz, or Playfull content, while 3rd party targeting was employed to reach users who have displayed an affinity for Samsung and other Android cell phones.
The campaign reached over 1.5 million users, resulting in 173,815 post views, 45% higher than the guarantee. The creatives gained and held the audience's attention. The 9 Tips post had the highest engagement rate of 0.15% vs. the 0.11% benchmark and ¿Qué prefieres? exceeded VTR benchmarks by 4x!
A forced exposure study testing the attitudinal impact of the campaign showed strong performance across brand metrics. Mentions of Samsung in the posts' intro and outro, along with brand integration into the body of the list and quizzes, achieved near-universal brand awareness, with a delta triple benchmarks for posts.
The posts strongly tied Samsung with 'quédate en casa', particularly the list that incorporated the broader brand and product line into tips for making the most of your time at home, which ended with clear COVID messaging and the embedded #UnidosLoSuperaremos video.
The audience found the fun and informative method of communication to be authentic and effective. 9 in 10 readers agreed that Samsung fit into the content and 8 in 10 said it made the benefit of Samsung clear.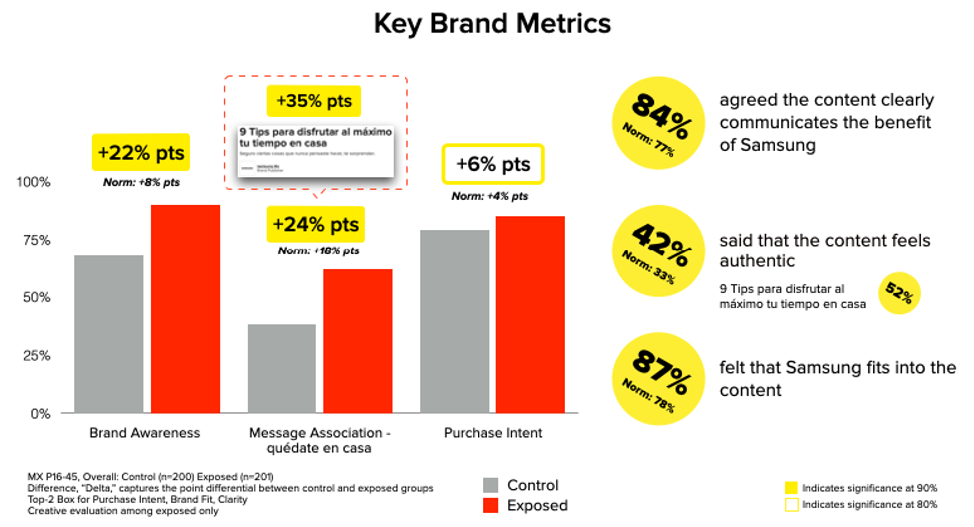 KEY TAKEAWAYS
This campaign demonstrates how BuzzFeed was able to successfully shift strategy in response to COVID-19 and align content with Samsung's stay home messaging in an organic way. The cobranded posts gave Samsung an authentic voice to connect with consumers faced with the challenge of adapting their lives due to self-isolation. The timing and the tone of the posts really resonated with the audience, showing Samsung's commitment to giving them valuable tools and a much needed escape to help them feel less alone.
"We are very happy to be collaborating with BuzzFeed. They get us closer to our customers with fun and original content that is able to connect with a new generation that uses technology without thinking twice. Even more, we obtain valuable learnings about our audiences that we're able to connect with so that it evolves beyond just one program into relevant actionable insights for our brand, like conversion."

- Moraima Morales, Digital Marketing Manager for Samsung Mobile México