THE BUSINESS CHALLENGE

Boost OREO's crave-ability through fun, practical, and easy to make recipes that portray new moments and ways of consumption for Mexican families.
GOAL
Position OREO as a recipe ingredient to strengthen perception of the product as a delicious treat for all occasions and further build intent to purchase the cookie.
STRATEGIC INSIGHT
In Mexico, OREO has been viewed as more of a treat for special occasions. As it's become more accessible, the brand wanted to build its popularity among the local market. One idea was to reposition OREO as an everyday choice by incorporating the cookie into traditional Mexican recipes using local ingredients to increase its appeal. More people cooking while isolated at home during the pandemic presented a greater opportunity to inspire them to use OREO in their creations.
Tasty reaches over 40M unique active users per month in Mexico, delivering 2M+ views to each video. A third of users watch a video more than once, and two thirds of viewers make recipes they've seen on Tasty. This massive reach and resonance made Tasty the ideal partner for promoting OREO recipes to a Mexican audience.
MAIN IDEA
OREO tapped into the creative prowess of the Bien Tasty team to craft a series of recipes giving the cookie Mexican flair. The videos incorporated OREO into traditional desserts like churros or alongside local ingredients like in lava cakes made of corn bread. Seasonal recipes also gave families delicious edible crafts to make with OREO for Día de los Muertos and Christmas. The videos were styled with animated supers and children's laughs to create an aesthetic that would resonate even more with families.
DISTRIBUTION STRATEGY
The videos were distributed to A18-45 in Mexico. First party audiences were leveraged to target users who had interacted with or viewed category content in the last year from BuzzFeed or one of its media brands such as Bien Tasty, Bring Me, Goodful, and Nifty. Third party data was also used to reach Facebook users that have shown affinity with content related to family and parenting.
RESULTS
The videos generated over 18M total impressions and overdelivered on guaranteed views by 47%. The campaign reached a highly engaged group of viewers who watched through to the end, outpacing benchmarks for performance metrics for all of the 1P and 3P audiences. Complete views and engagement rate for the videos were double Bien Tasty norms!

Emphasizing moments of sharing helped the audience feel connected, resulting in 5,911 comments, many with users tagging each other. Social listening analysis revealed that viewers reacted very positively, commenting with "antojan" and "delicioso" and showed their intention to make the recipes. 110,662 people saved a video for later, at a rate 3x the norm, and many people shared pictures of what they cooked.
A forced exposure study was conducted to measure the campaign's brand impact. The strongly branded recipe videos led to near-universal awareness of OREO (98%) and viewers rating the cookie very high on being a delicious treat for all occasions. The Lava Cakes recipe increased favorability towards OREO most, while almost all Snacks Navideños viewers said they would purchase OREO in the near future. 8 in 10 viewers felt the videos were better than other OREO ads or the best they've seen, and 9 in 10 plan to make a recipe with OREO.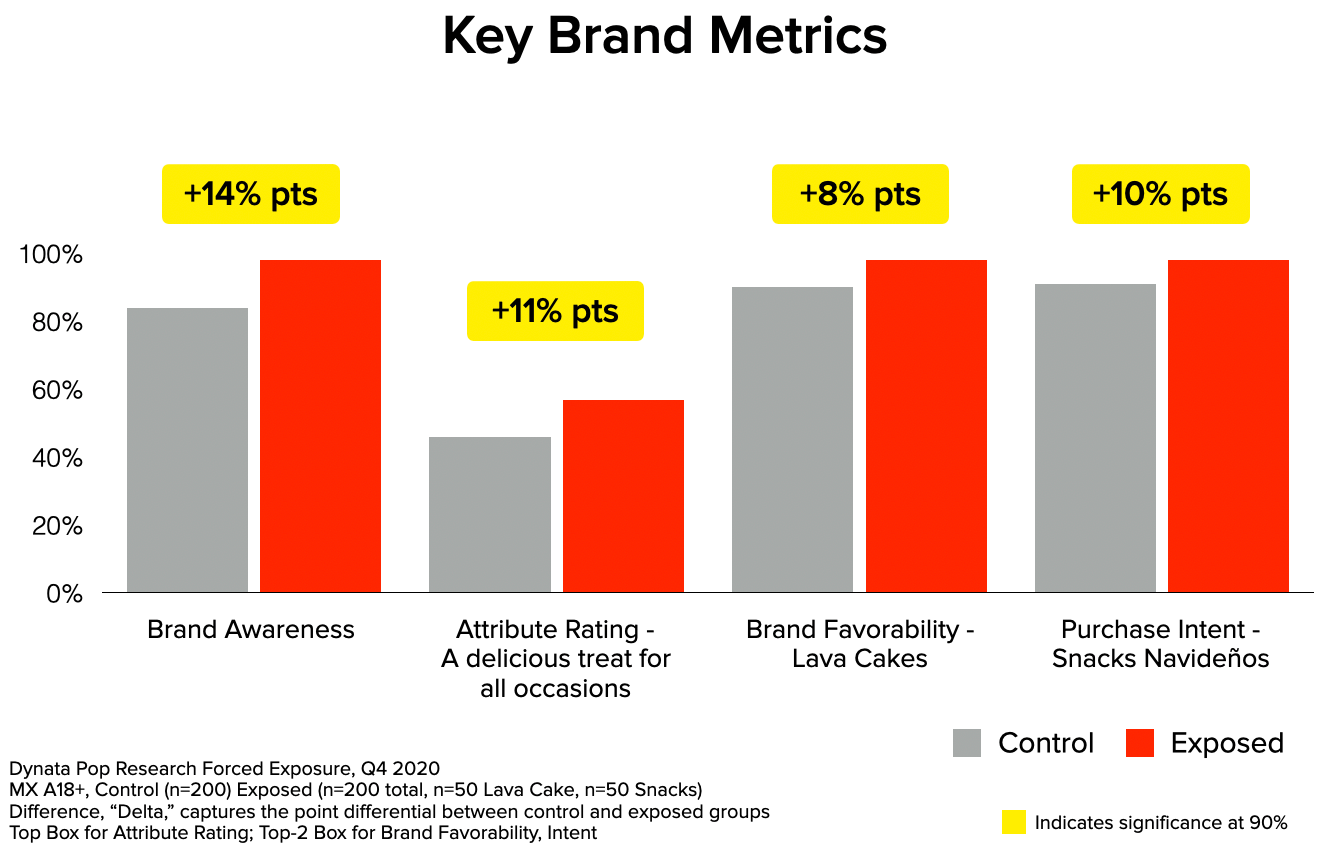 KEY TAKEAWAYS
Pairing the imported cookies with local desserts proved to be an effective strategy for appealing to a Mexican audience, inspiring viewers to save the videos, share with friends, and try out the recipes for themselves. The campaign was hugely successful in shining a spotlight on OREO among the vast Bien Tasty audience, providing 2.9M unique users who watched the videos, often to completion. In addition to contextual relevance through seasonal alignment and creative uses that the whole family can enjoy, targeting specific interest groups helped the videos achieve a VTR and engagement rate well above benchmarks. The success of this campaign creates an opportunity to continue reaching a highly engaged audience who have come to love OREO.
"Great partnership between Tasty and Oreo bringing to life incredible and delicious recipes giving happiness to Mexican families through preparation of different fast and practical desserts recipes. Tasty has become a great and important stakeholder managing to take our strategy to the next level based on trends and needs of our consumers, having spectacular results for the brand."

- Lorena Toro, Grouper, Mondelēz International
"Developing the world of recipes as an effective asset within the Oreo universe helps us offer a more robust experience to our consumers. When we opted for this strategy, we made the decision to have a comprehensive vision of Bien Tasty like a publisher, which in addition to providing us with a powerful mass media, has the ability to capture valuable insights that feed back into our content."

- Luciana Etcheverry, Media Manager, Mondelēz International