THE BUSINESS CHALLENGE
Keen's delivers distinctive, unequalled depth of flavour that Australians can depend on. Their powders have been an essential ingredient in Australian pantries for more than 100 years making Keen's an iconic Australian brand. One of the most popular offerings is Keen's Curry Powder, though consumers tend to know only two recipes that utilize it – curried sausages and curried eggs. Keen's set out to increase sales by introducing new recipes and usage occasions to consumers.
GOAL
The primary objective was to increase sales across all Keen's powders by providing culinary and usage inspiration. The brand was also interested in increasing engagement on Facebook.
STRATEGIC INSIGHT
Keen's was looking to provide consumers with flavour inspiration that highlighted the versatility and desirability of creating year-round flavoursome food with Keen's. A recent analysis conducted by Lucid in Australia revealed that two out of three households regularly purchase cauliflower. The popularity of this vegetable increased significantly in the last few years, as more and more Australians are opting for vegetables and fruit over meat. Furthermore, mac & cheese is a fan favourite with the Tasty audience and also offers a satisfying and delicious option for vegetarians and those trying to cut back on meat. By combining this trendy vegetable with a traditionally popular pasta dish, a winning combination awaited.
MAIN IDEA
The strategic insight took the form of a Tasty video that provided recipe inspiration with a unique twist on a classic Australian dish. The unique recipe featured Keen's Curry Powder as the hero ingredient and highlighted a new usage occasion that was relevant for mid-week and special occasion cooks alike.
The videos included prominent brand integration – including an early product shot, multiple brand integrations, and a branded end card – keeping Keen's Curry Powder top of mind.

Tasty Recipe: Curried Cauliflower Mac & Cheese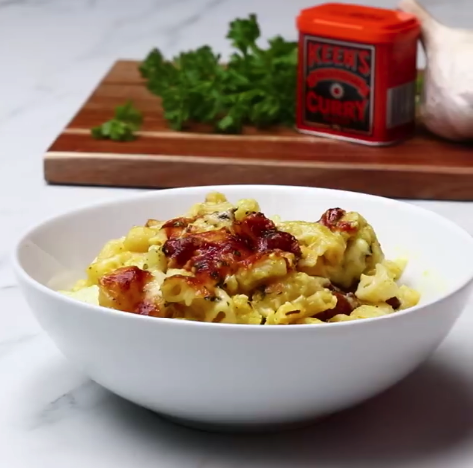 DISTRIBUTION STRATEGY
BuzzFeed leveraged the reach and brand of Tasty to speak to a large audience and drive culinary inspiration and usage for an iconic classic, in a delicious, modern way.
For Keen's, we targeted relevant audiences that were likely to resonate with the recipe, and were a good fit with the desired audience of experimental cooks and early adopters, as well as people interested in wellness and young families. We targeted BuzzFeed's Tasty, Goodful and Nifty audiences, as well as people who had engaged with Parenting content across our site, as well as our parenting brand, Playfull. We also leant on Facebook targeting of those interested in recipe, cooking, and health and wellness content.
After finding the right audiences, we optimized the videos towards the highest view rates and engagements, gaining the highest potential "qualified reach" for the brand's content.

RESULTS
The strategy drove massive scale for Keen's, and was able to garner high engagement and shares among a relevant audience that connected with the Tasty content.

We also conducted a forced exposure study to measure the attitudinal impact of the video. Overall, results were strong across the funnel. There was an increase in those who remember seeing the campaign – a testament to the prominent brand integration that positioned Keen's as top of mind for consumers. Additionally, the video was able to convey product versatility and offer cooking inspiration.

KEY TAKEAWAYS
McCormick's partnership with Tasty helped the Keen's brand grow by reaching, engaging, and driving intent among consumers by featuring the brand within unique recipes and inspiring new usage occasions. The tried and true Tasty format prominently incorporated Keen's Curry Powder as the hero ingredient and demonstrated that a traditional staple can be shaken up and brought to modern attention through Tasty's distinctive crowd-pleasing, and saliva inducing style.
"Our partnership with Tasty allowed us to successfully engage and create awareness with a younger audience (18-24), giving us an opportunity to inspire the next generation of Keen's shoppers."


- Belinda Kenneally | Brand Manager – McCormick & Keen's