Bundaberg, popularly known as "Bundy," has been distilling rum for well over a century and with its own cola-producing facility, the brand has a number of ready-to-drink (RTD) rum and cola products to choose from. Bundaberg and BuzzFeed partnered to create relevant, sharable content to help recruit lapsed and light drinkers of Bundy Rum and help socialise Bundy RTD as an alternative to beer or wine at casual get togethers like BBQs.
Approach
Together, Bundaberg and BuzzFeed created five custom posts and one quiz to support the "Cheers To A Legend" campaign, which encouraged people to cheers cans together to 'mash up a legend' and then download a cool mashup fact about them. To bring the campaign to life, we focused the content on some of its core elements - Aussie legends, cheersing, mashups, and Queensland.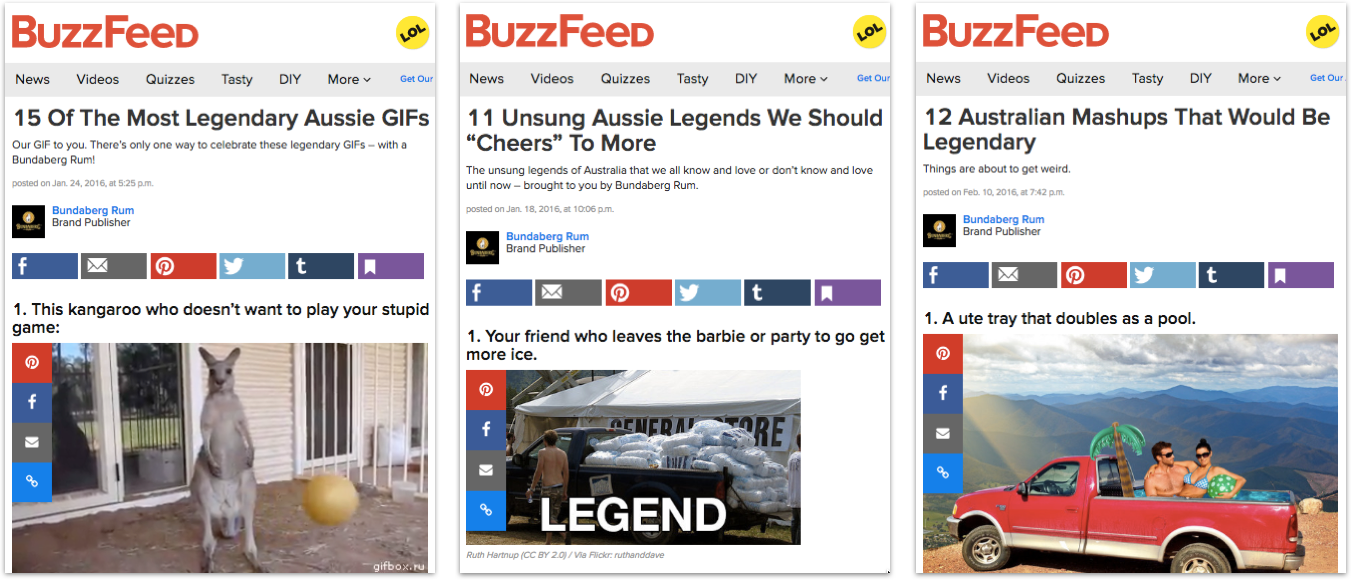 We know that people share content when it resonates with them and enables them to project and explain their identity, so the Bundy content was embedded in Australian and Queensland identity and knowledge and framed with humour to guarantee highest possible engagement.
To maximize reach and effectiveness we used a combination of on-site media promotion and off-site social seeding. Our primary target was men between 25 and 34 who are motivated by their independence and look for ways to build brand "ME" through their consumption patterns. These coolhunters embrace unique experiences and seek out fun, memorable, real moments with friends.

Results
Overall, the program was well received garnering 206,594 total views (nearly 19,000 of which came from social). More specifically, the "What Kind Of Aussie Legend Are You?" Quiz yielded 32,000 views with an 81% completion rate.
To validate the program's impact we also conducted a brand study to evaluate favorability and purchase intent of Bundy. On Desktop, the program yielded lifts of +11.1% and +6.6% for favorability and purchase intent, respectively. On Mobile the results were even better. With fewer distractions on the screen we saw lifts of +17.4% and +14.5% for favorability and purchase intent, respectively.

In addition to this, we also took a look at the behaviors of viewers who received the content through social sharing. Favorability and purchase intent had lifts of +20.9% and +19.0%, respectively, amongst viewers who consumed the content because a friend shared it through social.

The program was also successful in terms of reaching our target audience. Seventy-six percent of our readership was in the 18-34 year old demographic and over-indexed for males.
Key Takeaways
BuzzFeed's ability to tap into the culture and identity of the target audience through custom posts and quizzes made it easy for Bundy to position its brand as the perfect companion to a casual meetup with fun-loving friends.