THE BUSINESS CHALLENGE
Beem It is a free Aussie app that allows anyone with a debit Visa or Mastercard to pay, get paid, or split a bill, regardless of who they bank with. The company is owned by three of the big four banks in Australia and strives to provide the best payment experience possible by making the transfer of money seamless, effortless, and instant. Beem It aims to differentiate itself from the big bank apps and show consumers the uniqueness of the app and why it is an essential addition to their lives. Beem It has one mission – remove the complication of money from great life moments.
GOAL
Drive awareness of Beem It and its unique benefits among Australians ages 18-34.
STRATEGIC INSIGHT
Young Australian consumers tend to be social, active, and love the efficiencies that technology brings to their lives. They value spending money on experiences, but also recognize that money can complicate relationships and disrupt otherwise enjoyable, carefree, and memorable moments. To quantify the impact of this money tension, Beem It commissioned a research study and the results estimated that unpaid small debts between friends led to a national unpaid "mate" debt of A$6.2 billion. Beem It is passionate about helping these Australian consumers avoid the awkwardness of asking their friends and family for repayment, and letting the app save them this stress-inducing conversation by replacing it with a quick 'request'.
We created original branded content to reach young Australians and educate them on the ways Beem It can help remove the friction money creates in everyday experiences.

MAIN IDEA
The strategic insight took shape in the form of three custom articles and three social assets. The articles used the tried and true list format featuring informational and relatable humour to communicate the benefits of banking with Beem It; additionally, a quiz was created to diagnose what kind of friend you are when splitting the bill. The social assets mirrored this creative strategy, and encouraged sharing of the entertaining and relevant scenarios where friends owe each other money.
Custom Article 1: What Kind Of Friend Are You When It Comes To Splitting The Bill?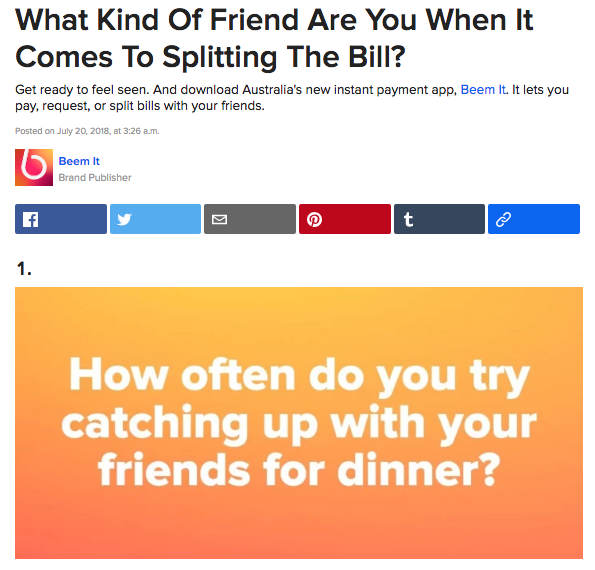 Custom Article 2: There's A New Aussie App For Instant Payments And Here Are 10 Reasons Why You Need It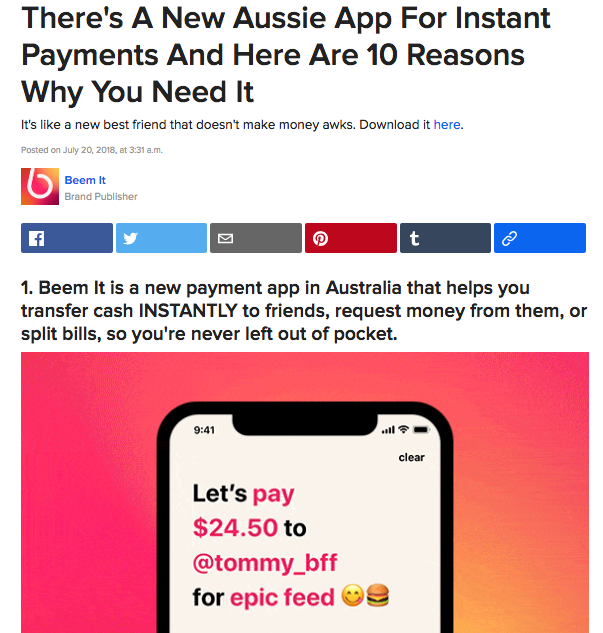 Custom Article 3: 10 Awkward Moments When Your Friends Owe You Money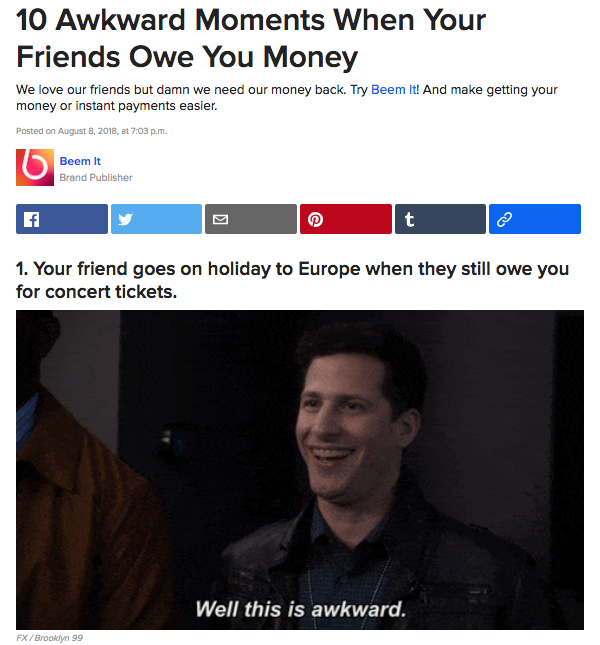 Social Assets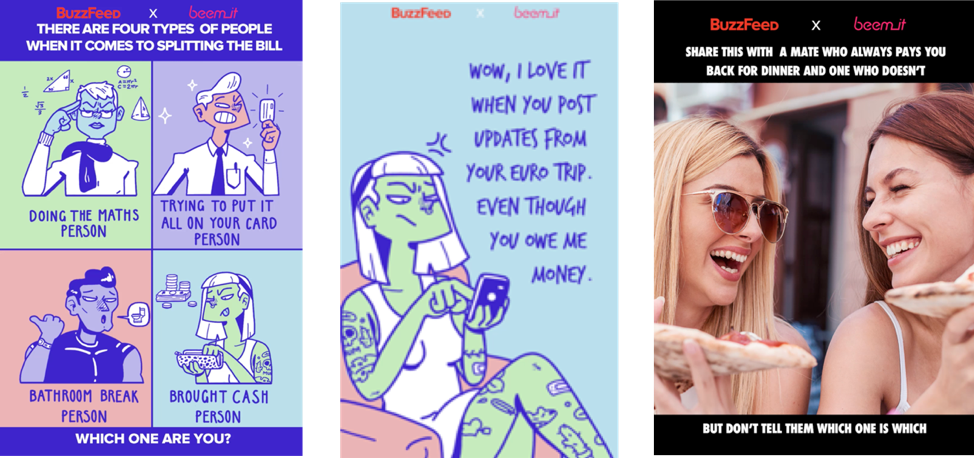 DISTRIBUTION STRATEGY
Every campaign has a custom-built distribution strategy that revolves around a brand's target audience and main KPIs. Understanding where people consume media and how to reach them when they're most engaged is central to our strategy. By adapting our insights-driven Beem It content to each key platform, we were able to achieve both reach and engagement among a variety of relevant audiences. The content connected with a tech savvy audience with finance interests who were highly engaged, as the article consumption and social asset view through both exceeded benchmarks. Additionally, the assets drove traffic to the Beem It app landing page, with a CTR from the BuzzFeed site exceeding benchmarks by 45x!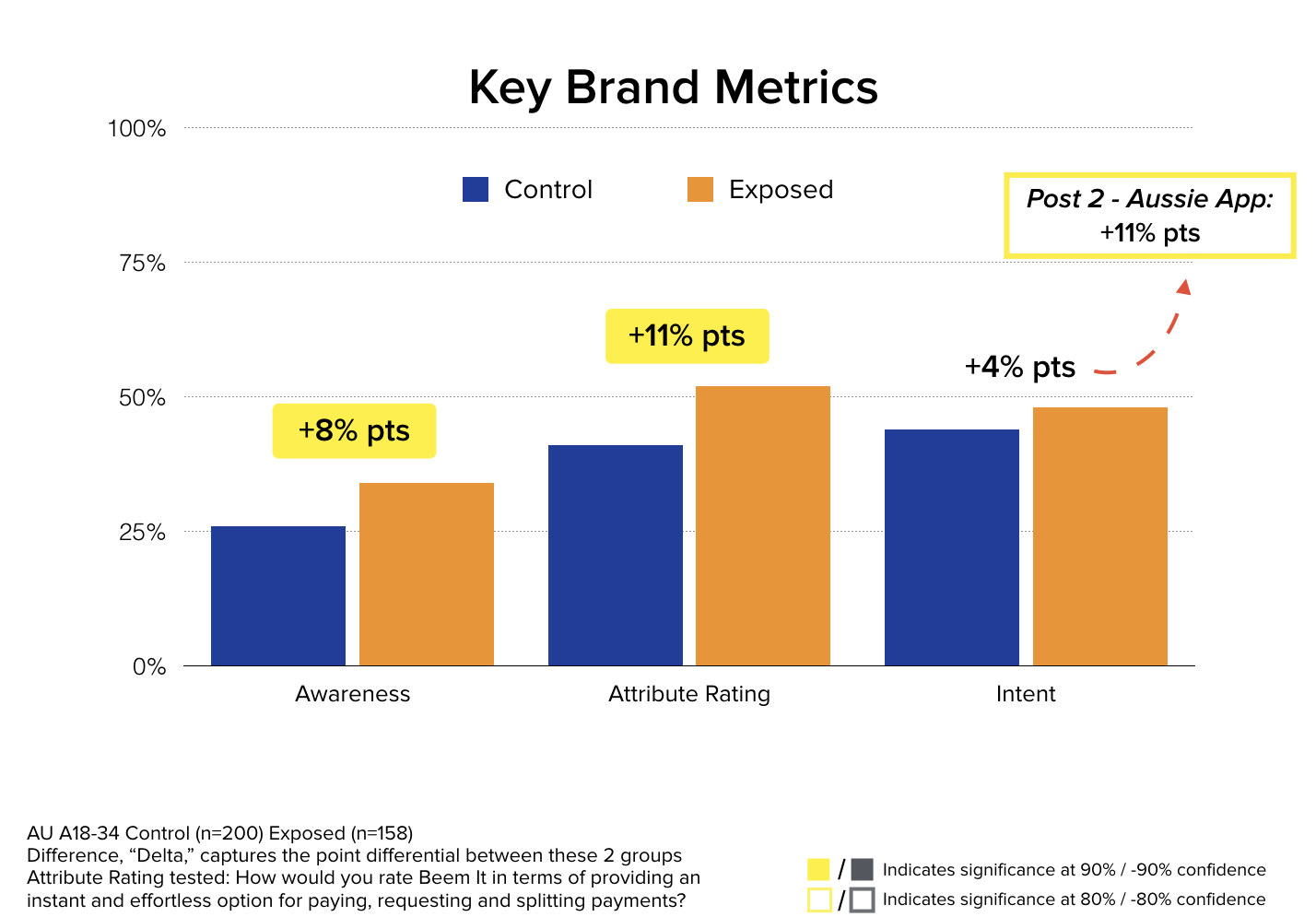 We also ran a Forced Exposure study to assess the attitudinal impact of the Beem It articles, most notably to measure the campaign's main goal of increasing awareness. The study revealed a statistically significant increase in awareness of Beem It after exposure, with over one-third of the audience now aware of Beem It. Additionally, the content successfully informed respondents that Beem It provides an instant and effortless option for paying, requesting, and splitting payments. After exposure to the articles, two out of three agreed that Beem It removes the awkwardness of money between friends. This new app is already beginning to move the needle on download intent, with close to half in the consideration phase, a tough feat for a new app to achieve.
KEY TAKEAWAYS
Beem It is disrupting the social payment marketplace in Australia by aiming to create the best digital wallet experience in the country. Through its partnership with BuzzFeed, Beem It was able to reach young Australian consumers at scale and offer them a future of simplified relationships that are free of money tension. Beem It is well on its way to creating a standardized social behavior where consumers avoid awkward conversations and instead tell their friends and family to "Just Beem It".
"The team at BuzzFeed did a phenomenal job at helping Beem It unpack what the app was about and why people should care - not a simple task for a peer to peer payments app when most Aussies are utterly devoted to their banking app. The content was fun, irreverent, smart yet educational. We were happy with the results it generated and appreciate how professional and responsive the team was to work with."

- Beem It