Alzheimer's Society (AS) is the UK's leading dementia support and research charity for people living with dementia and their carers. For the past three decades, AS has campaigned to help improve the public understanding of this disease and get others involved in the fight against dementia. In April 2015, AS engaged M2M as its first media agency to handle media planning and buying for its brand and fundraising activities.

Alzheimer's Society's media agency M2M partnered with BuzzFeed to generate awareness for Alzheimer's Society and position it as the go-to organisation for anyone affected by dementia amongst users of all ages (with a focus on A35+), while simultaneously helping readers understand dementia and its effects.

"From partnering with BuzzFeed we learned that it's important to get the mix right with trusting a partner to execute what they know works best for their audience, and having a firm understanding of what is right for the brand."

– Kathryn Quinton, Marketing Manager, Alzheimer's Society

Dementia is difficult to understand and explain. Bearing this in mind, Alzheimer's Society, M2M and BuzzFeed created three unique and interactive pieces of branded content that aimed to help readers grasp dementia and its effects and understand how Alzheimer's Society can help.
To help readers understand how people are affected by this disease and other dementias, Alzheimer's Society, M2M and BuzzFeed created a first of its kind quiz, entitled 'The Hardest Trivia Quiz You'll Ever Take'. The quiz allowed readers to digitally experience symptoms that a person with dementia may face, such as: memory loss, difficulties with thinking, problem-solving and/or language.
The remaining two branded posts "Which Treasured Memory Would You Be Saddest To Lose" and "11 Facts Everyone Should Know About Dementia" made this difficult topic easier to understand and discuss. Both posts encouraged readers to share their real stories and reaffirmed how Alzheimer's Society does everything it can to help people living with dementia stay connected to their lives and the those they love for longer.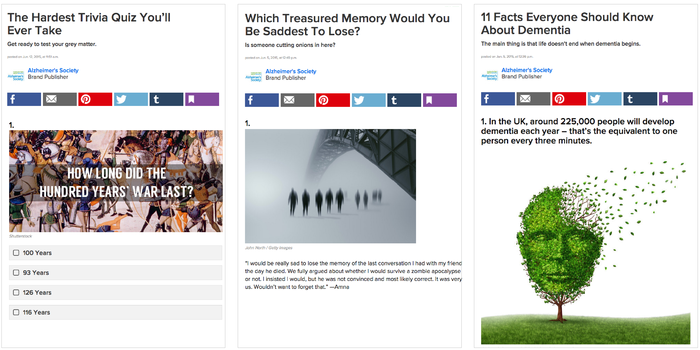 Branded Posts Garnered 252K+ Total Views!
The Alzheimer's Society branded content accumulated over 252K total views across the UK–exceeded goal by 88%!
And Successfully Reached Alzheimer's Society Target Audience.
BuzzFeed used interest targeting on Facebook to seek out readers that were more likely to engage with the content. Although the programme resonated strongly with BuzzFeed's millennial audience, it also saw 103K of its page views come from readers age 35+.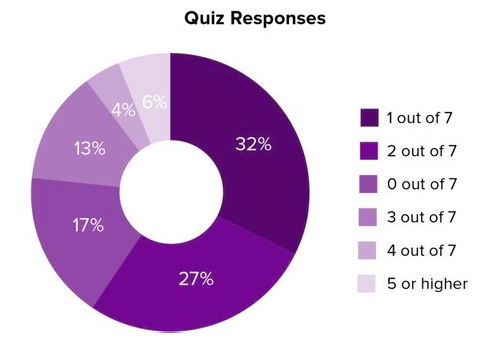 'The Hardest Trivia Quiz You'll Ever Take' Results.
As intended, results found that readers had a very difficult time taking the quiz, with 94% of readers scoring a 4 out of 7 or lower.
Readers Shared The Quiz And Urged Others To Take it Too!
'The Hardest Trivia Quiz You'll Ever Take' deeply resonated with users, exceeding the BuzzFeed Social Lift goal by 34%.

Quiz Successfully Reached Intended Target Audience.
The quiz reached intended Alzheimer Society's target audience with over 67K of its views coming from readers A35+.
And Won A 2015 Media Week Award!
M2M won a Silver in the "Best Small Idea" category at the 2015 Media Week Awards for 'The Hardest Trivia Quiz You'll Ever Take'! View M2M's winning award application video here.
Alzheimer's Society Branded Content Drove Social Conversations!
Users shared the posts across the social web and took it a step further by contributing their real stories via comments. This level of engagement added credibility and relatability to the programme and instantly turned fans into Alzheimer's Society brand advocates.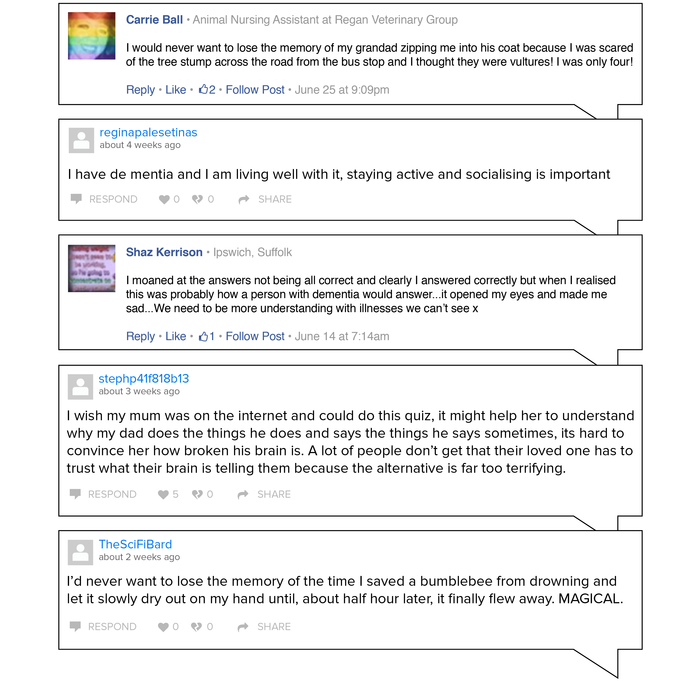 By partnering with BuzzFeed and M2M for this eye-opening programme, Alzheimer's Society exceeded all campaign goals and inspired conversation around dementia awareness. With over 252K views and 40% of traffic coming from users A35+, the campaign helped to position Alzheimer's Society as UK's leading dementia support and research charity amongst its intended target audience.

"We were surprised to see that we doubled our views through social shares and now understand the value of creating engaging content for the right audience in the right environment. This also gives brands with modest budgets more opportunities."

– Lydia Hopkins, Senior Digital Executive, M2M