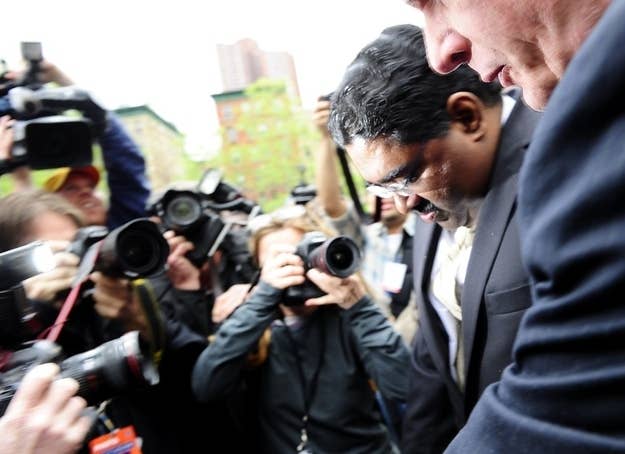 NEW YORK (AP) — The 11-year prison sentence for a wealthy hedge fund founder convicted of insider trading charges set a record for its length, but still left the government well short of the two-decade-long prison sentence it had sought to send a stern message to Wall Street.
Raj Rajaratnam, 54, left federal court in Manhattan on Thursday after U.S. District Judge Richard J. Holwell announced a sentence that was four years below a Probation Department recommendation and well short of the government's request that the Galleon Group founder serve as much as 24½ years.
Holwell credited Rajaratnam for acts of charity and cited his diabetes and need for a kidney transplant as reasons for leniency.
"Given the role Mr. Rajaratnam played in this scheme, many people could criticize the sentence as being too lenient," said Robert Mintz, a former federal prosecutor who heads the white collar defense group at the firm McCarter & English.
"In this environment where there's a palpable public antipathy to Wall Street, many people expected a sentence that was going to be closer to what prosecutors were seeking than what the defense was asking for," he added.
Assistant U.S. Attorney Reed Brodsky told Holwell that Rajaratnam made up to $75 million between 2003 and 2009 at his Galleon Group of funds by working a network of friends, former classmates and other tipsters at various companies and investment firms to get lucrative secrets about public companies including Google, IBM, Hilton Hotels and Goldman Sachs before they were announced publicly.
He said insider trading — carried out by smart, educated people — had "become rampant" because the incentives to commit it were higher than ever before and detecting it was extremely difficult. Too often, Brodsky said, those in the securities industry rationalize that they are justified to use inside information.
"They know they are committing crimes, but it's OK because they need to beat the competition, it's OK because they need to achieve the best, it's OK because is it really so bad? That was Mr. Rajaratnam's attitude," Brodsky said.
"Today you sentence a man who is the modern face of illegal insider trading," Brodsky told the judge. "He is arguably the most egregious insider trader to face sentencing in a courthouse in the United States."
Holwell agreed with the need for deterrence, saying Rajaratnam's "crimes and the scope of his crimes reflect a virus in our business culture that needs to be eradicated." He also agreed that federal sentencing guidelines recommended that Rajaratnam serve nearly 20 years in prison.
For his part, Rajaratnam remained silent, declining to speak when the sentencing proceeding reached the point when defendants normally address the judge.
Holwell imposed a $10 million fine and ordered forfeiture of $53.8 million, representing illicit profits, for a man who in 2009 was ranked No. 559 by Forbes magazine among the world's wealthiest billionaires, with a $1.3 billion net worth.
He was returned after the proceeding to his $10 million Manhattan condominium, where he will continue to undergo electronic monitoring under a $100 million bail package until he reports to prison on Nov. 29. His lawyers asked that the Sri Lanka-born Rajaratnam be sent to the medical facility at the federal prison in North Carolina where Bernard Madoff is serving his 150-year sentence.
Since his October 2009 arrest, more than two dozen people were arrested in the investigation, nicknamed Perfect Hedge, and all were convicted.
The scandal — along with the 2008 financial meltdown and the Wall Street abuses it exposed — stoked populist anger in the U.S. and complaints that the stock market is a sucker's game, rigged by insiders.
The longest previous sentence in an insider-trading case was 10 years, given twice before, most recently last month to one of Rajaratnam's co-defendants.
Galleon was one of the world's largest hedge funds before it collapsed in the wake of Rajaratnam's arrest, and the case against him and his cohorts was one of the most closely watched insider-trading scandals since the Ivan Boesky and Michael Milken cases in the 1980s.
Boesky was a stock speculator who pleaded guilty and served two years in prison. Milken, known as the junk bond king, pleaded guilty to securities violations in 1989, served 22 months and paid a $200 million fine.
The Rajaratnam probe relied heavily on the most extensive use of wiretaps ever for a white-collar case. Prosecutors captured conversations in which he and his accomplices could be heard gleefully celebrating their inside information.
In court papers, prosecutors noted that Rajaratnam had now shown remorse, noting that he told probation officers: "I am not aware of anyone who lost money as a result of my actions."
Prosecutors wrote: "Rajaratnam's statements reflect absolutely no appreciation that he cheated the system, and every law-abiding participant."
"We can only hope that this case will be the wake-up call we said it should be," U.S. Attorney Preet Bharara said in a statement Thursday. "It is a sad conclusion to what once seemed to be a glittering story. ... Privileged professionals do not get a free pass to pursue profit through corrupt means."
___
Associated Press Writer Karen Matthews contributed to this report.
This post was created by a member of BuzzFeed Community, where anyone can post awesome lists and creations.
Learn more
or
post your buzz!