Coming soon to a high street near you: the cool urbanite strolls in his retro kicks, faded jeans and blue blazer and parks himself on a comfy leather chair embossed with the newest crest in the outdoor café emporium, Morgan Bailey Coffee.
It may yet be a twinkle in the eye of baby-faced coffee entrepreneur Daniel Morgan, but he one day aims to put his burgeoning Morgan Bailey Premium Coffee and Tea Company (MBC) on a retail par with Starbucks and Coffee Bean.
Founded in 2010, MBC is a premier African specialty concern that sources 100 percent pure Ethiopian Arabica beans and last year signed a deal with United Natural Foods, Inc. – the leading independent national distributor of natural, organic, specialty food products – to sell its line of roasted flavors in 4,000 stores nationwide.
That includes the Safeway Inc. supermarket chain (Vons, Pavilions, Dominick's Finer Foods in Illinois and Randall's Food Markets in Texas), Fresh & Easy, Wholefoods and Grant Foods.
Using its special green roasting technology, MBC, which features blends like Royal African Supreme, King Solomon and Ethiopian French Roast, prides itself on producing sustainably grown and ethically farmed products.
Meanwhile, Morgan, who is in his early 30's, took a somewhat unusual path to becoming a beverage entrepreneur having escaped the gang streets of his New Orleans neighborhood where his father, a former boxer and Golden Gloves winner, spiraled into drugs and did a 20-year stretch in prison.
However, his Bayou upbringing also sowed the seeds of future promise with a beloved great grandmother that gave him an appreciation for a great cup of coffee.
Through a love of music that saw him sing, write and direct his church choir, the local pastor Cyprian Fields became a mentor figure to him and his younger brother, Donagan Herbert, a former marine. Fields encouraged him to explore his horizons and virtually ordered the young musician to go to Italy when he was only 15.
Three years later, having met well-known singer Anthony Bailey, a backing vocalist for the likes of Diana Ross and Johnny Gill, Morgan found himself touring Japan at Bailey's invitation. He loved it so much that he made a bold move to return when the tour ended, although he only had $500 to his name. Bailey would also provide a catchy name for the coffee company, which originated from an apparel company they were going to set up.
Hiro (Hiroo), Japan, where Sony Music offices were based, was also where Morgan first tasted a cup of coffee blended from those Ethiopian Arabica beans. "When I first tasted the coffee it was like when you fly business class, you never want to go back," he said, adding: "I've tried every blend and flavor of coffee and Ethiopian is the best. It's also where coffee first originated."
Blind faith and luck paid off and Morgan enjoyed recording and business success (distributing American artists in Japan) for a few years before one particular deal went south and he returned to the U.S. and a coffee venture percolated into being.
Daniel Morgan tasting his premium coffee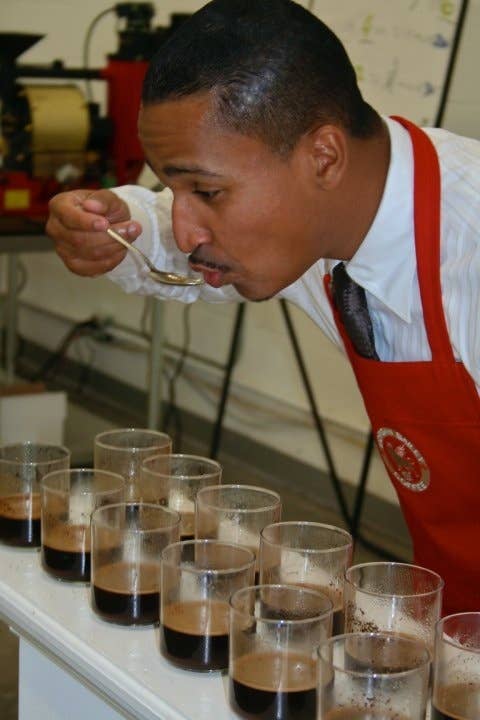 This post was created by a member of BuzzFeed Community, where anyone can post awesome lists and creations.
Learn more
or
post your buzz!