ONE-POT TURKEY PASTA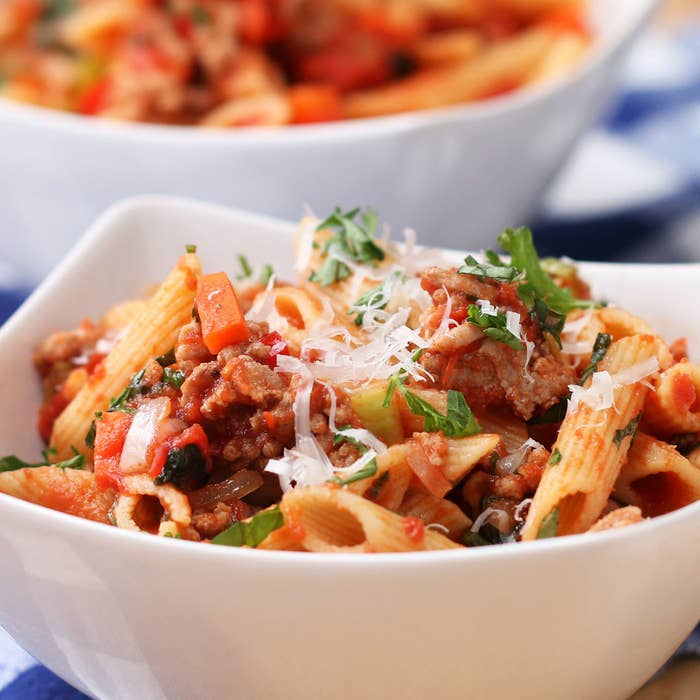 INGREDIENTS
Servings: 8
1 tablespoon olive oil
1 small onion, diced
½ red bell pepper, diced
1 small carrot, peeled diced
2 stalks celery, diced
2 cloves garlic, minced
1 pound of Butterball® Ground Turkey
Salt and pepper to taste
1 (28 ounce) can fire roasted crushed tomatoes
2 cups baby spinach
1 pound dry pasta (any shape)
½ cup fresh basil leaves, chopped
¼ cup fresh parsley, chopped
¼ cup freshly shredded parmesan cheese
PREPARATION
1. Bring a pot of water to boil. Add pinch of salt. Cook pasta. 

2. Strain and reserve pasta. 

3. Heat same pot over medium high heat. Add olive oil.

4. Add the ground turkey with salt and pepper to taste. Stir occasionally until turkey is cooked through. 

5. When cooked remove turkey and set aside.

6. Add onion, carrot, celery, red bell pepper, and garlic. Sauté until vegetables soften, 2-3 minutes. 

7. Add the crushed tomatoes and bring to a simmer.
8. Season the sauce with more salt and pepper and fold in the baby spinach to wilt.

9. Stir in the cooked pasta, ground turkey, fresh basil, and parsley. Remove from heat. 

10. Serve immediately with fresh parmesan cheese.

11. Enjoy!