Chicken Parma Rolls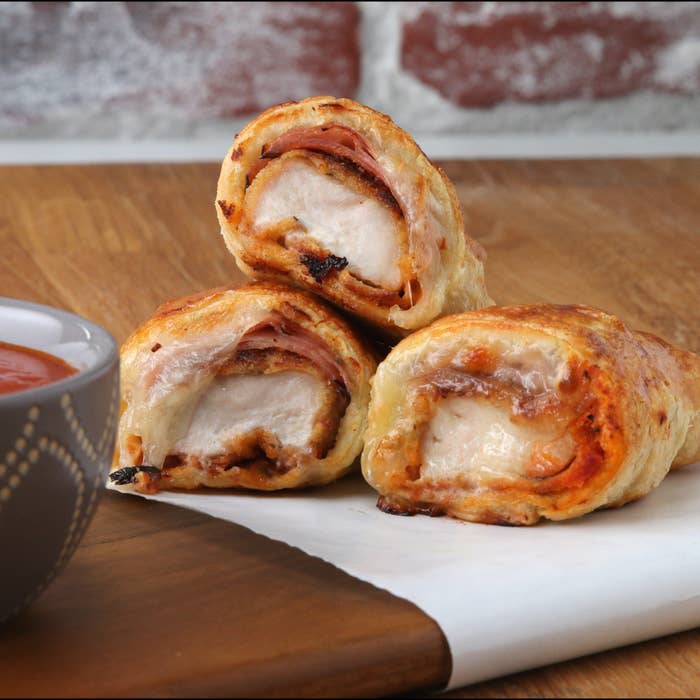 INGREDIENTS
Servings: 16 pieces
8 chicken tenderloins (or 4 chicken breast fillets cut into 8 pieces)
125 grams flour
2 eggs, beaten
125 grams bread crumbs
Salt, to taste
Pepper to taste
1 package frozen puff pastry dough (2 sheets)
250 grams mozzarella cheese, sliced
8 thin slices ham
1 ½ cups (350 millilitres) marinara sauce, divided
1 egg, beaten
1 bottle of Bundaberg Lazy Bear Rum
PREPARATION
1. Preheat an oven to 190˚C/375˚F.

2. Season the chicken with salt and pepper. Lightly coat the chicken with flour, then dip in egg, then in bread crumbs. The chicken will be browned but not fully cooked. 

3. Fry the chicken on both sides until golden brown in a sauté pan coated with canola oil over medium-high heat. Set aside.

4. Roll out the puff pastry on a lightly floured surface with a rolling pin. Cut each sheet in half to give you 4 rectangular pieces.

5. Place 2 strips of chicken across each rectangle of puff pastry. Top with sliced mozzarella, sliced ham, and a spoonful of marinara sauce. 

6. Roll up the puff pastry and seal the edges. Cut each roll into 4 pieces and transfer to a baking sheet coated with cooking spray. Brush the rolls with the beaten egg. 

7. Bake 20-25 minutes until golden brown. 

8. Serve with remaining marinara sauce.

9. Best paired with Bundaberg Lazy Bear Rum

10. Enjoy!