Spiced Apple Toddy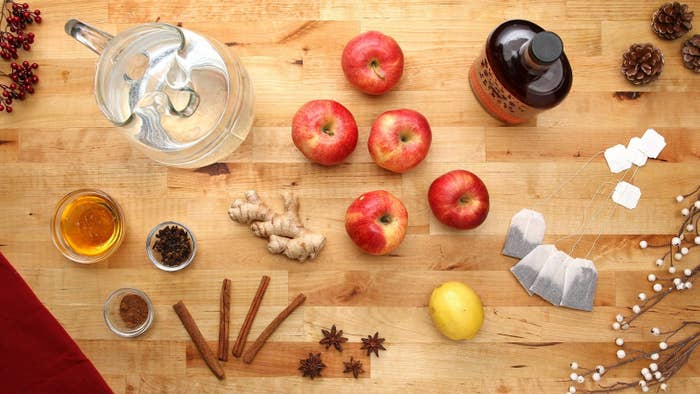 INGREDIENTS
Servings 6-8
5 apples
1 whole lemon, sliced
1 ginger root, peeled and chopped
10 cups water
4 cinnamon sticks
2 teaspoons cloves
1 teaspoon ground nutmeg
4 black tea bags
¼ cup honey
8 ounces Bulleit™ Bourbon
Brown sugar and ground cinnamon, for garnish
Star anise, for garnish
PREPARATION
1. On a cutting board, quarter the apples and cut lemon in whole wheel slices.
2. Peel ginger and cut into quartered pieces.
3. Place apples and lemon slices into a pot of water. Add in cinnamon sticks, cloves, and ground nutmeg.
4. Bring to a boil over medium-high heat, then immediately simmer for 30 minutes, covered.
5. Strain the apple mixture into a big bowl.
6. Add in 4 tea bags and let steep for 5 minutes. Remove tea bags.
7. Add in Bulleit™ Bourbon and honey. Stir well.
8. Serve in glasses garnished with an apple slice, whole cinnamon stick, and star anise.