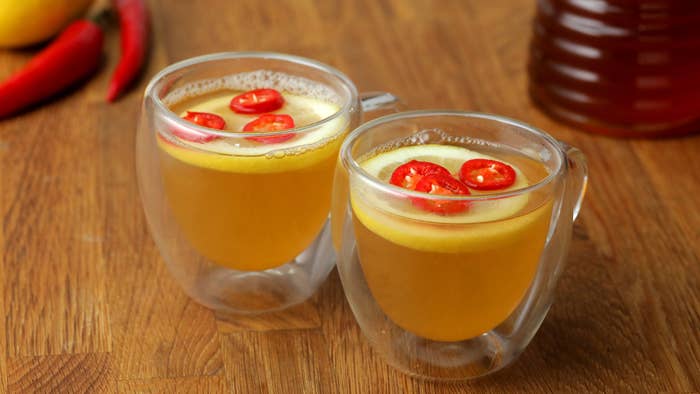 Ingredients
Hot Honey
1 cup honey
3 fresh red chilies, seeded and sliced
2 dried red chilies
Drink
2 tablespoons hot honey
12 ounces hot green tea
2 tablespoons lemon juice
2 & 1/2 ounces Bulleit Bourbon
Assembly
2 thin slices lemon
6 thin slices fresh red chilies
Preparation
1. In a small saucepan, combine the honey, fresno chilies, and dried chilies. Bring to a simmer and simmer for 4–5 minutes. Let sit for 30 minutes, covered, then strain through a fine mesh sieve into a small container.
2. To make the drink: Place the hot honey in a small pitcher. Pour the hot tea into the pitcher and stir. Add the lemon juice and Bulleit bourbon, then stir again.
3. Divide between two heat-proof glasses or mugs. In each glass, float one slice of lemon and three slices of fresno chile. Serve immediately.