Radler Chicken & Waffles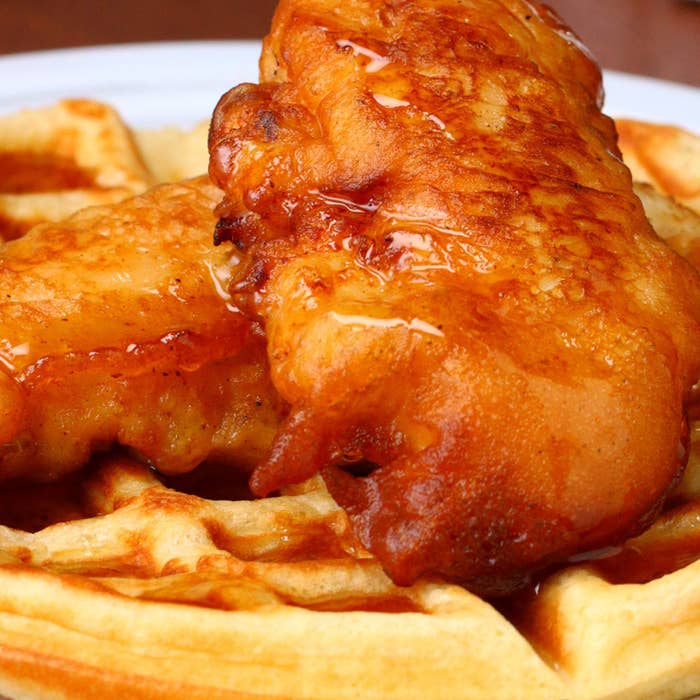 INGREDIENTS
Servings: 4
Waffles
2 cups flour
2 tablespoons sugar
1 tablespoon baking powder
¼ teaspoon salt
12 ounces Bud Light Radler
3 tablespoons melted butter
2 eggs, beaten
Nonstick spray
Chicken
2 cups all-purpose flour
2 teaspoons salt
½ teaspoon pepper
¼ teaspoon cayenne pepper
½ teaspoon paprika
12 ounces Bud Light Radler
1½ pounds chicken breast tenders
Additional salt and pepper, to taste
Canola oil, for frying
Maple syrup (for serving)
PREPARATION
1. Combine flour, sugar, baking powder, and salt in a mixing bowl. Add Bud Light Radler, melted butter, and eggs; stir to form a batter.
2. Heat a waffle iron and spray with nonstick cooking spray. Spoon some of the batter onto the iron (quantity will depend on the size of your waffle iron) and cook until golden brown. Keep warm until ready to serve.
3. Season the chicken tenders with salt and pepper. In a large mixing bowl, combine flour, salt, pepper, cayenne, and paprika. Pour in the Bud Light Radler and whisk to combine.
4. Add about 1 inch of canola oil to the large heavy skillet and heat over medium-high heat until oil is hot.
5. Dip the chicken pieces in the batter and fry a few minutes on each side until golden brown and crispy. Do not crowd the pan; do this in batches.
6. Serve the chicken with the waffles.
7. Top with optional syrup.
8. Enjoy!